Bahama shutters add great curb appeal to your home. In addition they provide shade and privacy. Bahama shutters may also provide storm protection, which is a big benefit if you live in an area prone to hurricanes. But you should be aware that not all Bahama shutters are hurricane proof. Some are simply for decoration purposes. And if you need hurricane protection for your home you will want to make sure that the ones you select are indeed hurricane rated. Below we discuss the difference and tell you what to look for when choosing your new shutters.
Related: Are Bahama Shutters Worth It in SW Florida?
What are Bahama Shutters?
These shutters go by many names. They may be referred to as Bahama, Bermuda, or Caribbean style shutters, but they are all the same.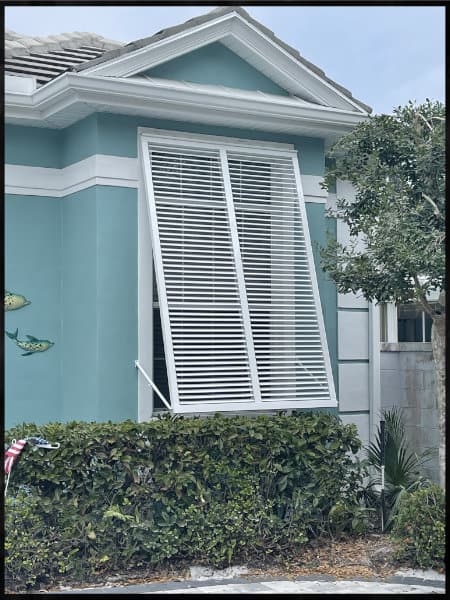 They are easy to spot because of their unique style. Specifically, they surely give off tropical vibes and are permanently installed over a building's windows at an angle. In other words they always cover your windows to some degree. This, along with the fact that they have horizontal slats helps them to provide shade and diffuse light.
The shutters have telescoping arms, which allow you to adjust the angle or close them altogether.
Are all Bahama Shutters Hurricane Proof?
The simple answer is no. Not all Bahama Shutters are hurricane proof. In fact, most are intended solely for decorative purposes.
What are decorative Bahama shutters?
Decorative Bahama shutters are typically made from non-hurricane rated materials, such as vinyl, wood or composites. Decorative versions are attached to your home differently than hurricane rated systems are.
So when a hurricane occurs they will not do little in way of protecting your windows against hurricane force winds and flying debris.
If you live in an area prone to hurricanes you will want to make sure your shutters are hurricane rated vs decorative.
What are hurricane rated Bahama shutters?
If you need hurricane shutters look for Bahama hurricane shutters that meet or exceed the Florida Building Code and are hurricane-rated. This class of hurricane-rated shutter, along with other hurricane shutters are rated to withstand hurricane force winds and flying debris. For instance, Eurex Shutters Bahama Shutters can withstand up to a category 5 hurricane.
What makes them different from the decorative Bahama shutters?
Hurricane proof Bahama shutters are designed to serve as hurricane window protection. They are made and tested to stand up to hurricane force winds and the impacts of flying debris during a hurricane. This is because they are constructed from strong, impact resistant aluminum. They are also attached to your home's structure with specific fasteners that prevents them from flying off your home in severe winds and pressures.
You should make sure your shutters meet the Florida Building Code and are hurricane-rated.
Interested in Hurricane Proof Bahama Shutters?
Bahama hurricane shutters provide curb appeal, shade, and privacy. And while all Bahama Shutters look great, not all are hurricane proof. So if you need strong storm protection make sure you buy hurricane-rated Bahama shutters vs decorative ones.
If you are looking for hurricane shutters in Southwest Florida turn to the professionals at Eurex Shutters. We have been installing, maintaining and repairing storm protection products since 1986.