Interested in buying Roll Down Hurricane Shutters? Hurricane rated roll down shutters are a great option to protect your family and home in Florida. They can stand up to a category five hurricane. At the same time they offer convenience and added home security benefits. They also look sleek on your home. But before moving forward there are some things to look for when choosing your roll downs. After all, you want to choose the right roll down hurricane shutters for your home. There are many brands, products, and options out there. So if you are not an expert it is hard to know what to look for when picking your roll down shutters. That is why we created this guide. Below are some things to consider and help you compare and pick the perfect roll down shutters for you.
Not sure if roll down shutters are right for you? Check out our helpful guide on Picking the Perfect Hurricane Shutters For You.
TABLE OF CONTENTS:
How to compare roll down shutters
You can do an online search for "roll down shutters". There will be thousands of results. You will notice that there are many manufacturers and installers. And there are an endless amount of options available. As you start to explore your options you will become aware that there are many things to consider when choosing your new hurricane-rated rolling shutters. It will most likely seem overwhelming.
So to simplify the process we try to provide some of the most important things to consider vs throwing everything at you. The goal is to give you things to consider as you are comparing different options. This hopefully will help you pick the perfect roll down shutters for you.
Here is an easy process to narrow down the sea of options.
Make sure any roll downs you are interested in meet basic requirements for storm protection, such as meeting the Florida Building Code
Then you can compare different options in terms on other factors. These can include:

Price
Warranty
Design elements & features, such as available colors, materials of construction, operation (automatic vs manual)
etc.
Below we provide some of the core features that you can use to compare different Rolling hurricane shutters.
1. Meet Florida Building Code and necessary Florida product approvals, such as HVHZ
This one is a basic requirement for any hurricane shutters. If you live in Florida you will need to select roll down shutters that meet Florida Building Codes and have all necessary Florida product approvals. The specific product approvals you may need are dependent on your specific location within the Sunshine state.
The reason for this is that you want hurricane shutters to protect you against the risk of the worst hurricanes. So you will want to ensure the shutters are in-fact made, tested for, and approved as hurricane-rated.
So you will need to verify that the shutters you select meet this requirement. You can ask your installer to confirm. And you can also search for approved products yourself on the Florida DBPR Product Approval Search website.
Below you can see a screenshot of an example search on the Florida dbpr Product Approval site. This shows the manufacturers of the roll down (also called "roll up") shutters. Your hurricane shutter company should be installing products sourced from a manufacturer that meets the necessary Florida requirements.
See our Hurricane Shutter Product Approvals.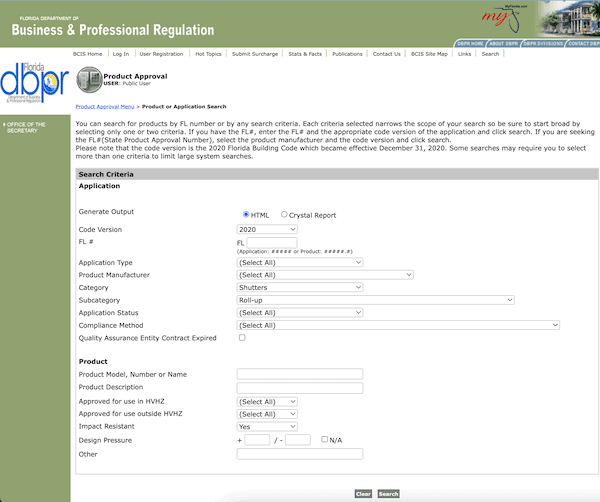 2. Performance
Another way to compare different brands/options of hurricane-rated rolling shutters is to compare them based on their performance. When we say performance, this can include many different things.
Some different performance attributes you can consider include the following:
Hurricane performance

Do the shutters meet the Florida Building Code and do they have Florida Product Approval (are the shutters impact resistant, can they withstand the hurricane force winds and flying debris of a category 5 hurricane?)
Are they approved for use in a HVHZ: if you live in a HVHZ then this will be critical

Operation – compare how easy it is to use and operate different manufacturer's roll down shutters. While you may assume all roll downs are the same, this is not necessarily true. You can also compare if each company offers automatic and manual versions as well as what options they provide for controlling the roll downs.
Determine which performance attributes are important to you. Then select roll downs that meet your specific performance needs.
3. Warranty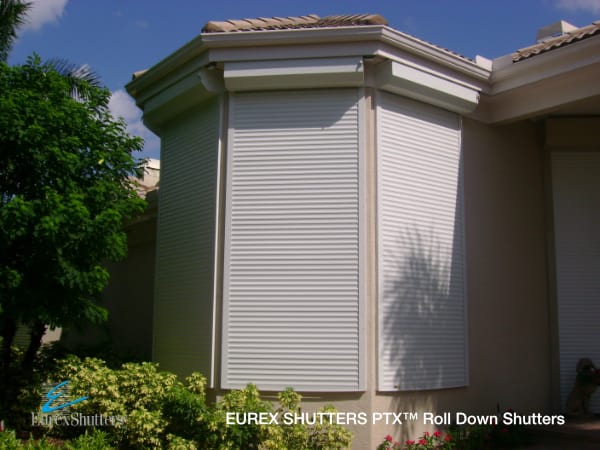 A warranty is another helpful way to compare different roll up shutters from different hurricane companies.
Why?
You know that roll down hurricane shutters are an investment. Like with any investment you want to make sure you are making a wise choice. In other words you want to make sure your shutters are going to last and function properly for many years.
It is unrealistic to expect any product to last forever. But it is natural to expect them to last for a long time. And you naturally want to be protected and covered if they don't last or perform like they are supposed to. It is the warranty that provides you some assurance.
So another good way to compare different roll down shutters is to compare the warranty that each hurricane shutter company offers.
It should be noted that not all warranties are created equal. Each warranty will differ in terms of years and coverage. So don't just go by the number of years covered. Instead, make sure you review the language of the warranty to understand what is covered, what is not covered, and for how long.
Why the shutters' warranty matters
The warranty is important to you as a buyer for a couple reasons.
It indicates product quality. A warranty is a good indication of the quality of the roll up shutters. It signals the reliability and durability of the product you are buying. This is because a warranty can be viewed as a time period that the manufacturer is confident that the product will perform as it is supposed to. As such, it may be true that a longer and better warranty is a good indication of a higher quality, more reliable product.
Represents the amount of time the manufacturer will stand behind their product, either entirely or in some way. So even if the windows break down you will be protected in some way under the warranty. The longer and more comprehensive the warranty is the better.
Is the warranty transferable?
Another important component when comparing warranties is if the warranty is transferrable. A transferrable warranty can be transferred to the buyer if you sell your home. As such, this is a selling feature for your home because they will place a value on the warranty. This is because it provides peace of mind, or in other words, it is one less expense they have to worry about.
4. Value (for the price)
With any purchase your budget is always going to be a factor. In other words, how much you have or are willing to spend.
Setting a budget is a good way to narrow down your options. You should aim to get three or more estimates, which you can use to consider when choosing which hurricane shutter company to go with.
Value vs cheapest price
Your budget is a major consideration. But we do want to warn you against just finding the cheapest roll down shutters you can.
As we mentioned above, your new roll down hurricane shutters are an investment. Because of this you want to make sure that you are picking the best investment you can. As such, it is important to pick roll down shutters that will provide you with the most value for your hard earned dollar.
Going with the lowest priced option is tempting. After all, it will save you money upfront. But going with the cheapest option may also lead to cheap quality, problematic shutters that don't last very long and/or require constant maintenance and repairs.
Beware of cheap rolling shutters
It is true that sometimes a higher cost may be due to a company's inflated marketing budget, large overhead, etc. But typically high quality, high performance shutters are more expensive for a reason. And that is because they are higher quality and will last longer.
The cost of impact resistant rolling shutters is largely driven by the materials and manufacturing costs that go into producing them.
High quality roll up shutters are made from high quality materials vs cheaper materials. These include things like higher performance higher grade aluminum, higher quality parts and fasteners, higher quality mechanicals, higher quality motors, etc.
More expensive shutters are also typically made via higher quality manufacturing and quality assurance processes. This reduces the risk of buying rolling shutters that have defects from subpar craftsmanship and quality assurance. This is true for both the manufacturer of the shutter as well as the hurricane shutter company that customizes them to your home.
Both of these assure that your shutters will perform at a high level for a longer time. At the same time these higher quality materials and processes do make the shutters more expensive to produce.
Cheaper roll downs, on the other hand, are usually the result of the manufacturer or hurricane shutter company/installer cutting corners. This means they may be made with lower quality materials. These may include lower grade aluminum, lower quality parts and fasteners, and lower quality motors and mechanicals.
And the manufacturing and quality assurance processes may also not be as high-tech, or thorough as higher quality manufacturers.
While it is cliche it is typically true that you get what you pay for.
5. Available styles and options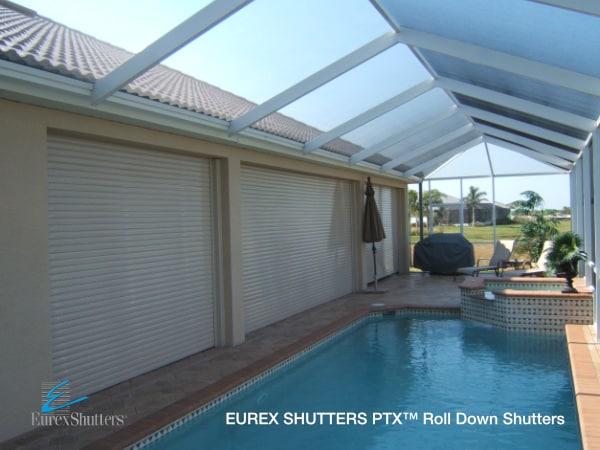 There are many different roller shutter options.
All of these factors can be used to compare different roll down shutters.
Some different roll down shutter options include:
Automatic (electric) vs manual – does the company offer automatic as well as manual versions? If not, you will need to find a company that does.
Slat materials – do they come in aluminum as well as clear polycarbonate?
Custom vs standard – does the hurricane shutter company offer them in custom sizes, configurations and installations (such as hidden, etc.)? Pick an installer that can meet your specific project needs.
6. Availability
Lastly, you can compare different roll shutters from different hurricane shutter companies based on their availability. Can you get them within a reasonable amount of time? Or are they on backorder for 12 (or insert your crazy number here) months?
If you are in no hurry, then this may not be overly important. However, you probably want your roll up shutters installed sooner rather than later. So waiting 12 months for them is not ideal.
So make sure you compare different rolling shutter options based on how long they will take to be installed.
Need help selecting roll down hurricane shutters near you?
Roll down shutters are a great way to protect your home and family from hurricanes in Florida. They also have many other benefits. These include their sleek design, high level of convenience, and top-notch security protection. But as we have mentioned there are a lot of hurricane shutter companies offering a lot of different roll up shutters. You can compare your options by comparing factors such as, requirements, performance, value, warranty, etc.
Our company Eurex Shutters, has been installing high quality roll down hurricane shutters in Southwest Florida since 1986.