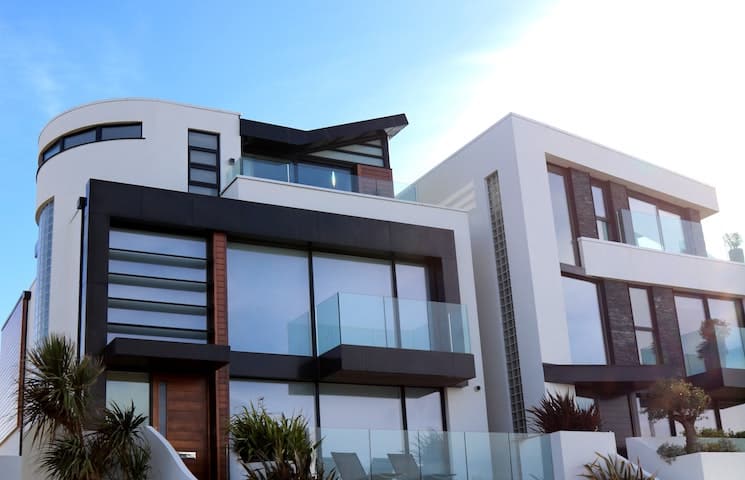 The modern, contemporary look has become extremely popular in Southwest Florida. New homes are being designed with a contemporary style. And home owners with older homes are looking to refresh their homes with a new, contemporary look. Modern contemporary homes may differ in color, finishes and materials, but they share similar characteristics. The wrong type of hurricane shutters can ruin your overall design. But Bahama Shutters are a perfect fit for achieving a modern, contemporary design. Here's everything you need to know about contemporary home design and achieving it with Bahama shutters.
Modern, contemporary exterior home style
But first, in order to achieve a modern, contemporary style you need to understand what it is. We describe what the style is and how it differs from traditional design.
What is the modern, contemporary exterior home style?
Most sources in the industry define it a bit differently, but they include similar components. These include:
Clean lines
Streamlined design
Flat or angled roof lines
The use and appearance of multiple materials (steel, concrete, stained wood)
Here are how some industry sources describe the modern/contemporary style:
According to The Spruce, "modern architecture usually involves sharp, clean lines" and "emphasizes function and a streamlined form."
BrickandBatten.com shares that "modern and contemporary design and architecture both prioritize clean, architectural lines."
Allura USA states that modern homes use different materials to "add texture with a clean and updated look at the same time."
Khov.com says contemporary structures "feature minimal adornment, open spaces and large windows."
You will see plenty of homes being built or redesigned around Southwest Florida with this clean, fresh look. Common are metal roofs, mixed materials, bold color schemes, large windows, etc.
Below is an example of a modern, contemporary styled homes.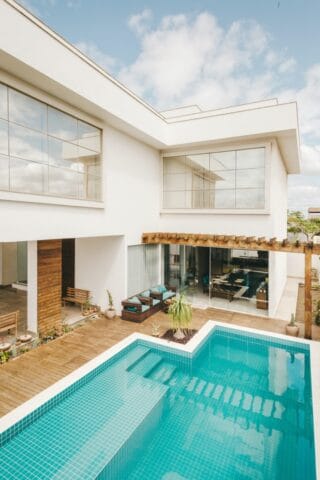 How modern, contemporary design differs from traditional design
The key components of the modern, contemporary design include clean lines, and minimalism and a lack of adornment. This is different from traditional home design. Traditional styles include styles such as Victorian, Colonial, Tuscan, etc.
Accordion to an article by royalhomes.com, traditional homes have common features, such as open porches, dormers, pointed roofs, and traditional building materials, such as brick and wood.
In Southwest Florida homes aren't terribly old. But the older homes in the area do resemble a more traditional look. Many times that it has a Mediterranean style, such as Tuscan or Spanish. These traditional styles include more elaborate details, more traditional materials, simpler color schemes, and curved arches vs. clean lines and minimalist design.
Below is an example of a traditional, Mediterranean style home.
Using Bahama Shutters to Achieve a Modern Home Design in SWFL
Successfully achieving a modern, contemporary design requires clean, fresh lines and a minimalist look. But in Southwest Florida you need hurricane protection. And picking the wrong hurricane shutter type will ruin your design, even if everything else is perfect. And there are only a few styles of shutters that won't detract from the modern, contemporary look.
Bahama shutters are one of them. They offer strong storm protection, which is critical for your home and family. But their clean, simplistic look fits seamlessly with the overall modern exterior design. Better yet, they can be powder coated in literally any color you want. So you can use them to add a pop of color to your home. And as we explained above, bold color schemes are a component of the modern, contemporary style.
Add Bahama shutters to a new home
Are you building a new construction home? Well then you are in a perfect situation to create the contemporary style you desire. In other words, you can design your home exactly the way you want it before it is built. This allows you to specify and choose the design, components, colors and finishes that will create that perfect contemporary look.
Bahama shutters can easily be added to the scope of your build. Select a color for your Bahama Shutters that goes well with the design you are looking to achieve. You have the ability to powder coat them almost any color imaginable, from a strong black or navy blue to a bold red and beyond. You can really do a lot with the ability to choose the color you want.
Transform an older home using Bahamas
It is also possible to transform an older, traditional style home into a modern, contemporary one. In other words, you can give it a facelift. This will most likely involve completely changing the look of your traditional home. And Bahama shutters can help accomplish it.
Create clean, flat lines
Traditional Mediterranean homes in Southwest Florida are categorized by curved arches. This goes against the straight, clean lines of the modern, contemporary style. In other words, it needs to be changed.
Bahama shutters allow you to reshape the lines of your home and eliminate the arches common in traditional homes. How? Bahama shutters are square. So installing them creates straight lines and eliminates your home's curves.
You may not be able to hide all the curves of your traditional home, but these shutters will
Add a pop of color
Another issue with traditional homes in Southwest Florida are their simple color schemes. As we mentioned earlier, you can get Bahama style shutters in almost any color imaginable. This allows you to create a bold color scheme when you install them on your home. From strong black or navy blue to a bold red, yellow, or light blue. You can create the perfect color scheme to achieve your desired style.
Conclusion
Modern, contemporary home design has become increasingly popular in Southwest Florida. This style is commonly described as homes with clean lines, using multiple materials, and having bold colors. Some styles of hurricane shutters ruin the modern design of a home. But Bahama shutters are a good fit for keeping the contemporary, modern look. This is true whether you are building a new home or redesigning an old one.