Hurricane screens have become increasingly popular here in Southwest Florida. This means we have been doing quite a few hurricane screen installations in the area lately. We thought it would be great to create a "highlight reel" post showcasing some of our favorite hurricane screen installs over the last year or so. Hopefully it serves as some inspiration to you if you are interested in them. Or it can give you a better idea of what they are and where (and how) they can be used. At the very least, they are beautiful to look at. So you can enjoy them regardless. Below are just a few of our favorite installations of EUREX SHUTTERS PTX™ Hurricane Screens.
Hurricane Screens Installations in Southwest Florida
We are proud to install our kevlar hurricane screens throughout Southwest Florida. This includes Bonita Springs, Cape Coral, Fort Myers / Fort Myers Beach, Sanibel / Captiva, Naples / Marco Island, Punta Gorda / Port Charlotte, Venice, Sarasota and beyond.
Below are some of our favorite recent installations.
Hurricane Screens in Bonita Springs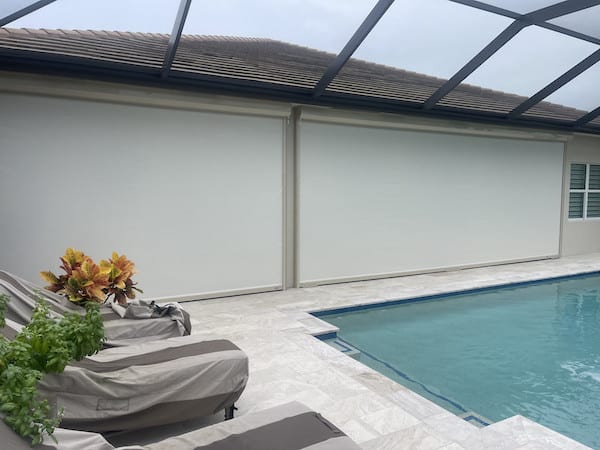 The customer's property is a single family home located in Bonita Springs. This homeowners contacted us looking to add reliable hurricane protection to the patio and lanai areas of their home.
In addition to hurricane protection they also were looking for a product that provided:
Convenience
Attractive appearance
Shade and privacy
The homeowner chose to install two kevlar hurricane screens (one on each opening of their lanai). They selected tan/white screens and beige frames and housings. The frames and housing boxes match their home's exterior wall color seamlessly. And the color of the screens go very well with the white/tan/grey paver stones.
These hurricane screens look absolutely amazing on this beautiful pool home in lovely Bonita Springs!
Learn more: New Hurricane Screens Installation Bonita Springs FL
Cape Coral Two-Story Screen Installation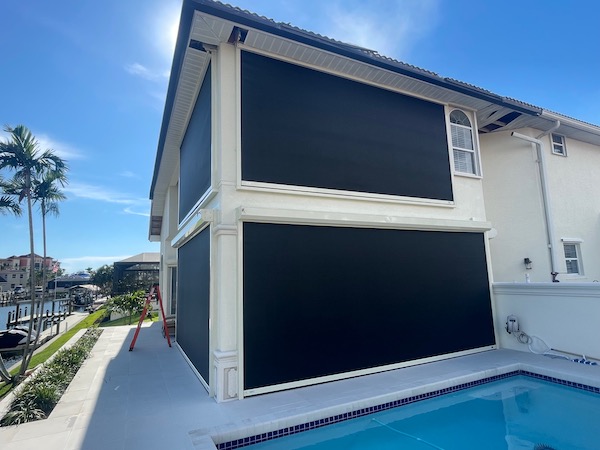 This installation was pretty amazing. Why? Well, most screen installations we do are for the lanai or patio areas of single-story homes. But for this one we installed our hurricane screens on two stories of the house. This unique Gulf access canal home has lanais on the first and second floors around the corner of the house. It makes for an awesome sitting area. And in our case it made for an amazing hurricane screen installation!
The owners contacted us looking for a solution that provided:
Hurricane protection
Great looks so it would not degrade the appearance of their home
Ease of use and convenience
Shade and privacy
Water intrusion/barrier so they could better enjoy their sitting areas
The homeowners chose to install EUREX SHUTTERS PTX™ Hurricane Screens on the lanai areas of the home's first and second stories.
They opted for black screens with ivory frames and housing boxes. The ivory matched the exterior paint flawlessly.
In addition, we did a hidden installation on the housing boxes on the second story to further minimize their appearance.
See all the details: Cape Coral Hurricane Screen Installation
Smooth and Beautiful Hurricane Screens in Fort Myers FL
Here is another example of a hidden installation of hurricane screens in the lanai area of a pool home. This one was in the Colonial Country Club community of Fort Myers Florida.
We absolutely love the look of this installation. Why? Because when the screens are open you cannot even tell they are installed (they are hidden). And when they are closed they look amazing!
This installation also illustrates the wide range of sizes available for our screens.
The homeowners were looking for the following:
Convenience and ease of operation
Hurricane protection for their patio's windows and sliding doors
Increased comfort in their backyard: shade and UV protection
Achieving a clean appearance that did not degrade the look of their patio
They chose beige, automatic hurricane screens with beige tracks and housing boxes.
Below you can see pictures of the hurricane screen installation. The images show what they look like both opened and closed, as well as from inside and outside the home.
See the full installation post: Hurricane Screen Installation in Fort Myers FL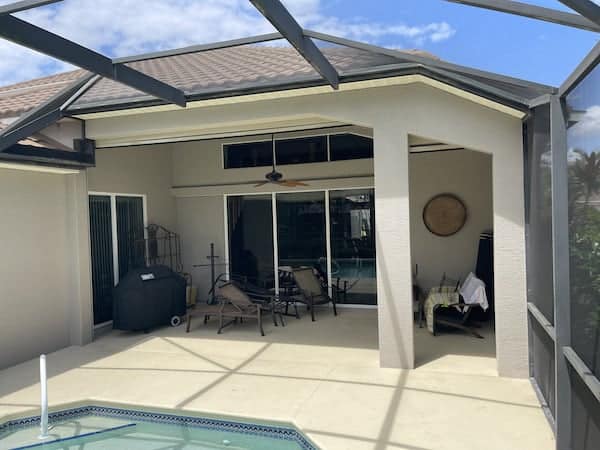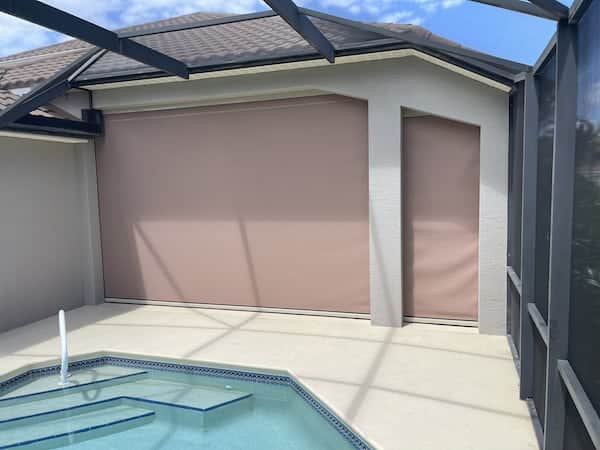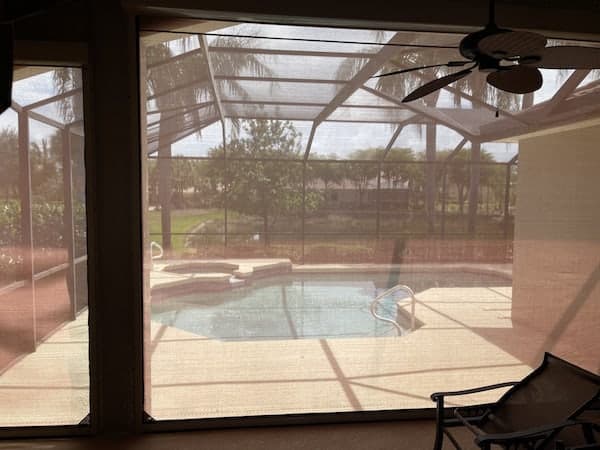 Attractive Patio Protection in Fort Myers Florida
Here is another good example of why we love hurricane screens. They can protect your home while also making it more attractive and enjoyable. This installation involved installing beige Eurex Shutters PTX™ Hurricane Screens on the lanai and patio area of a beautiful home in the the Plantation neighborhood of Fort Myers, Florida.
This homeowner's needs were similar to the others. They wanted hurricane protection that provided:
Strong protection for their patio space, including their patio's windows and doors
Convenience and ease of use
Increased comfort and usability of their outdoor space, including shade and UV protection
Keeping the attractive and high-end look and feel of their home
The owners chose to go with automatic hurricane screens to fully enclose their lanai. The screens are beige, the tracks are ivory, and the housing boxes are bronze.
You can see a video of the screens closing from inside the lanai. And below you can also see images of these lovely screens both open and closed. This gives a really good idea of what they look like from all sides.
Learn more about this installation: Hurricane Screens Installation in The Plantation Fort Myers FL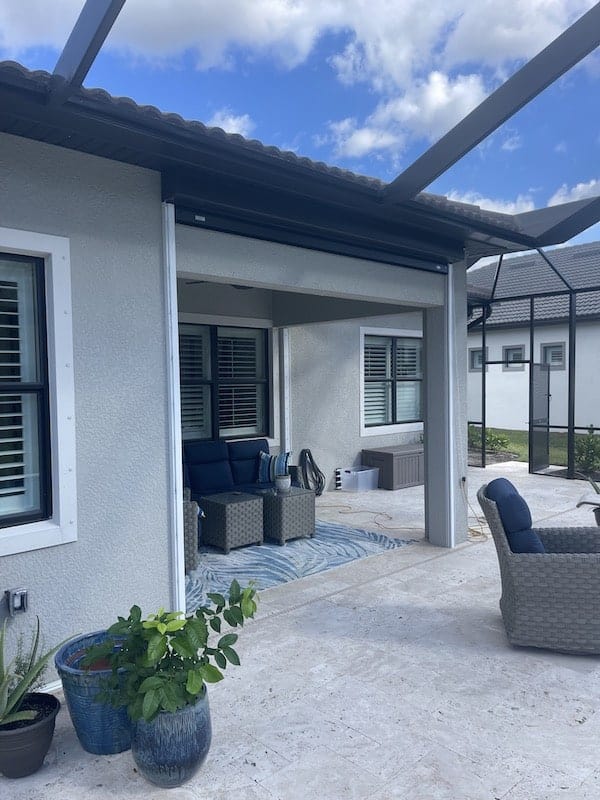 INTERESTED IN HURRICANE SCREENS FOR YOUR PROPERTY?
Need custom hurricane screens in Southwest Florida? Have questions or want an estimate? Eurex Shutters has 35+ years of experience and 25,000+ satisfied customers. We install custom hurricane protection products and impeccable installations at affordable prices.
GIVE US A CALL AT (239) 369-8600 OR FILL OUT OUR FORM BELOW FOR A FREE IN-HOME ESTIMATE.  
Or call (239) 369-8600 for immediate service.