At Eurex Shutters we love hurricane screens! So we were excited to recently do yet another hurricane screen installation in Fort Myers Florida. This time we installed beige, Eurex Shutters PTX™ Hurricane Screens on a beautiful home in the Colonial Country Club located in Fort Myers, Florida. Find out more about the install and our hurricane screens below.
See more of our recent projects.
Homeowner Needs
Every customer has specific needs. For this installation the client's needs included:
Convenience and ease of operation
Strong storm protection for their patio's windows and doors
Increased comfort in their backyard in terms of shade and protection from UV
Achieving a clean look that didn't change the appearance of their home
Solution
The customer chose to install Eurex Shutters electric hurricane screens. They are extremely easy to operate, offer strong storm protection, and provide valuable shade and UV protection. And because they were inside mounted the screens did not change the appearance of their home at all (except when lowered).
Overall the install was a success, and the home looks great! Check out the pictures and videos of the installation below!
Pictures of the Hurricane Screens Installation
Below you can see pictures of the hurricane screen installation in Fort Myers. You can see what they look like both opened and closed, as well as from inside and outside the home. These were beige, hurricane screens that were inside mounted.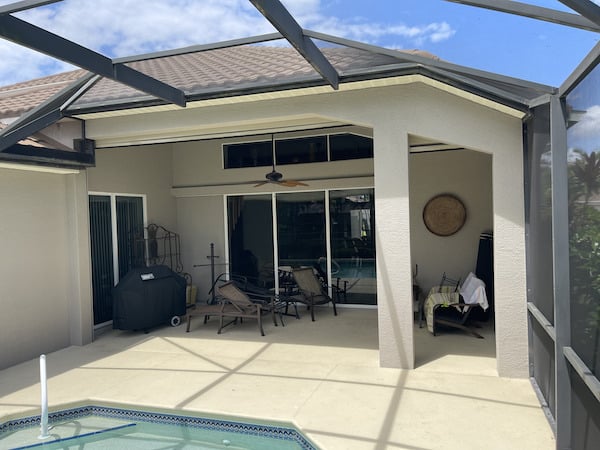 Videos of the Hurricane Screens Install
CONCLUSION
This hurricane screen installation was a successful. The home look unchanged, but it is now more protected, more functional and more enjoyable! The homeowners are happy with the final product.
Di you need hurricane shutters for your home in Fort Myers or Southwest FL? Hurricane Screens might be the right fit for you. But if not we can help you find the perfect choice. After all, we have the widest selection of hurricane shutters in SWFL. And all of our shutters can be customized to meet your needs. You'll also be happy to know that we not only install hurricane shutters. We also repair, service and maintain them.