Check out this amazing EUREX SHUTTERS PTX™ Hurricane Screens installation. This one was on a beautiful canal (and pool) home in the Yacht Club neighborhood of Cape Coral FL! It is not everyday that you see hurricane screens installed on two stories of a home. But that is exactly what we did on this installation. And the finished product turned out awesome! We are so proud to have completed another successful installation for another satisfied customer! Keep reading as we give more details on this unique installation and share some photos of the client's brand new hurricane screens.
Client Property & Customer Requirements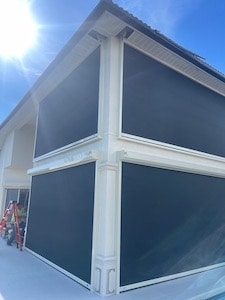 The customer's property is a two-story, single family home located in the Yacht Club area of Cape Coral, Florida. They were looking to add storm protection for both levels of their home because their home has lanais on both the first and second floor.
In terms of their requirements, they had several priorities for their home's hurricane protection.
Of course, their main priority was protecting their family and property during Hurricane Season.
Second, they wanted hurricane protection that would not take away from the good looks of their home. And it was easy to see why because the home is stunning!
Third, the owners really wanted a hurricane protection system that was fast and easy to use.
Last, they were looking for some added functionality. Specifically, they were interested in getting some much needed shade from the Florida sun and blocking UV from their lanai. They also wanted to keep the elements (such as rain) from getting into their lanais. In other words, they wanted to increase the enjoyment and comfort of their lanais and home overall.
Product: EUREX SHUTTERS PTX™ Hurricane Screens
The client chose our custom, hurricane-rated EUREX SHUTTERS PTX™ Hurricane Screens for both of the lanais on the first and second story.
As for color, they went with black screens and ivory frames and housings. As a result the frames and housing boxes blended in nicely with the home's exterior wall color.
We also did a hidden installation on the housing boxes on the second story to further minimize their appearance.
These hurricane screens look absolutely amazing on this already beautiful home! The frame and housing box color matched perfectly with the home's color scheme. This installation is another example of how hurricane protection can protect your home without changing how it looks.
These new custom, EUREX SHUTTERS PTX™ Hurricane Screens will provide storm protection and great looks along with shade and privacy for many years to come.
Related: Pros & Cons of Hurricane Screens in Florida: Guide
Photos of the Hurricane Screen Installation in Cape Coral
Check out a few photos of the install as well as the final product below.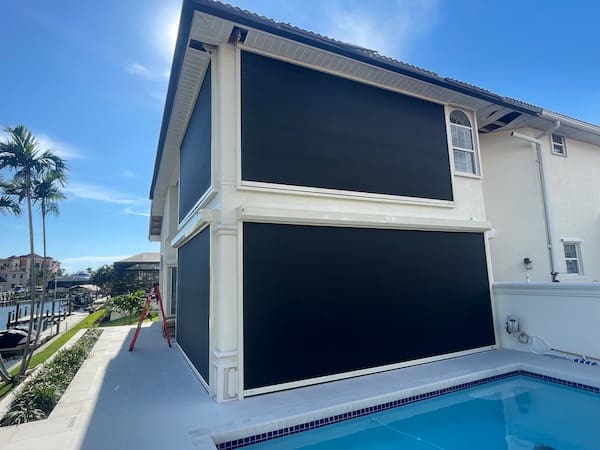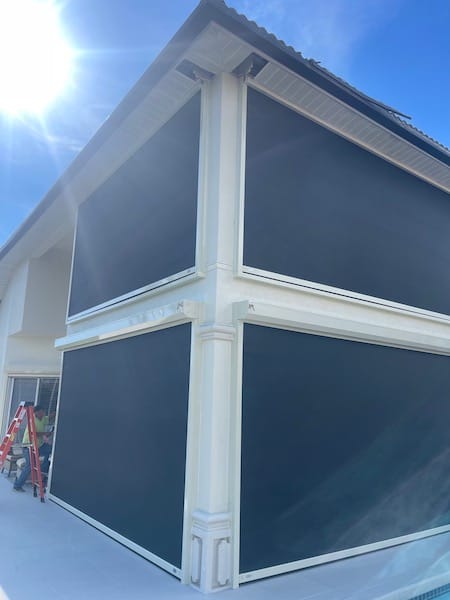 Interested in Hurricane Screens or Shutters for your property in Southwest Florida?
Need custom hurricane screens, shutters, or impact windows and doors in Cape Coral or elsewhere in Southwest Florida? Have questions or want an estimate? Eurex Shutters has 35+ years of experience and 25,000+ satisfied customers. We install custom hurricane protection products and impeccable installations at affordable prices.
Here's another installation of new impact windows on a client's home in Lehigh Acres FL. The client was looking to replace their old windows with some new impact resistant glass ones. They were also looking for windows that increased the aesthetics of their home while providing strong hurricane protection. The installation of their new impact…

---