We were back out on Sanibel Island to install EUREX SHUTTERS PTX™ Roll-Down Shutters on the porch of a lovely beach house. This one turned out great, and the customer was happy, which is the most important thing! Below you can find all the details along with photos and a video of the new roll down hurricane shutters.
Client Property & Requirements
This installation was completed on a home located in Sanibel Florida.
The homeowner was looking for hurricane protection for the rear of their property. Specifically, they have a lovely screened-in porch and lanai area. Screens do not offer much protection so this area was susceptible to damage during a storm. Their goal was to protect this area of their home, their family, and their belongings.
The openings of the lanai were wide, which limited the types of hurricane protection that can be used. But, we do offer protection products that are a fit for wide openings.
Like most homeowners, they wanted the product to look attractive. Specifically, they wanted to reduce the visual appearance of the shutters in order to preserve the look of their property.
Last, these homeowners were looking for something that could be deployed and used easily without much fuss.
Related: Hurricane Shutters Sanibel FL
Product: EUREX SHUTTERS PTX™ Automatic Roll-Down Hurricane Shutters
Our client decided on custom EUREX SHUTTERS PTX™ 55 mm, End-Retention Roll Down Hurricane Shutters with electric motors. Roll-downs were a good fit for them. This is because they are suitable for wide openings, attractive, and very easy to use.
For the color they chose to install beige shutters, tracks and housings. This went nicely with both the green shade of their home and their existing bronze aluminum screen enclosures. In other words, they look like they fit in and belong well.
For operation, the homeowner decided to go with automatic rolldown shutters powered by electric motors. This makes them extremely easy and fast to use.
In the end this installation turned out great!
New to roll down shutters? Learn more about them in our guide on What are roll down shutters and pros & cons.
Installation Video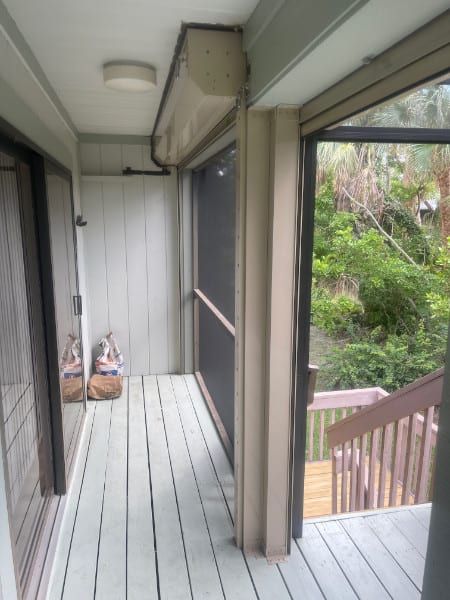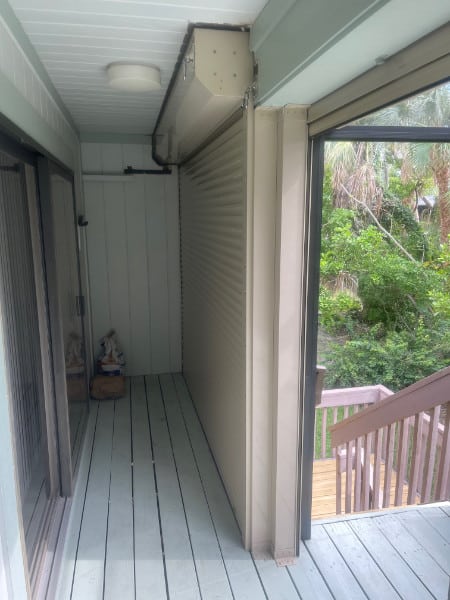 Interested in Hurricane Shutters for your property in Sanibel?
Interested in hurricane shutters, or impact windows and doors in Sanibel FL or elsewhere in Southwest Florida? Have questions or want an estimate? The Eurex Shutters team of storm protection professionals has 35+ years of experience and 25,000+ satisfied customers. Trust the pros and call us at (239) 369-8600 or fill out the form below and someone will contact your shortly.
Or call (239) 369-8600 for immediate service.
This modular home in North Fort Myers FL just got EUREX SHUTTERS Bahama Hurricane Shutters installed. Wow! The installation looks great, and these shutters upgraded the home's curb appeal AND its storm protection! And the client is happy with the installation, which is the most important part! Keep reading for more details on the installation…

---