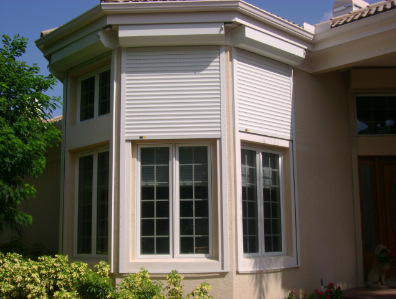 If you are looking for hurricane protection for your Southwest Florida home you probably have noticed that the options are endless. In fact, it can be overwhelming trying to select the right hurricane shutters for your needs. There are a lot of options of hurricane shutters to pick from. And the best hurricane shutters for you will depend on your needs and preferences. One popular choice for storm protection in Fort Myers, Cape Coral, Naples, and throughout Southwest Florida is roll down hurricane shutters. We'll discuss the pros & cons of roll down shutters so you can determine if they are a good choice for your home and/or business.
Table of contents
What are roll down shutters?
Rolling shutters are a premium style of permanent hurricane shutters. They open and close by rolling up and down (vertically).
You can choose between manual and automatic options. Automatic rolling shutters are powered by an electric motor whereas the manual ones are operated by a hand crank or strap system.
Our roll down hurricane shutters are available in both impact resistant aluminum and clear polycarbonate.
Watch our quick video to see what our Roll Down Shutters look like on different homes when opened and closed.
Pros & Cons of Roll Down Shutters
Below we provide some of the Pros & Cons of roll down shutters.
PRO: Provide the highest level of storm and security protection
Roll down shutters are generally considered top of the line when it comes to protection. They not only offer great storm protection, but they also provide top-notch security protection. When locked, roll up shutters completely close off or block access to the entry points of your home or office. Rolling shutters are a good choice whether you need to protect your home from a category 5 hurricane or intruders.
PRO: Extremely quick and easy to deploy
Roll downs offer a high level of convenience. They can be opened and closed by most individuals with a low degree of effort. You can open them from inside your home in minutes, not hours or days.
Both automatic and manual rolling shutters are easy to deploy. Automatic (electric) roll downs can be operated by a central control system either by a switch or by the Tahoma system app on your mobile phone. The manual version can also be opened and closed inside your home with a hand crank or strap. Either option is easier and more convenient than some other types of hurricane shutters.
PRO: High level of functionality including energy savings, light control and sound reduction
Roll shutters offer many features and benefits outside of just storm and security protection. They also offer excellent energy savings, light and UV control, and sound reduction.
You can completely control the opening of the slats almost any way you want. Why is this helpful? This level of control means they can be used to provide light and UV control as well as provide complete privacy. You can partially close the slats to provide shade or you can completely close them for total privacy.
Likewise, the ability to control the shutters also allows you to achieve energy savings and sound reduction.
PRO: They don't significantly change the look of your home
Roll down shutters are permanently attached to your home. And like any permanently attached shutter they are visible on your home. However, the sleek design of roll downs means they will not significantly alter the appearance of your property when they are not deployed. When they are not in use they tuck away cleanly above the opening of your doors and windows. This greatly minimizes the visual appearance of the shutters on your home compared to some other permanent shutter options.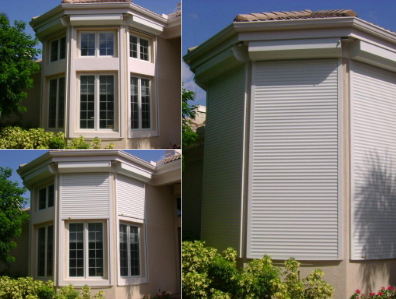 PRO: Available in a variety of colors
Some impact shutter styles are limited in terms of color selection. This becomes an issue as the colors might not go well with your home's color scheme or aesthetics. Our roll down hurricane shutters are available in multiple colors, including white, ivory, beige, and bronze. This allows you to find a color that matches or compliments your home vs. degrading its appearance.
CON: You will see them on your home
We mentioned before that roll downs are visible on your home. They are less visible than other kinds of permanent shutters, but they are still visible. These may not be the best choice for you if you don't like the look of permanent hurricane shutters. If that is you then you may prefer storm panels or hurricane fabric panels, which are not permanently installed.
Learn more about the Pros & Cons of Hurricane Fabric.
CON: Cleaning can take some effort
Rolling shutters take a bit of effort to thoroughly clean. This is true for any window treatment that has horizontal slats. When doing a thorough cleaning you should clean the individual slats with a cleaner vs. just quickly pressure washing or hosing them down. This should be expected as part of the use and care for this type of shutter.
CON: Automatic versions require maintenance
Automatic roll down shutters are the ultimate in convenience. Their motors and control system allow you to operate them effortlessly. But like with any electrical device the motors of automatic roll down shutters require maintenance. Similar to an air conditioner or your vehicle, you should expect to perform normal maintenance so they operate as expected.
If you are looking for a maintenance free option then automatic rolling shutters may not be your best choice.
CON: Cost more than some other storm shutters
This could be either a pro or a con depending on how you look at it. Roll down shutters cost more than low-cost options like storm panels and hurricane fabric. This makes sense when you consider all the benefits they offer over those options. So even though they aren't the cheapest option, they are priced quite attractively for all of the benefits they provide.
If you are interested to learn how much each type of hurricane shutter costs make sure to read our 2021 guide on Hurricane Shutters Cost.
Why do people get roller shutters?
Roller shutters are a good option for people who want the following from their hurricane shutters:
a high level of both storm and security protection
lots of features and uses outside of just storm protection
ease of use and convenience
permanently installed shutters
Choosing the right hurricane shutters
There are several options available when it comes to protecting your home and family from hurricanes. But one thing is certain. If you live in an area like Southwest Florida then hurricanes are a legitimate risk. So you need to have some form of protection, regardless of which product you choose. Choosing the right option might seem cumbersome. We recommend you explore different options and consider the pros and cons of each one. Talk to a trusted company like ours that can show you every option and explain their pros & cons. In the end it will come down to which product best meets your needs, budget, and preferences.
If you need any help or would like a complimentary consultation give us a call at 239-369-8600 or fill out our quick contact form.