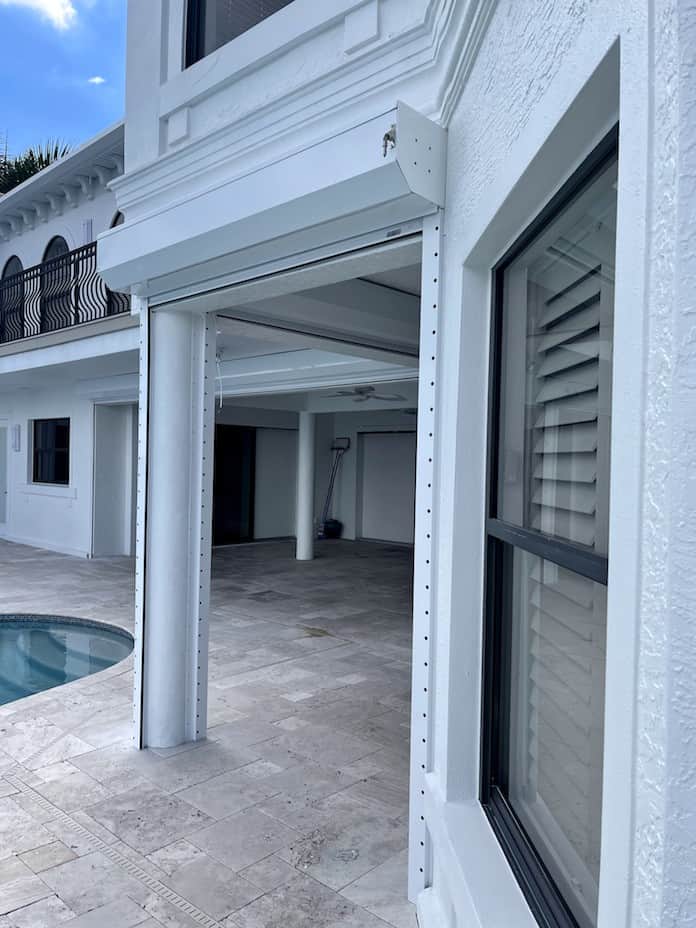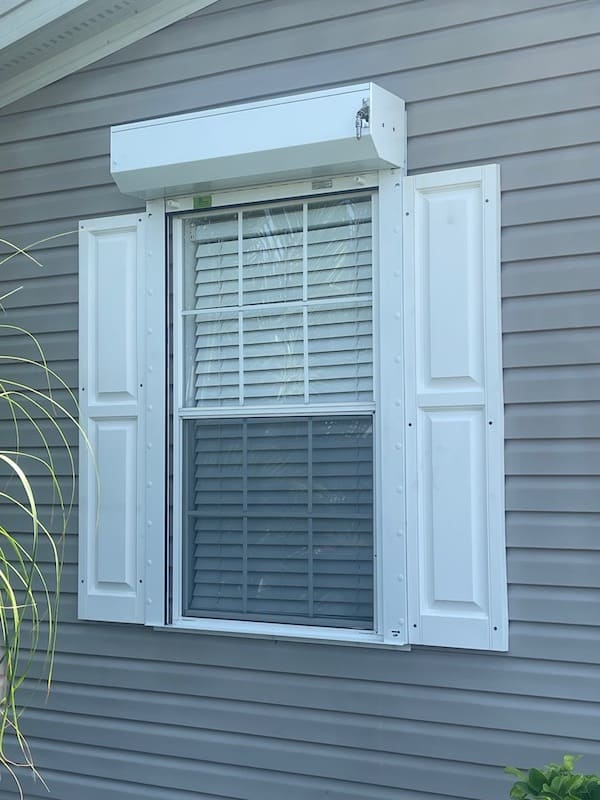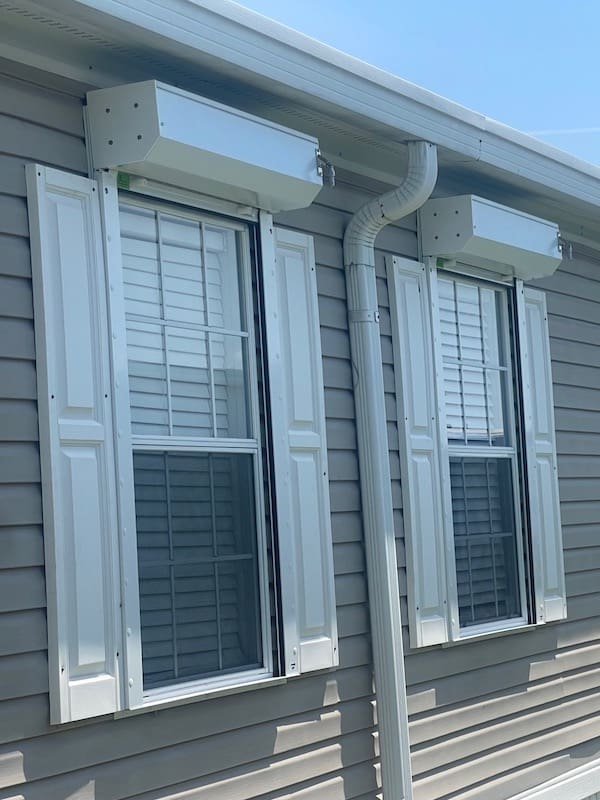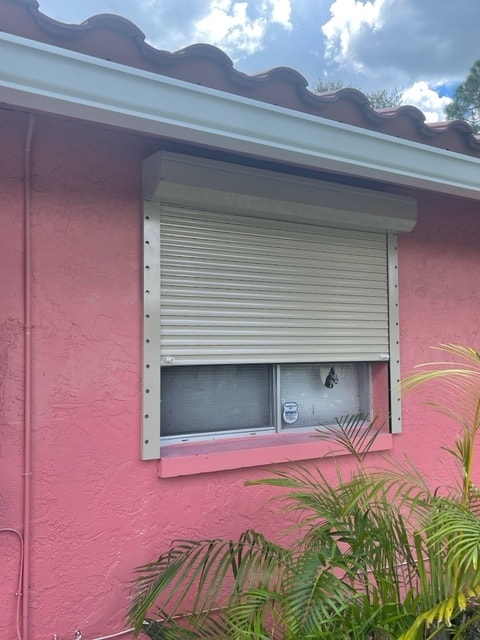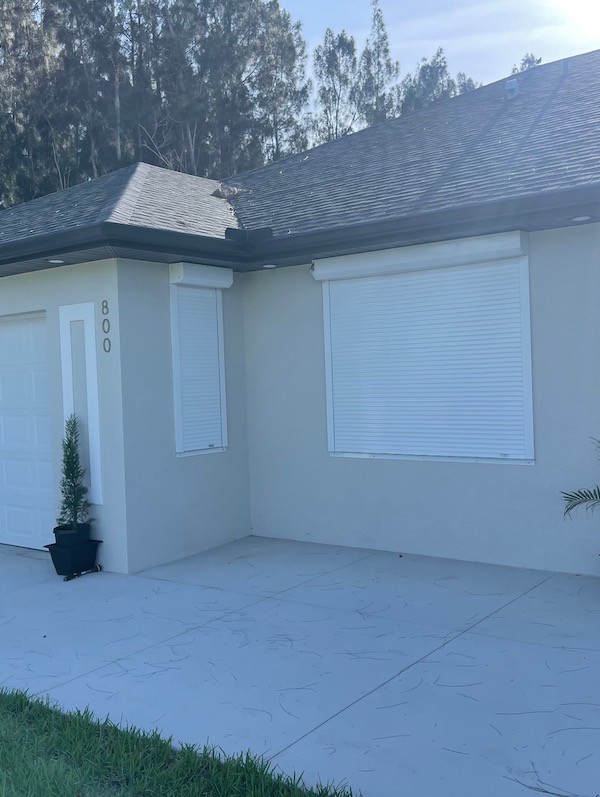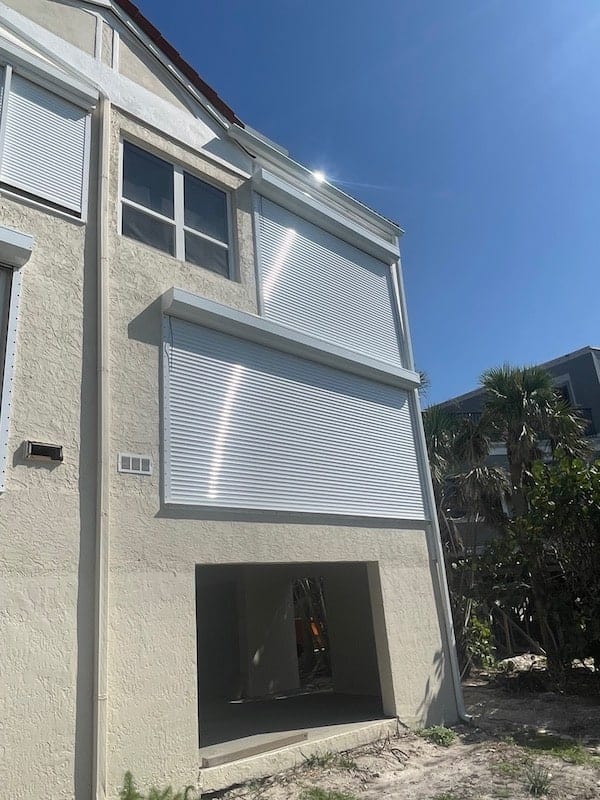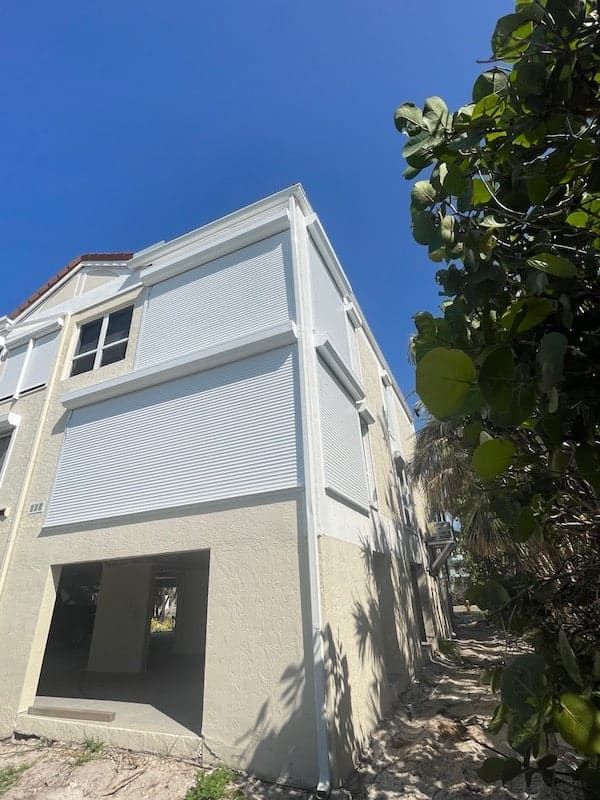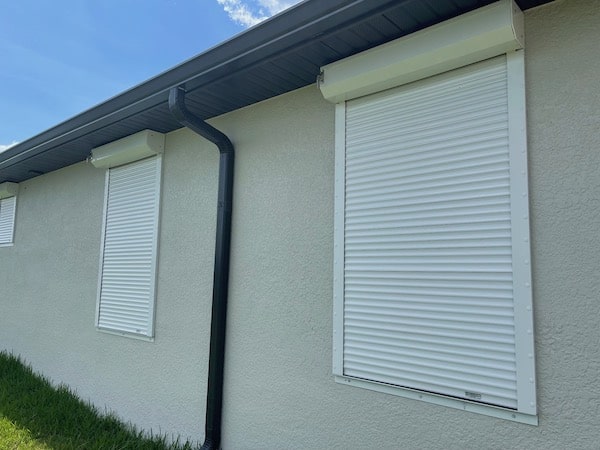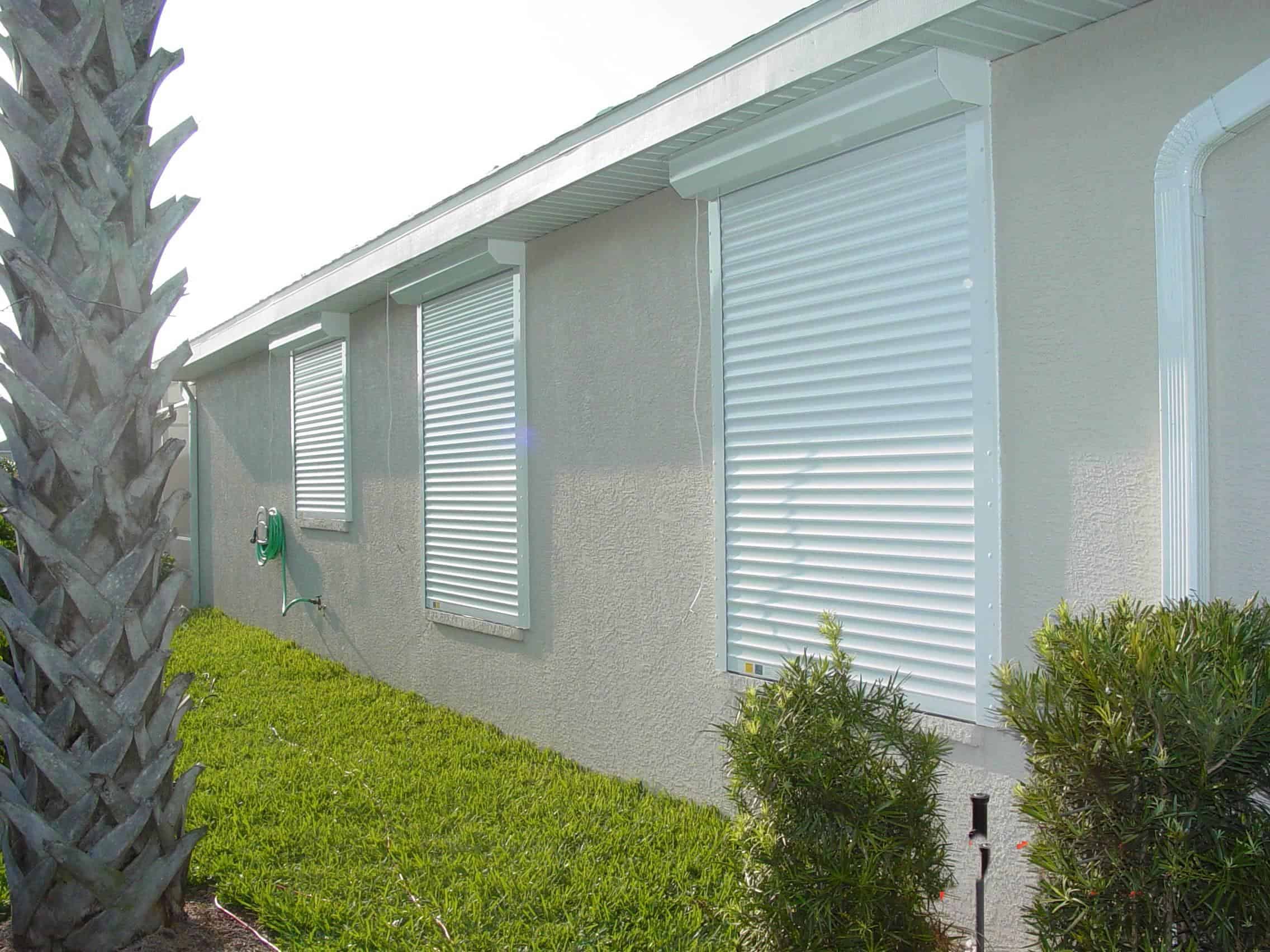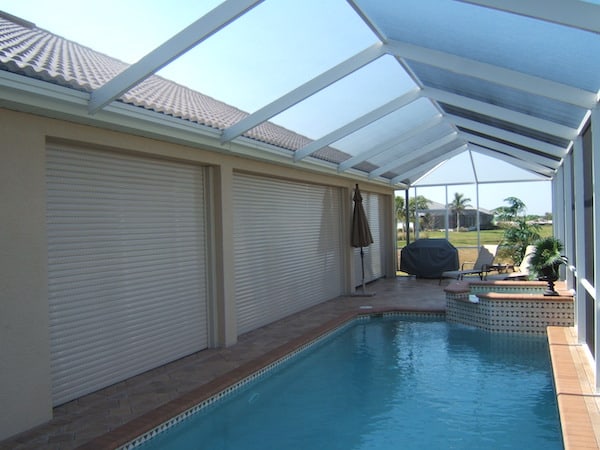 55 mm end retention rolldowns
55 mm end retention roll-down hurricane shutters provide both hurricane protection and security to your home or business. They have a sleek, clean look so they do not degrade the appearance of your home. And they also provide insulation, shade, privacy, and noise reduction.
All of our rolling hurricane shutter systems are custom made to fit your property's windows, doors, and/or openings. They are also installed by our own, factory-trained, local technicians.
Roll shutters are extremely easy to use. These shutters go up and down on vertical tracks over your windows, doors and other openings. They can be operated either with a manual crank system or upgraded to operate with electric motors.
Our roll shutter products are made from heavy-duty, impact resistant materials, such as high-grade aluminum. These shutters protect your home's openings from flying debris and hurricane force winds. Our 55 mm roll shutter systems are Florida Product Approved and meet and exceed the current Florida Building Code.
Key Features of Our 55 mm (end-retention) rolling hurricane shutters:
Hurricane & security protection
Meet current Florida Build Code & Florida Product Approval
Impact resistant and approved for use outside of HVHZ
Permanently installed on your home
Custom designed to fit your home and project needs
Energy savings, sound reduction and light control
20 year limited transferrable warranty
Benefits
Our 55 mm end-retention rolldowns offer many benefits for your Florida home, including:
Hurricane protection
Security protection
Privacy and light control
Provide insulation making your home more energy efficient and comfortable
Sound reduction
Learn more about the Benefits of Roll Down Shutters
Technical Specifications: 55 mm end retention
| | |
| --- | --- |
| FL Product # | FL # 12546.1 |
| Product Category | Hurricane Shutters |
| Product Subcategory | Roll-up |
| Product Description | Extruded aluminum rollup shutter, 55 mm (approximately 2.17″) slats, end-retention |
| Customization | All of our rolling hurricane shutter systems are custom made for your property's windows, doors, and/or openings. |
| Florida Product Approved | Yes |
| Meets Florida Building Code | Yes |
| Approved for use in HVHZ | No |
| Approved for use outside HVHZ | Yes |
| Impact Resistant | Yes |
| Warranty | 20 year limited, transferrable warranty |
| Available Colors | White, Ivory, Beige, Bronze |
Operation: Manual and Automatic
Our 55 mm end-retention roll downs can be operated with both manual and motorized (electric, automatic) operation.
Motorized (automatic)
Electric roll-down shutters or automatic roll downs are operated by an electric motor. They can be controlled by a switch inside your house or even through an app on your mobile phone. Our electric PTX™ Roll-Down Shutters are available with the Tahoma system app as an option.
Automatic models are available with override.
Manual
Manual rolldowns are opened and closed manually with a hand crank or strap system.
Read our detailed comparison guide: Motorized vs Non-Motorized: Which Is Better?
Our 55 mm end retention rolldowns are available in 4 standard colors:

How it Works
1. Request estimate online or call us for an estimate
Our installation process starts with a 100% free estimate at your home or business. You can schedule your estimate by calling us at (239) 369-8600 or requesting one through our online contact form.
2. We provide a free in-home estimate and measure your windows and doors
During the estimate a knowledgeable team member will meet you at your property. They will ask you a few questions to determine your goals and preferences. And they will ask you which window, doors and other openings you want to install the shutters on. We will also make recommendations on where you could benefit from the installation of roller shutters.
We will then measure each of the spaces you want to install the shutters. This is necessary to determine the size of each shutter and the total cost of the project.
Lastly, our team member will provide you with different product options to design your desired system. Product options include things like manual or electric operation, colors, installation requirements, and other optional components.
3. We professionally install your new rolldown shutters
On the day of the installation our factory-trained installation team will arrive at your home or business as planned. First, they will thoroughly prepare your property to ensure your belongings are not damaged.
Next, your new roller shutters will be installed on the exterior of your property. An electrician will complete any required electrical and wiring work if you are installing electric roller shutters.
After the installation of your shutters is complete we do a thorough clean up. Our technicians will clean everything from all protective materials and tools to any dust or debris. We leave your home or business looking the way it did before the installation (with the exception of your new shutters).
Product Approvals & Technical Specifications
Click below to download product approval and technical specification information for our 55 mm end-retention roll down shutter system.