Thinking about purchasing roll down hurricane shutters for your home in Fort Myers/Cape Coral, Naples or elsewhere in Southwest Florida? If yes then you most likely want to understand how long they will last. This is the case for any big, home-related purchase. You want to know how long products like a new roof, new windows, doors, a pool, and even an appliance are expected to last. And it's no different for your hurricane shutters. So, how long do roll down hurricane shutters last? That is what we will discuss in this article. And while we do not have a crystal ball we can provide you with information to help you understand the expected life of your new shutters.
Note: Please note that the information in this article refers specifically to EUREX SHUTTERS PTX™ ROLL DOWN HURRICANE SHUTTERS.
How long should roll down shutters last?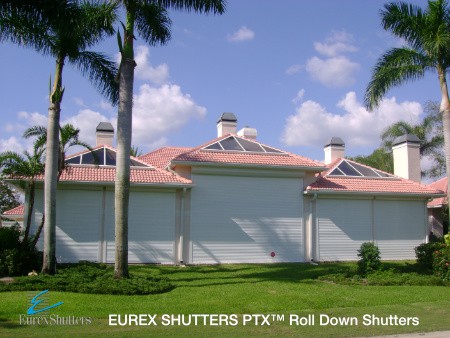 It would be awesome if everything we bought lasted forever. But unfortunately, everything reaches its useful life eventually. So it is unrealistic to expect any product, no matter what it is, to last forever.
However, when you pay a good chunk of money for something you expect it to last for many years. So before buying anything, it is good to research how long that product should last.
The good news is that roll down shutters should, under normal circumstances, last for many, many years. Of course, you need to follow the recommended use and care guidelines. This also assumes the shutters don't suffer significant damage at some point, such as during a major storm.
Pay attention to the warranty
We cannot predict the exact length your roll shutters will last. There are many variables that could ultimately affect how long they last. These include things like keeping up with their proper maintenance and care. It also includes things like acts of God or other people causing damage to them. But, as we mentioned above your roll down shutters should last for many years if they are properly cared for under normal circumstances.
With that being said, you naturally want to be protected and covered if they don't last or perform like they are supposed to. And this is where the roll down shutters' warranty becomes important.
It is the warranty that provides you with some assurance for a specific amount of time. So if the roll downs don't last as expected, or break down unexpectedly, you may have coverage under the warranty.
WHY THE WARRANTY MATTERS FOR ROLL DOWN SHUTTERS
The warranty is important to you as a buyer of roll down shutters for a couple reasons.
It indicates product quality and confidence in the product. A warranty is a good indication of the quality of the roll down shutters. It signals the reliability and durability of the product you are buying. This is because a warranty can be viewed as a time period that the manufacturer is confident that the product will perform as it is supposed to. As such, it may be true that a longer and better warranty is a good indication of a higher quality, more reliable product. It shows the company has more faith in the quality and longevity of their products so they can offer a longer warranty.
Represents the amount of time the manufacturer will stand behind their product, either entirely or in some way. If they don't perform how they are supposed to you will be protected in some way under the warranty if it is still valid. The longer and more comprehensive the warranty is the better.
It should be noted that not all warranties are created equal. Each warranty will differ in terms of years and coverage. So make sure you review the language of the warranty to understand what is covered, what is not covered, and for how long.
For your reference, company offers a 20 year limited, transferable warranty on our EUREX SHUTTERS PTX™ ROLL DOWN HURRICANE SHUTTERS
Looking for high-quality roll down shutters in Southwest Florida?
Eurex Shutters has been a leader in roll down hurricane shutters in Southwest Florida since 1986. In fact, we have 25,000+ satisfied customers in the area. Give us a try if you want the highest quality roll down hurricane shutters, the best installations and truly great service.
Related Posts:
Case Study: Custom Hurricane Shutters Installation Bokeelia FL

Sometimes the perfect solution for protecting your home requires using multiple products. That may mean using a combination of impact glass and hurricane shutters. Maybe it is using hurricane screens and either impact glass or shutters. Or it could be using a combination of hurricane shutters throughout your home. The last scenario is exactly what…