We recently finished another successful installation of brand new EUREX SHUTTERS PTX™ Accordion Hurricane Shutters in South Naples, FL. These white accordion shutters boosted both this home's curb appeal AND its storm protection! And most importantly, the client is happy with the installation!
Keep reading for more details on this shutter installation and to see what the home looks like with its brand new accordion hurricane shutters.
Property & Client Requirements
The property is a manufactured, single-family home located in the southern part of Naples, Florida. It was a lovely home, but it was lacking adequate storm protection.
In turn, the homeowner's priority was installing shutters that would protect their home and family during the upcoming Florida hurricane season. And after the 2022 hurricane season we cannot blame them.
The homeowner was also looking for hurricane shutters that added some curb appeal (good looks) to their property.
Last, this Naples homeowner required that the hurricane shutter were easy to use (and to deploy). They wanted something that was fast to prepare their home before a storm.
You may also find interesting: Hurricanes & Tropical Storms in 2022
The Solution: EUREX SHUTTERS PTX™ Accordion Hurricane Shutters
The homeowner had the following requirements:
Strong protection from even the worst storms
Good looking shutters
Convenience/ease of use
The client ultimately decided to go with custom, hurricane-rated EUREX SHUTTERS PTX™ Accordion Hurricane Shutters.
Accordion shutters are a popular choice of hurricane shutter in our area for a reason. They look nice, are easy to use, and provide strong hurricane protection.
The finished product (post-installation) looks great! These new custom, hurricane-rated Accordion shutters will provide strong storm protection and boost their home's appearance for many years to come
Post Installation Photos (After)
Below you can see what this South Naples FL manufactured home looks like after the installation of their brand new EUREX SHUTTERS Hurricane Shutters.
We think it looks great!
What do you think?! We would love to hear your opinion!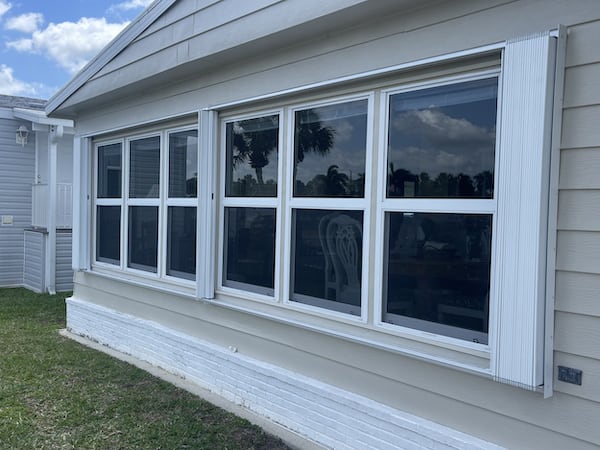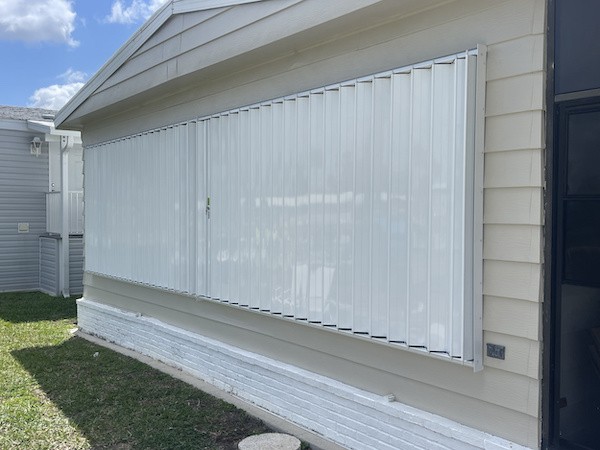 Interested in Hurricane Shutters for your home?
Interested in accordion hurricane shutters, other hurricane shutters, or impact windows and doors for your home in Naples FL or elsewhere in Southwest Florida? Have questions? Need an estimate? The team of hurricane protection professionals at Eurex Shutters can help. Call us at (239) 369-8600 or fill out the form below and someone will get back to you in no time.