Living in Florida, especially in the coastal areas of Florida means you have to deal with hurricanes, tropical storms, and other severe weather. Hurricane season happens every year in Florida without a break. This is true whether you live in South Florida, Miami, the Florida panhandle, Jacksonville, Southwest (Gulf Coast) Florida or anywhere in between. But do you know when hurricane season is in Florida? In this article we cover what hurricane season is, and when it ends.
Table of contents:
Update May 23 2023: the 2023 Hurricane season will officially start in Florida on June 1, 2023.
FAQ Florida Hurricane Season
When is hurricane season in Florida?
According to the Florida State University Climate Center hurricane season in Florida is a six-month long period that occurs from June 1st to November 30th of each year.
When does hurricane season start?
The Atlantic hurricane season in Florida officially begins on June 1st of each year. Although it is possible for storms to occur earlier than June 1st.
When does hurricane season end?
Hurricane season in Florida officially ends on November 30th of each year.
Does Florida have hurricanes?
Yes. Florida does have hurricanes. In fact, the sunshine state is prone to hurricanes so hurricane season is a risk every single year.
What was the last hurricane to hit Fort Myers and Florida's Gulf Coast?
Hurricane Ian in September of 2022 was the last major hurricane to hit Southwest Florida. Before that Hurricane Irma hit the area in 2017. Hurricanes in Fort Myers, Cape Coral and the Gulf Coast of Florida are frequent and common as the area has a high hurricane risk.
Introduction: What is Hurricane Season in Florida?
As mentioned above, Florida is affected by the Atlantic Hurricane Season every year from June 1st to November 30th. But what exactly is hurricane season, and why does it happen when it does?
The Atlantic hurricane season is the period when tropical cyclones commonly form in the Atlantic Ocean. This is why it is referred to as the "Atlantic hurricane season." It tends to happen within the period of June 1st to November 30th, but storms have happened outside of this as well. Peak season is around the middle of September of each year.
Why does hurricane season happen from June to November?
Florida hurricane season takes place from June to November because this is the time period with the greatest differences in temperature between the air and sea surface.
What does this have to do with the formation of hurricanes? Below we use authoritative sources to help explain why this temperature difference results in the formation of tropical cyclones, such as hurricanes.
National Geographic Kids gives a helpful explanation of how hurricanes form over the Atlantic Ocean. They explain that Atlantic hurricanes form from a tropical depression in the ocean that circles an area of low air pressure. Low pressure above the ocean surface makes the hot, humid air from the ocean rise in a spiral shape. As the humid air rises it cools down and condenses into bands of clouds and storms. The low pressure spiral continues to suck up more humid air from the ocean surface. And this causes the spiral to get stronger as it continues. This may continue until it turns into a tropical cyclone, such as a tropical storm or hurricane.
Similarly, in a guide entitled "How do Hurricanes Form" by the NOAA, hurricanes start with a low pressure area that sucks up warm ocean air. When the warm ocean air rises and cools it causes storms to form, which increase in strength and speed as more warm air is sucked up. They state that "warm ocean waters and thunderstorms fuel power-hungry hurricanes."
What are tropical cyclones?
A tropical cyclone can be a hurricane or tropical storm. In general, hurricanes have stronger sustained winds vs tropical storms. Hurricanes are classified by categories of hurricanes. Categories range from category one to category five. The severity of the hurricane increases as the category increases.
Occurrence and Frequency of Hurricanes in Florida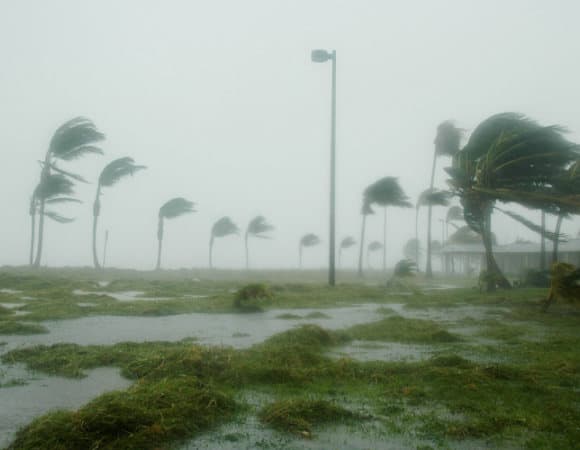 Florida has a long history of hurricanes and severe weather. In fact, it is a fairly regular occurrence. How regular? Universal Property states that over 120 hurricanes have been recorded in Florida since 1851.
How often does Florida get hurricanes? According to Best Places Florida is affected by a tropical storm or hurricane about once every 3 years.
Recently Southwest Florida has been hit by a major storm once about every 5 years. These included Hurricane Irma in 2017 and Hurricane Ian in 2022.
So if hurricane season happens nearly every year you want to make sure you understand when it takes place. This will help you prepare yourself, your family and your home before any storms even approach.
What part of Florida gets hit the most by hurricanes and tropical storms?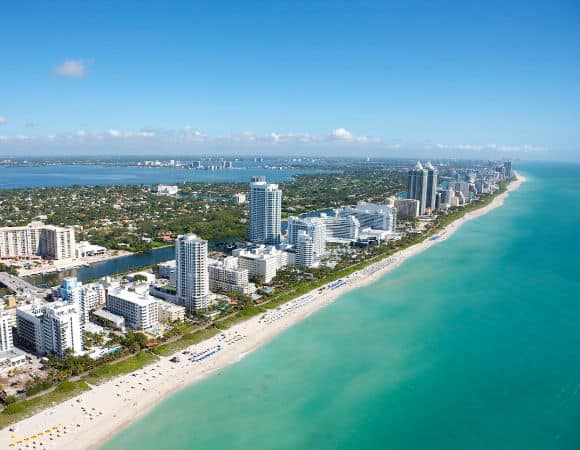 According to Hurricane City's ranking of cities with the highest frequency of a hurricane/tropical storm since 1871, Miami, FL, Cape Canaveral, and Fernandina Beach have the highest frequency. Specifically, they have been hit or brushed by a tropical cyclone every 1.94 years. Tampa is close behind with a frequency of being hit or brushed by one every 1.96 years. Other Florida cities with historically high frequencies include Tarpon Springs, Saint Augustine, Palm Beach, and Spring Hill.
It is important to note that this is based on each city being hit or brushed by a hurricane since 1871. A brush is different vs an actual hit. The Florida city with the most hurricane hits since 1871 is also Miami.
It should also be noted that the list above does not reflect the frequency of hurricanes in recent years. In fact, according to News4Jax, Miami has escaped the effects of the last 6 hurricanes to hit Florida since 2016.
Regardless, over the last 140+ years Miami has historically been highly affected by the Florida hurricane season. The South Florida city has been hit by 31 hurricanes since 1871 (hurricanecity.com), which is the most in Florida. This is an average of about every 4-5 years.
In terms of Florida regions hardest hit, a Universal Property & Casualty report states that Northwest Florida (the Panhandle) is the most prone. It has been affected by 66 total hurricanes since 1851. After that there is Southwest Florida (49) and Southeast Florida (49).
How to prepare for hurricane season
Make sure you are fully prepared before hurricane season happens. If you need some guidance make sure to read our detailed guide on how to prepare and plan for a hurricane.
Some quick tips for preparing for hurricanes include the following:
Get alerts so you know when the storms will hit.

Sign up for an alert system or check weather alert websites so that you know in advance of all oncoming storms.

Ensure you properly protect your home, condo, and/or business before a storm. Storm protection products, such as impact windows and hurricane shutters are a good investment to protect your property and family.

Find out more about hurricane shutters and other storm protection products.