You need hurricane shutters to protect your house in Florida, but you don't know where you should buy them. Can you buy storm shutters online? How about buying big box storm shutters from a big name hardware store? Or is buying your storm shutters through a local shutter company best for you? If you are asking "where can I buy hurricane shutters?" then you are in the right place. We'll cover what your options are in this article.
Not sure which hurricane shutters are best for your home or how much they cost? Be sure to check out our guide to learn the different styles of hurricane shutters and the cost of each. Also you can read this guide if you are trying to decide whether hurricane shutters are worth it.
Your Options For Buying Hurricane Shutters in Florida
If you are looking to buy hurricane shutters in Florida then you really have 3 main options. Although there are other alternatives, such as buying second-hand shutters, we won't cover those in this article. The 3 main ways to buy hurricane shutters for your house in Florida are 1. online distributors, 2. big box hardware stores, and 3. local shutters companies near you. We cover each of them in more detail below.
Most suppliers will carry the majority of shutter options, including metal, plastic and aluminum hurricane shutters varieties. Some sellers do not carry all styles of storm shutters so make sure you find one that has the style you are interested in.
1. Buying hurricane shutters online
There is no shortage of online retailers selling hurricane shutters. Different online stores will offer different types of hurricane shutters at different prices.
There are a few things to consider when determining if you want to buy your shutters online.
First, make sure you are comfortable and willing to buy your shutters sight unseen. You will have to be okay with not being able to see, touch and experience the hurricane shutters before you buy them like you would with a local hurricane shutter company.
Second, you need to make sure you are okay doing some of the leg work and putting in some effort to get the shutters installed (either by yourself or with a third-party contractor). Specifically, you will most likely have some extra steps when ordering your shutters online. These steps include researching different online stores, measuring for your shutters, and finding and vetting a contractor or even installing them yourself.
Here are some of the pro's and con's of buying your shutters online for your home in Florida.
Pros:
Many retailers exist so you will surely have plenty of options and buying power
You can pick out and buy your Florida shutters from home without having to go to a store or a showroom
Cons:
You will need to install them yourself or go through the process of finding a licensed contractor to install the shutters you buy online
The process of finding a reputable contractor is an extra step and might be a hassle
Many contractors will not install products you supply so this may become an issue
Many contractors will not guarantee the installation of shutters you supplied so keep this in mind
Measuring the shutters needed is up to you; insuring that you measure and order the correct size need to be done correctly
Picking out the appropriate fasteners and hardware can be overwhelming
You will not get to see the shutters in person before you buy; getting a real understanding of their quality is tough
Knowing which online store to purchase from takes some research to ensure they are reputable
2. Buying from a big-box hardware store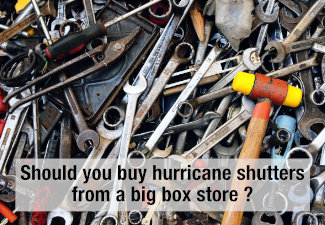 This seems like a natural place to look for hurricane shutters, and many of the big-box hardware stores do offer hurricane window coverings. Most of these products are sold online and delivered to your local store for pickup. The selection of storm shutters at the actual store is limited. So the experience of buying from a big-box hardware store may be very similar to buying from an online retailer. In turn, the considerations and the pros and cons of buying your hurricane shutters at the big name hardware stores are nearly identical to buying them online.
Some of the pro's and con's of buying your shutters online for your home in Florida include the following:.
Pros:
Cons:
These stores sell them as DIY, but in many (most) Florida counties hurricane shutter installation requires a permit, so you will need to find a licensed contractor to install
Finding and selecting a reputable contractor to install the storm shutters is extra work for you
You will need to find a contractor willing to install the big-box shutters
Many contractors may not guarantee the installation of shutters that they did not supply
You will need to, or find a contractor to measure the shutters and insure that you measure and order the correct size for your house
Making sure you select and buy the appropriate fasteners and hardware can be confusing to untrained individuals
Most of the styles are not on display at the big-box stores. So you may have to by sight unseen without getting a sense of the quality, materials, and options firsthand
3. Buying from a local hurricane shutter company
In Florida there are several local hurricane shutter companies. For this article we focus on local Florida shutter companies who both manufacture storm shutters and install them on your house.
If you prefer to work with a company that simplifies the process then a local shutter installation company might be a good fit. They also install their products so if you don't want to find your own contractor this is a good solution. Lastly, if you absolutely have to see the actual products before buying then you must consider a local shutter installer. If this is the case then find one with a local showroom. Here you will be able to explore different options, including styles, colors, features and more.
Here are some of the pro's and con's of buying from a local hurricane shutter company:
Pros:
Simplified, convenient process: these companies handle the entire process from measuring, installation and maintenance of your Florida hurricane shutters saving you time and effort finding your own contractors and doing your own legwork
Most have a local showroom where you can view the different styles, colors, options and features in person
Most also do in-home consultations if you don't have time or a desire to go to their showroom
The staff can help you determine the best hurricane shutters for your house
No need to find a separate contractor to install your shutters
Your hurricane shutters are guaranteed because they came from the company and were installed by them
These are sold as a complete system so the fasteners and other necessary components will be included in the price
Many also install hurricane glass so you can compare options if you are considering hurricane windows vs. hurricane shutters
You will be buying from a local company and supporting your local economy
Cons:
Comparing pricing vs. online retailers and big-box stores can be tricky because local hurricane shutter companies include installation, etc.
Completing the process 100% online is usually not possible; either an in-home consultation or a visit to a showroom is necessary
Conclusion
If you live in Florida and are asking yourself "where can I buy hurricane shutters" then you have many options. You can buy your hurricane shutters from an online retailer, a big-box hardware store or a local company specializing in storm shutters. Each option has its pros and cons. Which option is right for you will depend on what you are looking for and the amount of work you are looking to put in to the process.
If you are in the Southwest Florida and want to see the different styles of hurricane shutters in person or get an estimate we would love to help! Eurex Shutters is a local hurricane shutter installation company that has been proudly serving Fort Myers and the rest of Southwest Florida since 1986.