You have many options when it comes to your new rolling shutters. One option you will be able to pick when buying them is how you control them (how they are operated). In this quick article we discuss the different options for controlling rolling hurricane shutters. Our goal is to help you pick the right roll down shutters so you are happy with them.
Options for controlling your roller shutters
The options you will have for controlling your rolling shutters depends on if you buy electric (automatic) roll down shutters or manual roll down shutters.
We discuss the control options for each type below.
Control options for manual rolling shutters
Manual rolling shutters are, of course, opened and closed manually. Depending on which hurricane shutter company you buy your roll shutters from you will have different options for how to control them.
The two most common controls for manual rolling shutters are crank and belt roll mechanisms.
Controlling Manual Crank Roll Shutters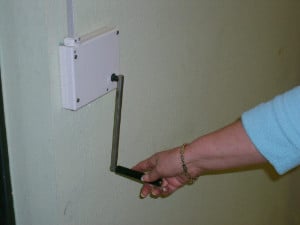 Crank roll shutters are opened and closed using a hand crank inside your home. And while it may sound not-ideal, these are quite simple to use. At a high-level you would gently turn the crank to either open or close them.
You can read more details on manual crank operation in our guide How to Operate Manual Crank Roll Shutters.
Controlling Manual Belt Roll Shutters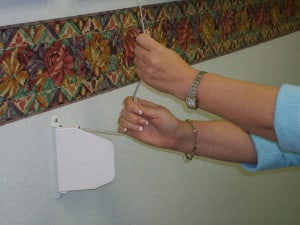 Belt controlled roll shutters are another option for controlling manual rolling shutters. These are also referred to as strap controlled. The belt allows you to open and close your rolling shutters easily from inside your home.
You can learn about how to use manual belt rolling shutters in How to Operate Manual Belt Roll Shutters.
Control options for automatic rolling shutters
Automatic versions of rolling shutters are driven by electric motors. And they have manual override or back up power systems in case the power goes out.
Because they are electric automatic roll up shutters have several options for controlling them.
We discuss each of these options below.
Switch Controlled (Including Central Control Systems)
Switch controlled roll shutters are very easy to control. In fact, it is similar to using a light switch. You can even chose to go with a central controlled system, which puts control of all of your shutters in a single (central) place. This makes opening and closing all your roll shutters on your home as easy as using a light switch.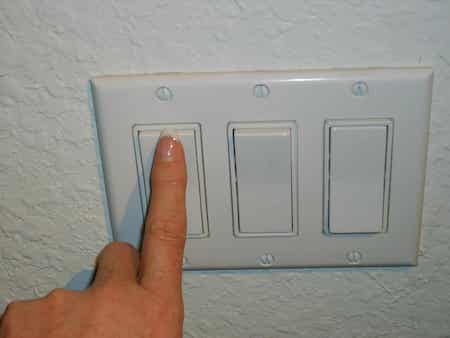 Mobile Phone App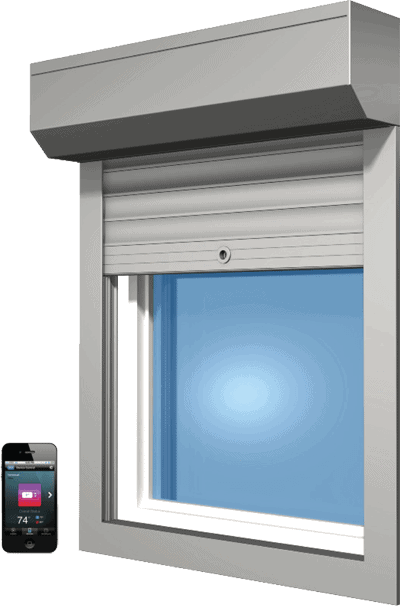 How would you like to control your rolling shutters with your mobile phone? Pretty cool right? And it is completely possible with mobile phone apps, such as the Tahoma System App (a Eurex Shutters exclusive).
This option is great for snowbirds (seasonal residents) as well as those frequently away from their homes. Why? Because you can literally control your roll shutters from your mobile phone anywhere you happen to be.
You can think of it like controlling your smart thermostat, smart lights, etc.
So this is extremely helpful if you are not near your house and have to deploy your shutters for a hurricane or other reason. At the very least, it is just very easy and convenient as you can do it anywhere as long as you have your phone.
FAQs About Controlling Roller Shutters
Can manual roller shutters be converted to electric?
Yes. Most of the time they can be converted. Contact us and we can give you more information and determine if this is possible for your manual rolling shutters.
Can electric roller shutters manual override?
Electric roller shutters have a manual override in case of an emergency like a power outage or failure. Alternatively, you can opt for a backup power supply that provides the power they need to operate. We can help you pick the right option for you.
Can roller shutters be controlled by a switch?
Yes. You can use a switch system to control automatic roller shutters. The switch is wired to the shutter motor(s) and controls their operation. You can control one, many, or all of your roller shutters with a swtich. This is dependent on how they are wired to each other.
Can roll shutters be remote controlled?
There are many options to control your roller shutters, include switch, mobile app, and even remote controlled.
Need help picking a control option for your rolling shutters?
Not sure which option is best for your needs or budget? Or maybe you want to see each one in action? We would love to help. Eurex Shutters have been a leader in Roll Down Hurricane Shutters in Southwest Florida since 1986. You can visit our showroom to see these products on display, or we can visit you at your home to go over your options.
Call us, or fill out the quick form below to get started.