Bahama shutters are one of the most popular types of hurricane shutters in Southwest Florida. And there is a good reason why. They boost your home's curb appeal and provide strong hurricane protection. They are easy to use and offer additional benefits, such as shade and UV control. At Eurex Shutters we install a lot of this type of shutter. We thought it would be fun to highlight some of our favorite Bahama Shutters installations throughout Florida's Gulf Coast. These examples may even serve as inspiration for your own SWFL home. We hope you enjoy!
Bahama Shutter Installations Throughout Southwest Florida
Our team takes pride in our installations and workmanship. We are proud to install both Bahama hurricane shutters and Half Bahama Shutters throughout Southwest Florida. Our service area includes Lehigh Acres, Bonita Springs, Cape Coral, Fort Myers / Fort Myers Beach, Sanibel / Captiva, Naples / Marco Island, Punta Gorda / Port Charlotte, Venice, Sarasota and surrounding areas.
Below are just some of our favorite installations of these awesome shutters on our clients' homes.
Full View Bahama Shutters in Englewood Florida
This a great example of how new Bahama shutters can boost the curb appeal of your home while protecting it. This property is a single family home located in Englewood FL. The homeowners contacted us looking to install Bahama hurricane shutters throughout their home.
In terms of requirements the owners were looking for a product that provided:
Hurricane-rated protection
Attractive appearance – specifically the client wanted to add some tropical style to their home and give it a new, improved look while matching the current color scheme
Shade and UV protection – both important for the Florida sun
The homeowner chose to install full-view, hurricane-rated Bahama shutters. This was an easy decision given their requirements.
For color, they chose white, which goes with their white trim perfectly.
All and all, these shutters look absolutely beautiful on this lovely home in Englewood! You can see how it turned out below.
Learn more: Bahama Shutters Install in Englewood Florida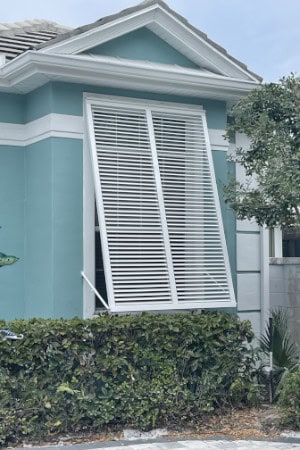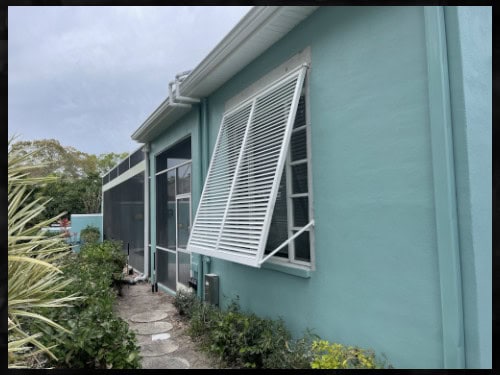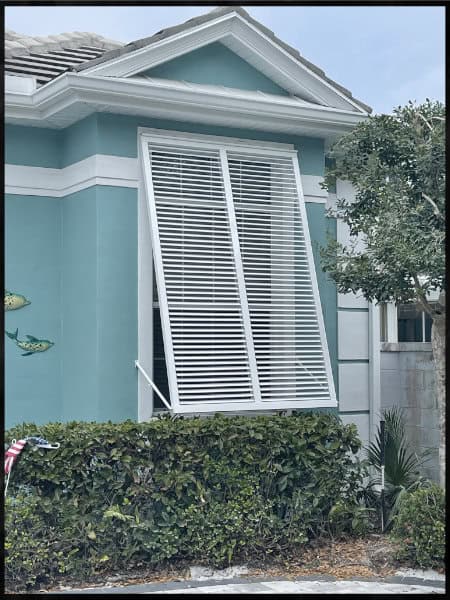 Custom Bahama Shutters Installed in Lehigh Acres
Here is another example of how installing Bahama shutters can help you transform your home. In fact, these hurricane shutters in Lehigh Acres transformed a normal house into a truly unique one.
This project also highlights the design flexibility that these shutters offer. As you can see they are not only custom sized, but they are also powder-coated in a custom custom. The beauty of custom shutters is that you can make them exactly how you want them.
Creating a custom, unique home was only one of the owner's goals for the installation. These homeowners in Lehigh Acres were also looking for:
Strong hurricane protection
Customization
Shade and UV protection
Ease of use
These shutters offer strong hurricane protection and look amazing. But it is the shutters' unique color that make them truly shine. This installation turned out great!
See all the details: Bahama Shutters Install Lehigh Acres Feb. 2023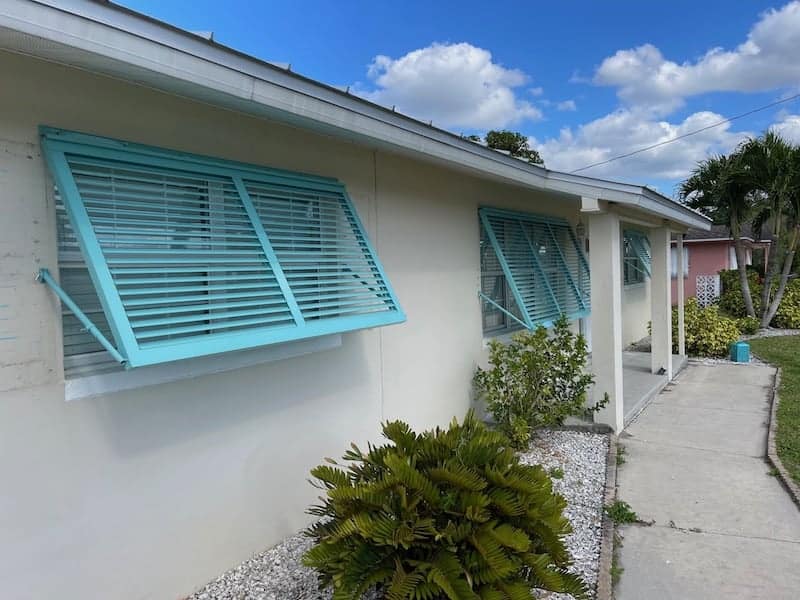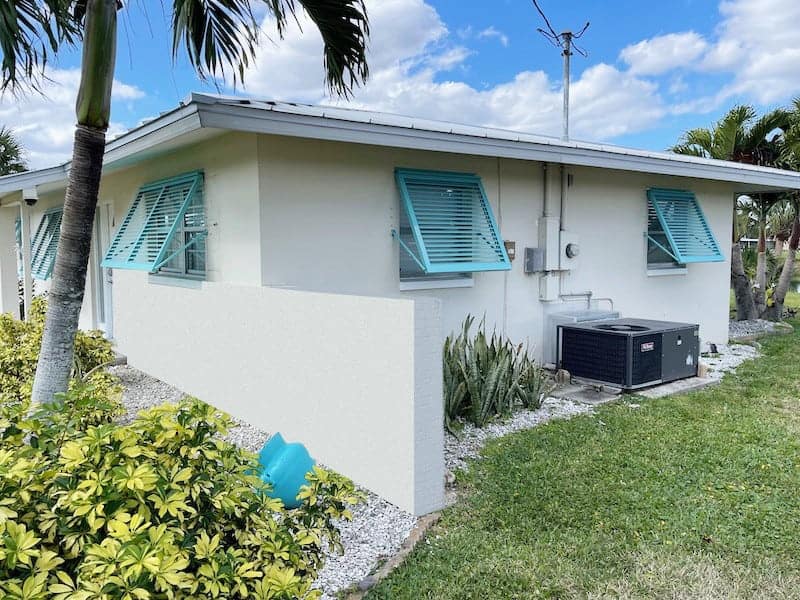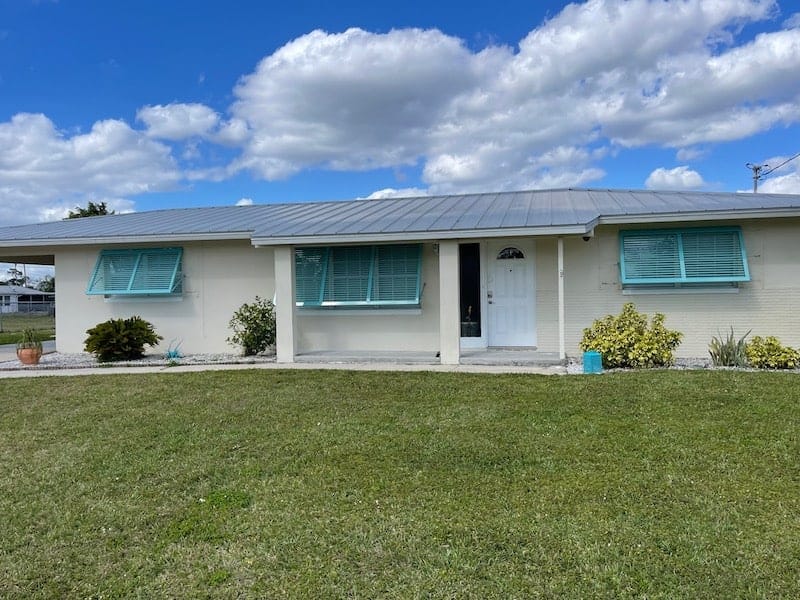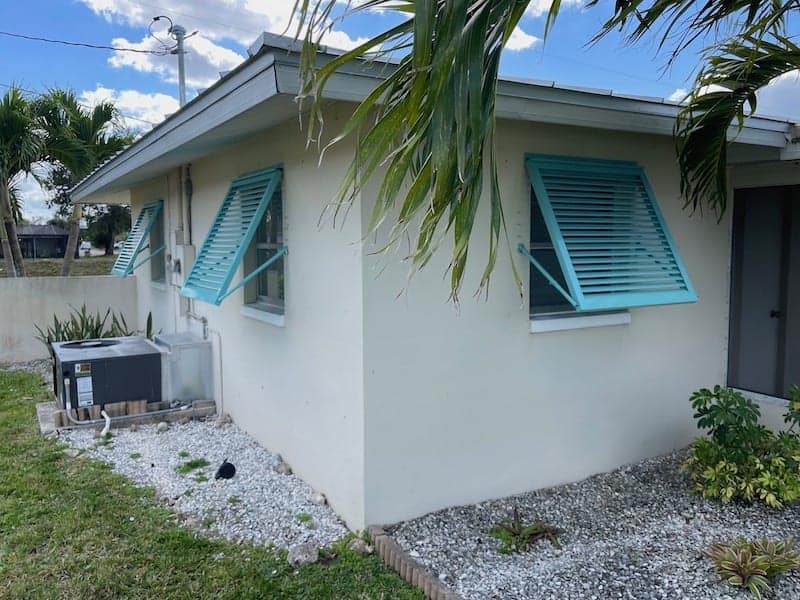 Modular Home Bahama Shutters in North Fort Myers FL
The next featured installation is another example of how these attractive shutters can increase the curb appeal of your home.
But this installation of hurricane shutters in North Fort Myers is also a great example for anyone with a modular, manufactured, or mobile home.
The result of this project proves that these shutters are not only suitable, but actually a great fit for these homes. You can use these to replace commonly used clam shell shutters. This greatly improve your home's hurricane protection as well as it's appearance.
For this specific project we installed custom, full-view Bahama shutters on a modular home in North Fort Myers, Florida. For the color, they went with beige (a standard color). And it matched their home's color nicely.
The finished product looks great! These shutters really upgraded the home's curb appeal AND its storm protection! And the client is happy with the installation, which is the most important part!
Read all the details: Bahama Hurricane Shutters Install North Fort Myers
Custom Blue Bahama Shutters in Venice Florida
If you are looking for hurricane shutters in Venice Florida this is a great one for inspiration! It is also a great example of how you can use more than one style of shutter on your home. Sometimes mixing and matching allows you to protect different size openings while creating a harmonious, exterior design.
They were looking for the following:
Hurricane protection
Customization – both for sizes and color
More than one style of hurricane shutter
Unique appearance in order to enhance the look of their home
And in the end this homeowner installed some seriously custom shutters! They ended up with a combination of Eurex Shutters PTX™ Bahama Shutters and Eurex Shutters PTX™ Colonial Shutters. These are two of our premium, decorative hurricane shutters.
The shutters helped to create a unique combination of Southern/traditional style and tropical/Caribbean style for the home.
As for color, they went custom with that as well. This is a similar Tiffany Blue color as the installation above.
There is no doubt that these shutters fit this Venice Florida home perfectly!
Learn more about this unique installation: Colonial and Bahama Shutter Install in Venice FL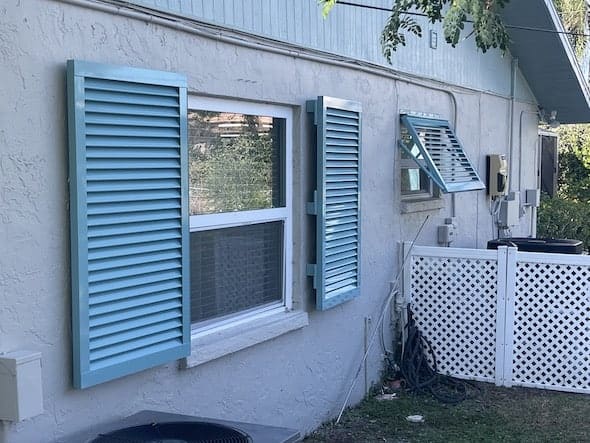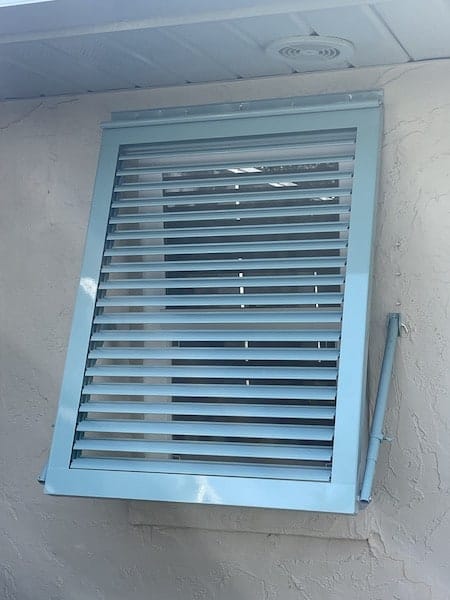 Custom Black Bahama Shutters in Lehigh Acres Florida
Love bold exterior design? We do too! And this Bahama shutter installation ended up bold and beautiful!
This is another great example of how you can customize these already attractive shutters. Not only were they custom fit to their home, but they also got them custom powder coated in bold black.
The black color acts as an amazing contrast against the white paint of the house. And it matches the black trim and gutters perfectly.
We are particularly fond of this installation as we love the modern look of white and black homes.
This installation shows how custom hurricane shutters can both protect your home and improve its appearance. Decorative hurricane shutters really can be used effectively to help you achieve your design goals.
Read more: Lehigh Acres FL Bahama Shutters Installation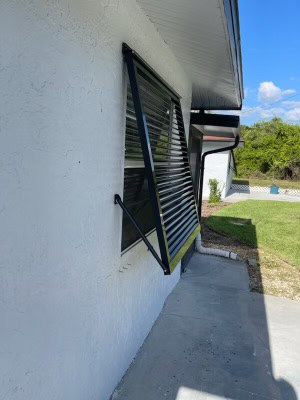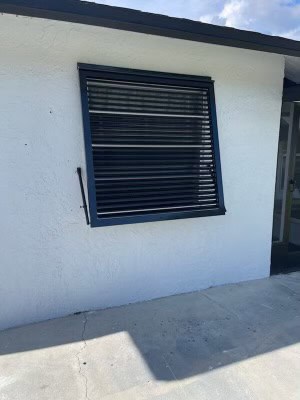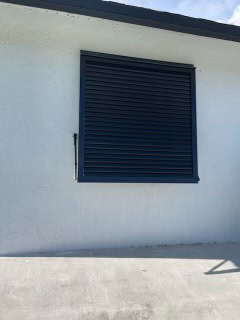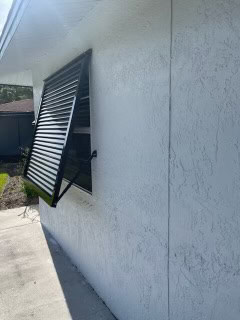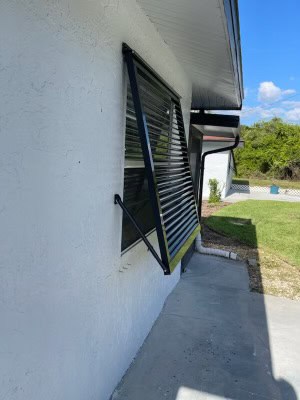 INTERESTED IN BAHAMA SHUTTERS FOR YOUR SWFL PROPERTY?
Interested in custom Bahama shutters (full-view or half-Bahama) in Southwest Florida? Maybe you have questions or want an estimate? Regardless, we can help. Eurex Shutters has 35+ years of experience and 25,000+ satisfied customers. We offer custom hurricane protection products and impeccable installations at fair prices.
GIVE US A CALL AT (239) 369-8600 OR FILL OUT OUR FORM BELOW FOR A FREE IN-HOME ESTIMATE.
Or call (239) 369-8600 for immediate service.