This modular home in North Fort Myers FL just got EUREX SHUTTERS Bahama Hurricane Shutters installed. Wow! The installation looks great, and these shutters upgraded the home's curb appeal AND its storm protection! And the client is happy with the installation, which is the most important part!
Keep reading for more details on the installation as well as to see what the home looks like with its brand new Bahama shutters.
Property & Client Requirements
The property is a modular, single-family home located in the city of North Fort Myers, Florida.
First and foremost, the homeowner wanted peace of mind that the shutters would protect their home and family during the Florida hurricane season. The memory of the 2022 hurricane season brought this need to the forefront.
In addition to storm protection, they also wanted storm shutters that boosted the curb appeal (good looks) of their property.
Last, this North Fort Myers homeowner wanted permanent hurricane shutters that were fast and convenient to deploy before a storm.
The Solution: Bahama Hurricane Shutters
The homeowner was looking for:
Strong strong protection
Great looks/curb appeal
Convenience/ease of use
In turn, the client ultimately chose custom, hurricane-rated EUREX SHUTTERS Bahama Shutters.
And wow does the finished product look great! These new custom Bahama shutters will provide strong storm protection and boost their home's appearance and enjoyability.
Learn more about hurricane shutters in Fort Myers.
Post Installation Photos (After)
Below you can see what this North Fort Myers modular home looks like after the installation of their new Bahama Hurricane Shutters.
We think it looks great!
What do you think?!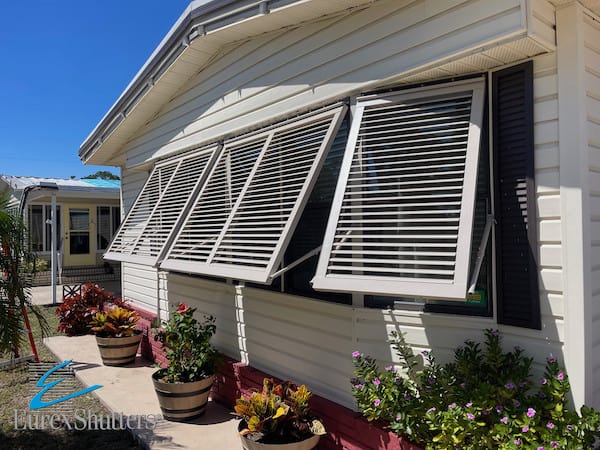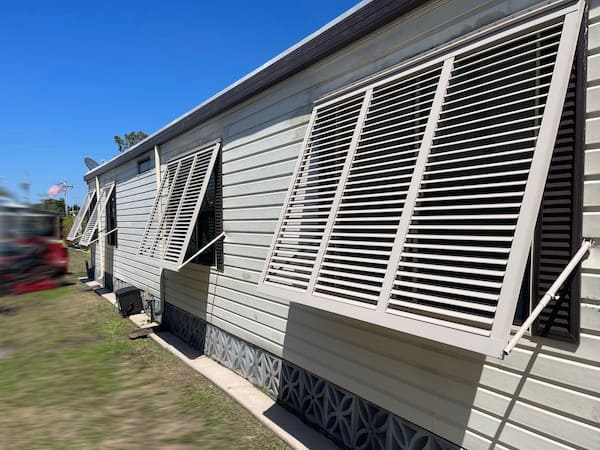 Interested in Hurricane Shutters for your home?
Interested in Bahama shutters, hurricane shutters, or impact windows and doors for your home in North Fort Myers or elsewhere in Southwest Florida? Have questions? Or need an estimate? The team of professionals at Eurex Shutters can help.