Hurricanes are a legitimate threat to your home and family. Adequately protecting your home during hurricane season with hurricane shutters or other hurricane protection is imperative if you live in a location prone to hurricanes. But picking the wrong type of storm protection can seriously ruin the appeal of your home. This is especially true if you have a Southern or traditional style home But Colonial shutters are the perfect way to protect your home's windows without ruining its unique charm. In this guide we will discuss what this type of hurricane shutter is and provide some pros and cons.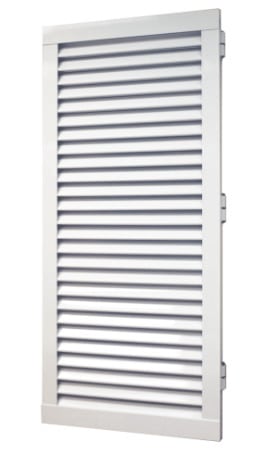 What are Colonial Storm Shutters?
Colonial hurricane shutters are one style of storm shutter that are used to protect your windows from hurricane damage. They are a one of many types of permanently attached exterior shutters. They are similar to a board and batten traditional wooden shutter, which sit on the two sides of each window. You will recognize them by their rectangular shape and horizontal slats.
But unlike traditional wooden colonial shutters they are made from high-grade, impact resistant aluminum not wood. When a storm approaches they close over the window and lock securely in place. When they are in the hurricane position they use a storm bar, which goes through them to secure them.
This means they offer storm protection in addition to high durability and the great style of traditional colonial window treatments.
Are they a good fit for my home?
We may be biased, but we think the Colonial style storm shutter looks great and has splendid architectural appeal. But is it right for your home?
Well, you could really use this on a wide variety of properties. But this is a traditional shutter. So it works well with traditional homes, such as traditional Colonials. It also works very well for Southern architecture, such as plantation and farm style homes. So if you have a traditional home this product will match the design very well.
How effective are they at protection against hurricanes?
This product doesn't just look good. It is highly effective at protecting your family and home during hurricane season. meet the Florida Building Code. Also, they are rigorously tested to take the impact of high winds and flying debris. And they are rated to withstand up to a category 5 hurricane.
Pros and Cons
Pros
Look great and won't ruin the look of your traditional or Southern style home – this style of shutter is an architecturally pleasing product with great curb appeal. This is especially true for traditional/classic and Southern style architecture. You won't be able to tell they are not traditional wood shutters. They also are available in a variety of standard colors. So they allow you to protect your home without compromising its unique charm.
Withstand up to a category 5 hurricane – these are made from high-grade, impact resistant aluminum. This means they will protect you and your home from flying debris and sustained wind gusts. They also meet and exceed the latest code requirements, including the FBC.
Durable & reliable – you will enjoy the benefits of your shutters for quite some time. Because they are made from aluminum you won't have to worry about the rusting out. This is because aluminum is also naturally rust resistant (it does not oxidize). Also, our PTX™ Colonial Hurricane Shutters are backed by a 20 year limited transferable warranty.
No storage required – they are permanently attached to your home. This means you don't have to store anything like you would if opting for a panel system.
Cons
Price – the Colonial Shutter is a premium product. As such, their aesthetic beauty and ease of use do come with a higher price tag. They are pricier than some other permanent storm shutters, such as the accordion shutter, the roll down shutter, and others. They are similar priced to a product like the Bahama shutter.
Best suited for windows – You can use them for both windows and doors, but they are best suited for windows. So you may need to or prefer to find another protection solution for any larger doors, like a french door, sliding glass door, etc.
Find Out More About Colonial Shutters
These may be the perfect fit for your home, but maybe you are still undecided. If you have questions or want an estimate please contact us using our quick form below. At Eurex Shutters we have been installing rolling shutters in Southwest Florida since 1986. Give us a try if you want high quality Colonial shutters, the best installations and truly great service.