The Eurex Shutters team loves Bahama Shutters, especially unique ones that make the home stand out! So we get excited every time we do a Bahama Shutters installation. And lately we have been doing quite a bit of them. Here is another example of a completed installation of Eurex Shutters PTX™ Bahama Shutters on a client's home in Lehigh Acres Florida. These shutters offer strong hurricane protection and look amazing. But it is the shutters' unique color that make them truly shine. This installation turned out great!
Keep reading to learn more about this Bahama shutters installation and see pictures of how it turned out.
Are you looking for more inspiration? Check out some of our other recent installations throughout Southwest Florida.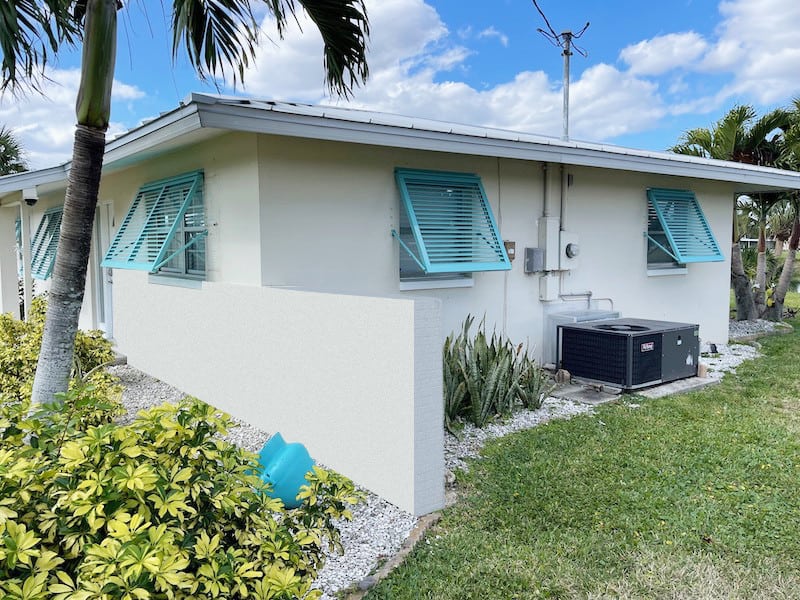 Client Needs
The homeowner had three key requirements when selecting their new hurricane shutters.
First and foremost they wanted strong hurricane protection for their Lehigh Acres FL home and family. This is the main focus of most homeowners after the 2022 hurricane season and Hurricane Ian specifically.
Second, they were looking for shutters that were convenient. Being able to prepare their house for a storm within minutes vs hours was important.
Last, the homeowner was looking for shutters that made their home stand out.
Solution
The solution the homeowner chose was Eurex Shutters PTX™ Bahama Hurricane Shutters in a custom Tiffany Blue color. These Bahama shutters met all of the homeowner's requirements perfectly. And the color of the shutters helped create a truly unique look that makes the home pop. The shutters really did give new life to the client's home by giving it a unique, stylish appearance. The color was amazing. And the shutters look amazing as a whole.
The homeowner was happy, and we think they made a great choice! This is definitely another beautiful, protected home in SWFL!
Installation Pictures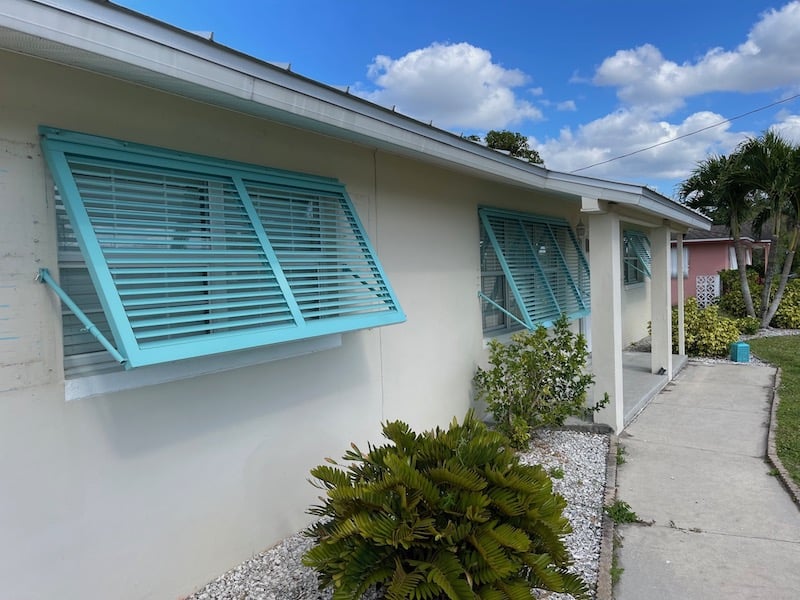 Conclusion
This was another successful installation of our PTX Bahama Shutters in Lehigh Acres FL. We are satisfied that we have another happy customer with another beautiful, protected home.
Are you interested in hurricane shutters for your home in Southwest FL? Eurex Shutters can help. Whether you are interested in Accordion Shutters, other shutters or impact windows we can help. Our team is available to answer your questions and help you pick the best storm protection for your need. We have been installing custom hurricane shutters in SWFL since 1986. And we would love to help you as well!