House shutters can add character and enhance your home's style. Some also serve important functional purposes, like hurricane shutters in Florida. As such, they can make your house look better, provide comfort and protection, and increase its value and desirability. So it's no wonder exterior shutters have been around for as long as they have. But with every new year comes new styles. So its important to ask are exterior shutters out of style as we go into 2023? That is what we dive into in this article.
If you want to find out more about shutters or the different styles we suggest reading our Exterior Shutters Guide For Homeowners in Florida.
The Verdict
Are exterior shutters out of style for homes in Florida? The answer is a resounding NO.
Shutters have been around since the dawn of time for good reason. And they are not going anywhere for the foreseeable future. And while there are alternatives to shutters there are reasons why shutters are the most popular choice.
Below we provide some reasons why exterior shutters are and will remain in style in the Sunshine State.
Top 4 reasons why shutters are still in style in Florida (and will be)
1. Protect your home and family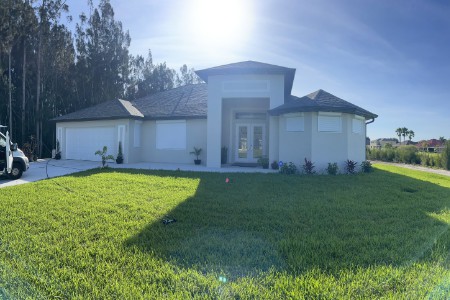 Yup. This one is less to do with style and more about necessity.
Living in Florida means dealing with hurricanes and severe weather. Hurricane season in Florida is part of normal life here. And having exposed, non-impact glass windows during a hurricane significantly increases your risk of severe home damage. Your home's glass is the most vulnerable part of your home. Standard glass is no match for hurricane force winds and flying debris.
Exterior hurricane shutters protect your home's glass and other vulnerable areas. And in turn, they protect your home and your family.
And while protection and safety don't have anything to do with style they are always a major priority. So for this reason exterior hurricane shutters in Florida will always be popular.
2. Enhance your home's appearance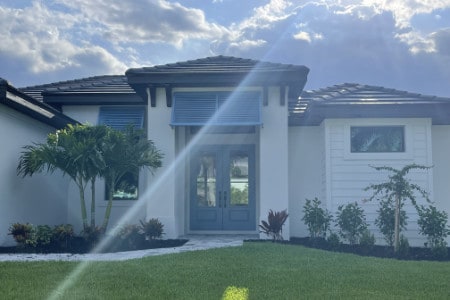 Yes. Protecting your home and family is important. Your home's appearance is also important. Your home is most likely your largest investment. You take pride in it and want it to look good. You want to be proud of your home. It is natural.
And exterior shutters can help you achieve that goal.
Why?
Shutters can make your home's exterior more attractive and help you achieve your design goals. At the very least they help add character, and a touch of color to an otherwise boring facade.
Of course, you want to pick the pick the right style shutters for your home and your design goals. But in general, Florida homes with shutters are more attractive than those without them.
3. Provide comfort and functionality
Shutters are great at improving your property's appearance. But they can also be great at improving the comfort and enjoyability of your home.
While different shutters offer different functionality most functional shutters provide benefits outside of just decoration.
Want a few examples? Sure. Roll Down Shutters may be the highest functional shutter available. They provide shade, privacy, security, ventilation and more. And Bahama shutters are amazing at creating a Caribbean aesthetic, but they are just as great at providing shade and privacy.
4. Add value to your home
Shutters add value to your home.
Why? For all of the reasons we discussed above.
Here's a few reasons that are sure to increase your home's value.
First, attractive homes are more desirable. And exterior shutters help make your home more attractive. So shutters make your home more appealing to potential buyers, which increases its value.
Second, potential buyers value Florida homes with hurricane shutters more than those without.
This is true for two reasons. First, hurricane shutters protect the home and its inhabitants, which provides security. Second, it is a cost that the potential buyer will not have to make. In other words, they will place a high value on the fact that they can move into the home and be protected from day one.
If you want to learn more about how shutters increase your home's value, read our guide Are Hurricane Shutters Worth It in Florida?
Are Exterior Shutters Right For You?
Exterior shutters have been and will continue to be popular for years to come. This is especially true for hurricane shutters for homeowners in Florida. These shutters provide protection and functionality and they also can make your home more attractive. All of this increases the value of your home and makes it more enjoyable and beautiful.
If you are interested in impact resistant exterior shutters for your Florida house we would love to help. Eurex Shutters has been installing hurricane shutters in Florida since 1986. Check out our selection of shutters or contact us below to get started.