Sliding glass doors provide plenty of natural light and views to your outdoor space. They also open your home up with fresh air when the temperatures cool. There is no denying that glass sliding doors provide many benefits. But they also have one major flaw during hurricane season in Florida. They are vulnerable to breakage from flying debris during a hurricane or severe weather. That is where impact sliding doors come into play. In this article we discuss what an impact sliding glass door is and their benefits for you and other South Florida homeowners.
What are impact glass sliding doors?
Sliding impact doors look and function just like standard sliding glass doors. They are large panels of framed glass. But unlike a hinged door that opens by swinging they open and close by sliding side to side.
There is one major difference between impact sliding glass doors and standard glass sliders. The difference is that they are made from impact resistant materials. They consist of an impact resistant aluminum or vinyl door frame and impact glass panes.
Learn more about Impact Sliding Glass Doors
What is impact resistant glass?
It is a special type of laminated glass. It is used in impact resistant building products, such as an impact door and impact windows (hurricane windows).
Impact resistant glass is essentially a sandwich made up of three layers. These layers include two panes of glass with a strong interlayer (film) between them.
The three layers are laminated together in a special manufacturing process.
The interlayer holds the glass together if it is struck by an object. And while impact resistant glass may fracture it won't break apart into millions of pieces like standard glass. It will hold together.
This all means that impact resistant doors provide your family and home with hurricane protection. The glass can take the impact of wind borne flying debris and hurricane force winds. Both of which are common during a hurricane.
Learn more about Impact Resistant Glass Types
Where impact resistant sliding doors can be used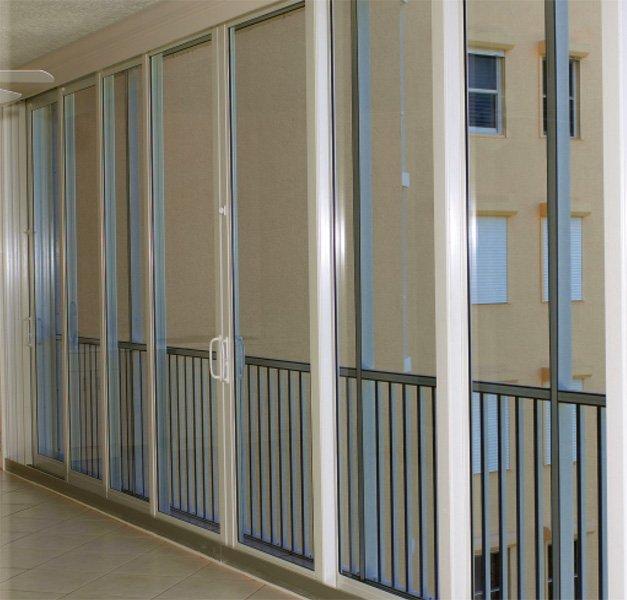 These are most commonly used as a patio door. But, they can honestly be used to open your home to any kind of outdoor space. You can use them as a door to your patio, balcony, porch, or any other outdoor space. You can even use them to open to a juliet balcony.
In other words, you can use them anywhere you would install a standard sliding glass door.
Design Options
There are several design options when ordering custom (and even standard) sliding doors. Some of these options may include (will depend on which supplier you choose):
Frame material: you can choose between aluminum or vinyl frames
Impact glass panel type: choose between impact glass and insulated impact glass door panels
Color choice: you will have a variety of colors (although somewhat limited) you can pick from to match your home
Benefits of impact rated sliding doors
Impact-resistant sliding doors function the same as regular sliding doors. So they share all of the same benefits vs other types of exterior doors. Some of their benefits are outlined below.
1. Hurricane protection
By far the biggest benefit over normal glass sliders is that the impact version offers hurricane protection.
Sliding doors are great. But unless they are made from impact glass they can be a liability. Thats why impact resistant sliders should be used in hurricane-prone areas, such as Florida.
These sliders are made specifically to withstand flying debris and hurricane force wind gusts. So even if they fracture they will stay together. This eliminates the danger of your glass breaking during a hurricane (or otherwise) and the other consequences that go along with that.
You can rest assured that your family and home will be protected. Impact patio sliding doors are tested to meet all Florida Building Code requirements. Many of them are also approved for use in a high velocity hurricane zone.
You may also like: Impact Resistant Windows vs. Hurricane Shutters
2. View and natural light
Our favorite thing about sliding doors is the natural sunlight and views they provide to your home. These are made possible because of the doors' large panes of glass. This large glass opens your home up to the outside. So even when they are closed you will be able to enjoy your outdoor space.
At the very least, you will enjoy the natural light they let into your home.
The ability they provide to monitor your outdoor space is also extremely convenient, unlike with a regular entry door.
3. Fresh air
Sliders are also great for ventilation in your home, at least when the Florida weather cools. You can open up your sliders and let the fresh air into your home. And if you have screens you don't have to worry about letting mosquitos or bugs inside your home either.
4. Space savings
Just like normal sliders hurricane impact sliding doors are an excellent choice for small spaces. A hinged exterior door swings into your home, which of course requires space for clearance. On the other hand, sliders open and close on a track, which requires no additional space to use.
In short, a sliding door allows a large opening to the outside, even if you are tight on interior space.
Conclusion
Impact patio sliders offer all the benefits of a standard sliding patio door, such as natural light, space savings and ventilation. However, these impact rated doors are made using impact resistant glass and frames. And that provides your family and home protection from even the toughest of Florida storms.
If you are interested in hurricane impact sliders our team can help. Eurex Shutters is the oldest storm and security protection company in Southwest Florida. We provide high quality products, impeccable installations and superior customer service.