We love Rolling shutters! All of their uses and benefits make them a great option for your home in Southwest Florida. First of all, they are very effective at protecting your home from hurricanes. They are also great for securing your home, keeping it cool in the summer and warmer in the winter, and more. One common misconception is that roll down shutters are used only to protect your windows. In reality, there are many places to use rolling shutters around your home. This is what we will discuss in this article. Hopefully it gives you some ideas and inspiration of how and where to use roll shutters at your lovely SWFL home!
Related: Roll Up Hurricane Shutters: Pros & Cons For Your FL Home
Related: 5 Different Ways to Use Roll Down Shutters in FL
Places to Use Rolling Shutters Around Your Home
Roll shutters are great at protecting your home's windows from hurricanes. But as we mentioned above, they can be as more than just hurricane window protection. These include your:
Windows
Doors
Garage
Pool and patio
Lanai
Porch
We discuss the use of roll up window shutters for each of these areas in more detail below.
Windows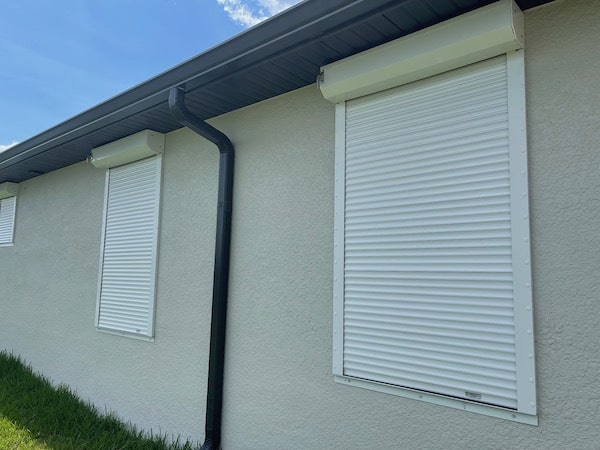 You can have roll shutters customized to fit any window. This, of course, means you can use them on all of your windows.
There are several reasons why roll shutters are great for windows.
First, when closed they are great at protecting your glass windows from high winds and flying debris during a hurricane. This helps prevent broken glass, which can lead to more severe damage.
Second, they provide security for your home. Covering your windows with roll downs is a good way to deter and prevent burglars from getting in.
Third, you can close them and create an insulation layer over your windows. You can even open the slats to allow air to flow in if you want.
Lastly, they are also helpful for privacy. You can close them completely for total privacy, or you can partially open the slats for privacy and sunlight.
Doors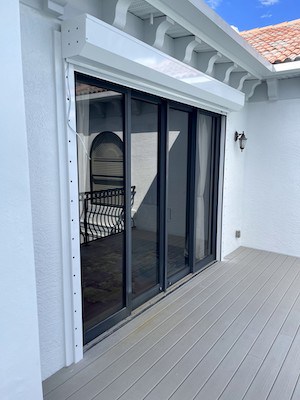 Roll shutters are also a great option for your non-impact doors. They can be used on non-impact entry doors, french doors, and sliding glass doors. In other words, they can be used on any door in your home.
In addition to storm protection they also can help with security protection when you are not home. They create a shield over the door, which blocks access to it. In turn, they are great for deterring burglars and preventing break-ins.
Garage (and garage door)
Unprotected openings, such as doors and windows are one of the most vulnerable places on your home for hurricane damage. And your garage door is by far your home's biggest opening.
So unless you have a hurricane-rated garage door you are at risk of more serious damage if your garage door gets compromised. A busted door has the potential to allow a large amount of hurricane pressure inside your home. It also has the potential to damage your possessions inside your garage, including your vehicles.
But rolling hurricane shutters are a great way to protect your your garage and everything in it.
We probably sound a bit repetitive (we apologize), but all you have to do is close the shutters. When closed they act as a hurricane-rated barrier to protect both your non-impact resistant garage door and your home.
Pool and patio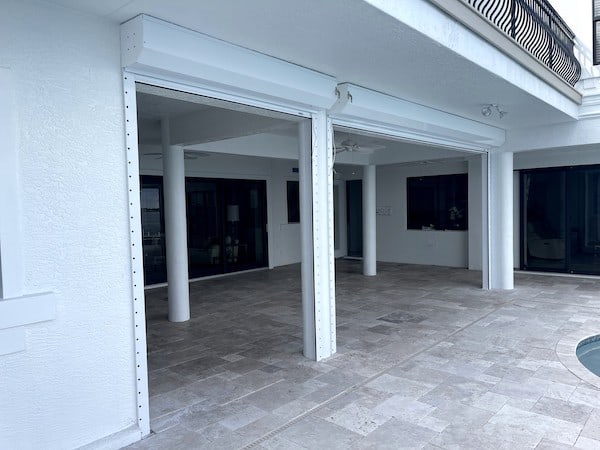 You can also use roll up shutters to protect your outdoor areas, such as around your pool and/or your patio.
Exterior rolling shutters can be built for wide openings, such as between posts on your patio. This makes them suitable for use around your patio and pool.
You might be asking "why?"
There are a few benefits and reasons for using them around your patio and pool area.
First, having Rolling shutters allows you to enclose and protect your patio area during a storm. This means you can simply leave your furniture and other belongings on your patio without having to move them inside.
Also, you can close the roll down shutters to create "temporary interior spaces." In other words, you can turn your outdoor space into an interior space by closing the shutters. And if you want to you can open the slats in order to let air and light inside the "temporary space". This might be helpful for entertaining. It also creates an enclosed outdoor space that you can allow your kids and pets to play safely without access to your pool.
Want to see an example of this? Check out one of our recent Roll Shutter Installs on a Patio in Cape Coral FL.
Lanai
Having a lanai in Southwest Florida is great. You can enjoy fresh air, and you won't get eaten by mosquitos or soaked by the rain. But when a hurricane hits your lanai screens don't stand a chance. This means you have to move your stuff from your lanai indoors. It also means your screens and lanai itself are vulnerable to storm damage if unprotected.
Using roll storm shutters on the exterior of your lanai can help protect it. And you won't have to clear out your lanai before the storm. You can just close the shutters.
Want to learn more about protecting your lanai during a storm? Read our guide on Hurricane Shutters For Lanai: What Are My Options?
Porch
Using roll shutters on your porch is similar to using them on your patio area. You can have rolling storm shutters custom made to fit in between your porch posts.
Why would you use them to enclose your porch? It has a number of benefits. First, you can quickly and easily protect your porch and everything behind it from even the worst hurricanes. Second, you can easily convert this outdoor area into a "temporary interior space". All you have to do is close the shutters. And you can still enjoy the benefits of fresh air by opening the slats.
Also, you don't have to worry about these shutters degrading the curb appeal of your home. You can opt for hidden roller shutter installation. In other words, you can install them on the inside of your porch so the boxes are not visible from the exterior of your home.
Conclusion: There Are Many Places to Use Rolling Shutters Around Your Home
Roll down shutters are a great way to protect your home from the elements, and they are especially important in Southwest Florida, which is prone to hurricanes and other severe weather. They can also be used for home security, helping keep your home cool in the summer and warmer in the winter, and more. And as we discussed you can install them in many places around your home, such as your windows, doors, garage, patio, lanai, porch, and more.
If you are considering installing roll down shutters on your home, be sure to do your research and choose a reputable company. You should also make sure that the shutters are installed properly to ensure that they will provide the best possible protection for your home.
If you are ready to install roll down shutters in your Southwest Florida home, fill out the form below for a free estimate. We would be happy to answer any questions you have and help you choose the best shutters for your needs.