Hurricane season runs from June 1st to November 30th every year. Hurricanes have the potential to cause serious damage to your home. The damaging effects of recent storms show that this is true. AON's Weather, Climate Change & Catastrophe Insight 2020 Report showed that "twelve named storms and six hurricanes made US landfall" during the 2020 Atlantic Hurricane Season. The global insurance firm reported that the major hurricanes hitting the US and Caribbean during the 2020 hurricane season caused an estimated $51.5 billion (USD) in economic loss and $25.2 billion (USD) in insured loss. Hurricane Ian alone cost an estimated $112.9 BB of damage in 2022, according to climate.gov. In 2023 there have already been 12 named storms through the first week of September. So knowing how to hurricane proof your own home is very important.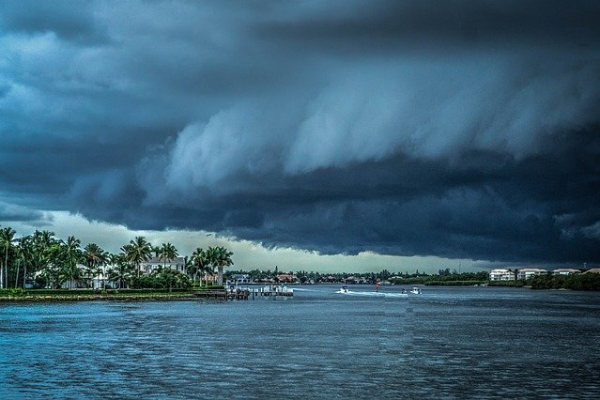 Hurricanes are a concern for those living in coastal areas. Residents of some states have to deal with hurricanes every single year. Is your state prone to hurricanes? According to Universal Property the top 5 hurricane prone states are Florida, Texas, North Carolina, Louisiana and South Carolina. Florida by far has the highest occurrence of hurricanes with 120 occurring from 1851 to 2018 compared to 64 for Texas. Even northern coastal states like New York and Massachusetts have experienced a fair share of hurricanes.
If you live in a coastal area prone to tropical storms and hurricanes then being prepared is a must. Knowing how to prepare your family for a hurricane is critical. Just as critical is knowing how to hurricane proof your home. While it might not be possible to 100% hurricane proof your house there are certainly a lot of things you can do to improve it. In this article we will show you how to hurricane proof your home from top to bottom.
Table of Contents
1. Make your home's windows hurricane proof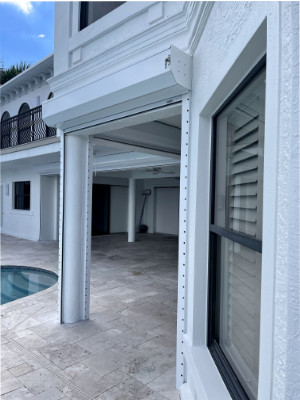 Regular glass windows are vulnerable to breaking if they are hit by flying objects or strong wind gusts. The damage is bad enough. But broken windows can create other problems. The biggest is that your house can become pressurized, potentially causing structural and roof damage.And exposed openings also allow water intrusion, which cause mold and other issues.
Make sure your windows are not a weak spot. There are a few ways to accomplish this. These options are discussed below.
Install impact windows throughout your home.
Impact windows are made with an impact resistant glass system. Properly rated hurricane windows are capable of withstanding up to a category 5 hurricane, which is sustained winds of 157 mph or higher. Make sure you select a hurricane window that meets the proper design pressure rating. And it is important to select impact windows that have high water intrusion performance to prevent water intrusion in your home.
Explore hurricane impact windows for sale.
Protect your home's glass with hurricane shutters.
Alternatively, instead of replacing your glass windows you can protect them with hurricane shutters. These are impact resistant shutters that are installed on the exterior of your home. Impact shutters act as an impact resistant barrier between your glass windows and hurricane wind gusts and wind borne objects. Properly designed and built storm shutters can withstand up to a category 5 hurricane. Hurricane shutters cost less than impact windows. But impact windows do not require any effort to deploy. Which one is the right option for you will depend on your preferences and budget.
2. Secure your home's garage doors
Your garage doors are the biggest openings on your home. They are vulnerable and susceptible to damage if not properly secured. Both wind gusts as well as flying debri can cause damage to individual panels of the door, loosen the door from the track or even cause the door to be removed from the track. So this can result in damage to items inside your garage. It can also allow water intrusion. Lastly, the opening may cause your garage or even your home to become pressurized creating potential structural or roof issues.
In turn, you want to make sure you hurricane proof your home's garage doors. In order to secure them there are a few options. You can either install impact garage doors, install hurricane panels or shutters over the door. Or you can retrofit vertical braces on your regular garage door. An impact garage door will be the easiest for preparation. Hurricane panels or shutters are a good option if you don't want to install a new door. And bracing may be a good option if you don't have time to replace your door.
Learn more about What type of garage door is best for Florida?
3. Hurricane proof your home's exterior entry doors
Similar to your windows your doors will be vulnerable to a hurricane's severe wind and flying objects. You want to ensure you hurricane proof your entry doors to prevent damage or pressure build up inside your home.
When it comes to hurricane proofing your entry doors you have a few options. You can install new, impact rated entry doors. Or you can install hurricane shutters or storm panels on the exterior of your entry doors. The shutters and panels will create a barrier between the elements and your door.
4. Hurricane proof your home's sliding glass doors
Like your windows and garage doors your standard glass sliders are large, vulnerable openings that need to be protected. If a glass slider shatters you will have a large opening. This can cause safety and security hazards. And it makes it very easy for water and other objects to enter the inside of your home.
There are a few options for securing your home's sliding glass doors. The first is to replace your standard glass sliders with impact sliding glass doors. These hurricane proof doors are made from impact resistant glass. If you don't want to replace your doors then you can install hurricane shutters or panels on the exterior of the sliders. Options like roll down hurricane shutters or accordion shutters are typical options for hurricane proofing your glass sliders. As a added benefit some shutters can be used as security shutters to protect your home from intruders.
Interested in rolling shutters? Learn more about the pros & cons of roll down shutters and get help deciding between motorized vs non-motorized hurricane shutters.
5. Protect your lanai and screened in rooms
Similar to hurricane proofing your home's glass is hurricane proofing your screens. Screened in porches and lanais are very susceptible to damage from wind gusts and flying objects. Protecting them from damage will save you from replacing torn screens. It will also protect your belongings inside your screened in areas.
Hurricane shutters and hurricane screens are popular ways to protect your lanai and screened in spaces.
Learn more about Hurricane Shutters For Lanai: What Are My Options?
6. Hurricane proof your roof
Your roof helps keep the structure of your home in place. And it also protects your belongings and your family from rain, wind, and other things that should never get inside your home. So making sure your roof is properly able to withstand hurricanes is important, to say the least.
Use a licensed contractor that will obtain all permits and inspections
You want to make sure that your roof is installed correctly. A roof is a large investment and it is critically important to protecting the integrity of your home and your family's safety. Use a licensed contractor and make sure they are obtaining permits. Permits will ensure that the city's inspector inspects the contractor's work to ensure it is up to code and done correctly. At the least you want to make sure your roof is installed up to code. If not, you may run the risk of fines, correcting improper work, or even ripping it off and redoing it completely. It is also worth noting that many cities and counties require permits for the installation of a roof, along with hurricane shutters, windows, doors, etc. This is especially true in areas where hurricanes are prevalent will.
Choose the right roofing materials vs. the cheapest
Metal roofs are a good choice to withstand hurricanes. According to Roofingcalc.com "metal roofing is rated to withstand winds between 110 mph and 160 mph." Gulf Coast Supply & Manufacturing states that "metal roofs earn a 140-mph wind rating" with some able to withstand up to 180 mph.
If using shingles go with architectural vs. 3 tab shingles. Architectural shingles are heavier and have a rating of 130 mph vs. 60 mph for standard 3 tab shingles, according to Victor's Roofing, a roofing contractor. For those in hurricane prone areas like Florida, Texas, Louisiana, etc. the difference in the wind rating can make a big difference during a storm.
Add the 3rd Nail
In addition to your shingles you should determine and ensure your roof is adequately attached to your home. Prior to 2002 most homes' roof-to-wall attachments were done with two nails. A process called "the 3rd nail" is a retrofit project well worth it. This "makes a roof more secure against heavy wind."
Not only will this make your home more hurricane-proof, but it may be result in discounts from your insurance provider.
7. How to hurricane proof your home HVAC system
HVAC systems cost a pretty penny. You want to ensure that you are properly protecting your HVAC system during a hurricane. Below are some tips to hurricane proof your home HVAC system.
Several HVAC companies, such as AirBoca, recommend you turn your AC system off during a hurricane. This is to reduce the chance of your system being damaged by power surges and stress if it needs to restart several times due to a power outage.
It is recommended to cover your exterior HVAC system to prevent damage from flying debris and heavy water intrusion.
You can also strap your exterior HVAC down to ensure it is secure and will not come loose.
What if you have window AC units? According to several HVAC companies, such as All Star Heating & Cooling, removing them prior to the storm is your best option. This protects the units from being blown out of the window. It also allows you to properly close and protect your windows completely.
8. Ensure water stays away from and out of your home
Keeping water out of and away from your home is critically important to prevent water damage, mold and other issues. During a storm severe rains can do a number on your windows, roofs and home. And even more importantly storm surge can cause flooding. According to FEMA, "storm surge is the most dangerous and destructive part of coastal flooding."
Tips for keeping water out
Below are some ways to keep water out (or at least limit) water from entering your home.
Install windows with high water barrier (intrusion) performance. Vinyl impact windows, for example, are good at preventing water intrusion, even in severe rains.
Make sure your gutters and downspouts are cleaned out. If your home has gutters they can help to collect and divert water away from your home's foundation and entry points. But in order for the gutters to do their job they need to be clean so water can flow. If they are clogged the water will back up, running over the edges and they won't do much to help.
Direct your downspouts away from your home. You can ensure that water adequately goes away from your home using downspouts and/or diverters. These keep water away from your foundation and entry points, reducing the likelihood of water intrusion. How far is far enough? The Seattle Times recommends that "downspouts need to be extended away from the home a minimum of four feet, with six being preferred."
Sump pumps are useful for spots where water flows and collects. If you are in an area like Southwest Florida then you know the combination of heavy rains and low ground elevation can cause flooding around your home very quickly. If you have an area of your home or yard that is prone to flooding then a sump pump can be a good way to move water away from your home. In states with basements sump pumps can help reduce the amount of water in your basement. Like anything involving electrical power and water make sure that you are safely using the sump pump.
Seal all cracks and gaps completely with a waterproof sealant to prevent water coming into your home through them. Ensure that the caulking around your doors and your windows is in good condition with no cracks or gaps. If you need to use a waterproof sealant to improve the caulking. Look for and seal any holes, gaps, or cracks that could let water into your home.
Before a hurricane prepare your home to prevent water intrusion from storm surge/flooding. Specifically use sandbags, flood barriers/gates or other suitable mechanisms to prevent water from entering your home. They should be placed or installed around your home's doorways as well as any drains or areas where water backup may occur.
9. Reduce the chance of wind-born flying objects
Flying objects have the potential to damage your windows, siding, AC unit, doors, etc. You can reduce the chance of wind-born, flying objects in your own yard by doing a thorough clean-up before the storm. Secure or remove any objects that can fly into your house. This includes big objects like barbecues, patio furniture, bikes and play sets (if they are not securely attached to the earth). But it also includes small objects like toys, planters, decorations, etc. As they say, "if you can lift it, secure it."
It does require a little work, but removing these items from your yard eliminates the chances they will end up hitting your (or your neighbors') windows, doors, etc.
10. Close your home up completely
Before a storm you should make sure that your home is closed up completely. Close your garage doors, windows and entry doors. If wind gets into your home it will creates upward pressure in your home and increases the chances of your roof being damaged or even blown off.
In addition the Insurance Institute for Business & Home Safety (IIBHS) also recommends closing all of your interior doors. According to their CEO Roy Wright, "closing the doors contains Mother Nature's fury, reduces the upward pressure on the roof, and gives you a better chance of keeping the roof on."
Image Credits:
Image by Michelle Raponi from Pixabay