Are you thinking about installing roll down hurricane screens on your home in Southwest Florida? But curious how much they cost? If you are then this article should be helpful. We'll provide an overview of what what roll down hurricane screens are and answer the big question: What Do Roll Down Hurricane Screens Cost in Southwest Florida?
If you are looking for cost of other types of hurricane shutters you can read our complete guide on hurricane shutters cost.
*DISCLAIMER: PLEASE READ ABOUT GIVEN SHUTTER PRICING
It should be noted that the price ranges, even for one specific shutter type can vary widely from project to project. So the pricing depends on your specific home, the job, and the type of materials. With certain products, including roll down screens, additional costs for motors and electrical work will apply.
It should also be noted that due to the current situation in the market and price inflation of raw materials our prices can fluctuate quite a bit over time due to many external factors, such as hikes in raw material costs (ie. metal), labor costs, etc.
So please take the costs given below as a rough, general pricing guidance. For an actual estimate contact us for a free in-home estimate.
What are Hurricane Screens
Hurricane screens are a type of permanently installed, functional hurricane protection for your home or office building. They are made from DuPont™ Kevlar®, which is a seriously strong, impact resistant material. This means they are strong enough to withstand hurricane force winds and flying objects. Our PTX™ Hurricane Screens also meet the current Florida Building Code. They are just as effective as hurricane shutters.
Screens have become popular in Southwest Florida because they are effective at hurricane protection and they are easy to use. They're also very attractive. Even more they offer other benefits, such as shade and light control. For instance, they can be used to create shade in your home or for your outdoor space.
You can get an idea of what they look like in the photo below.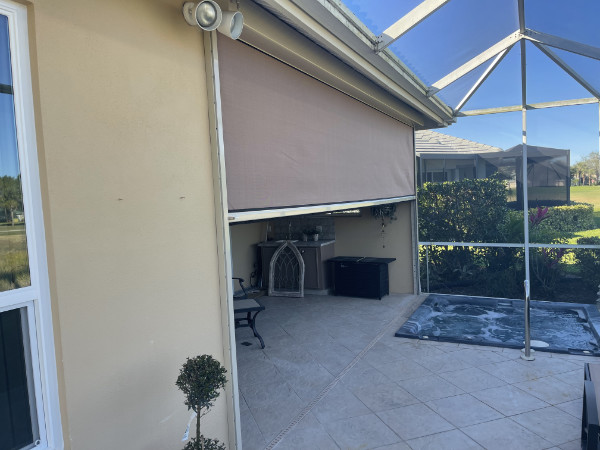 How Much Do Accordion Hurricane Shutters Cost
So how much do roll down hurricane screens cost? You can expect to pay about $30 – 40 per SQFT.
However, please note that the cost will vary widely from project to project depending on your specific property, the complexity of the job, the materials of construction you choose, the square footage needed and the specific features you select.
Shutter costs can also fluctuate due to external factors, such as raw material cost changes (ie. metal), changing labor costs, etc.
Please take the cost range given as general cost guidance.
Get an exact quote for your hurricane screens project
For an actual estimate for your Southwest Florida job please contact us.