We just completed another installation of Eurex Shutters PTX™ Accordion Shutters on a client's beautiful home in Fort Myers Florida. These accordion shutters provide strong hurricane protection while nicely complementing the property' exterior appearance. Keep reading to learn more about this installation and see pictures of how it turned out.
Are you looking for more inspiration? Check out some of our other recent installations throughout Southwest Florida.
Client Needs
The homeowner had three key requirements when selecting their new hurricane shutters.
First and foremost they wanted dependable hurricane protection for their Fort Myers FL home and family. And after the 2022 hurricane season it is easy to understand why.
Second, they wanted storm protection that was fast and easy. In other words, they wanted to be able to prepare their house within minutes vs hours. This is something we hear constantly from customers, and it is easy to understand why as well.
Third, they wanted shutters that complemented vs detracted from or ruined their home's appearance.
Solution
The solution the homeowner selected was Eurex Shutters PTX™ Accordion Hurricane Shutters. They met all of the homeowner's requirements perfectly. And the color of the accordions was a perfect fit for the home, to the point where they blended in nicely vs sticking out.
The homeowner was happy, and we think they made a great choice! This is definitely another beautiful, protected home in SWFL!
Installation Pictures
Check out some photos of the finished hurricane shutters installation below.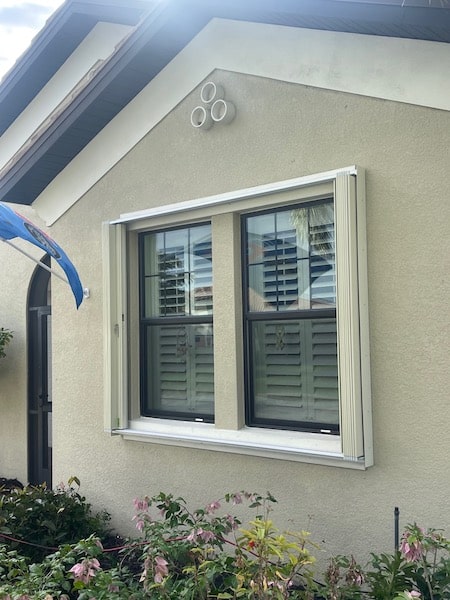 Conclusion
This was another successful Accordion Shutters Installation with another happy customer and another beautiful, protected home.
Are you interested in hurricane shutters for your home in Southwest FL? Eurex Shutters can help. Whether you are interested in Accordion Shutters, other shutters or impact windows we can help. Our team is available to answer your questions and help you pick the best storm protection for your need. We have been installing custom hurricane shutters in SWFL since 1986. And we would love to help you as well!