We offer custom hurricane shutters installation to homeowners and business owners throughout Southwest (Gulf Coast) Florida. We have been a trusted hurricane shutter installer in SWFL for 35+ years. Choose our team of expert, factory-trained technicians to install your new, custom hurricane shutters system.
Our Hurricane Shutters
Choose from the widest selection of hurricane shutters in Southwest Florida. All of our storm shutter systems are custom designed and installed for your specific project and needs. Our hurricane shutters are all Florida Product Approved, hurricane-rated, and meet the current Florida Building Code (with the exception of clamshell shutters).
All of our hurricane shutters are made from the highest quality materials, ensuring they function correctly and will last a long time. Our shutters and all components and hardware are made from the highest-quality materials, enhancing their durability and longevity.
Below you can see some of the many types of hurricane shutters we install:
Roller hurricane shutters

Electric and manual roll shutters

Accordion hurricane shutters
Bahama hurricane shutters
Colonial hurricane shutters
Aluminum, metal and clear storm panels
Residential Hurricanes Shutters Installation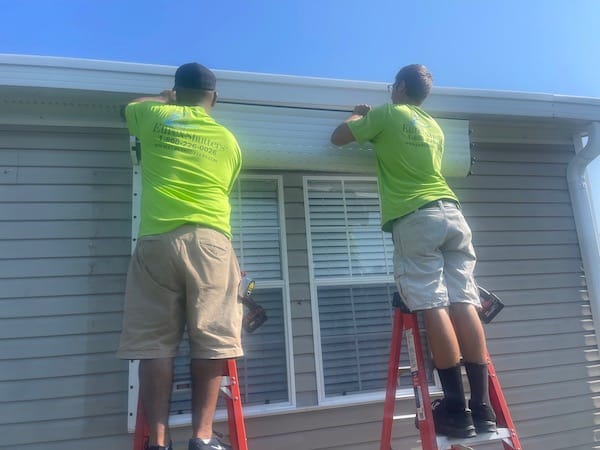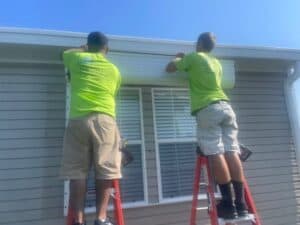 We understand that hurricane shutters are a major purchase for your home. They also have a big impact on the appearance, functionality, and enjoyment of your home as well. That is why we work so hard to ensure that you get shutters you and your family love and that your installation is perfect!
Throughout the entire installation process we are dedicated to creating and installing a system that is a perfect fit for you and your needs. Our expert installation team will ensure that your shutters are installed and functioning as they should be. And as always, our installations
Schedule your no-obligation estimate:
Commercial/Business Hurricane Shutters Installation
Hurricane rated commercial hurricane shutters are a great option for commercial buildings in Southwest Florida. Certain shutters, such as roll down shutters, can help protect your commercial building from both hurricanes and security threats/intruders. And they also help with thermal insulation and energy efficiency.
Installing hurricane shutters on your commercial property offers several benefits. At the same time, it is also a capital expenditure for your business. And that cost needs to be justified. This is why we work alongside you every step of the process to ensure that your hurricane shutter system and installation meets your business' needs. From the initial on-site estimate to the installation we are dedicated to installing a system that you are completely happy with. And our expert installation team will ensure that your shutters are installed and functioning as they should for a long time.
Schedule your no-obligation estimate:
Hurricane Shutters Installation Gallery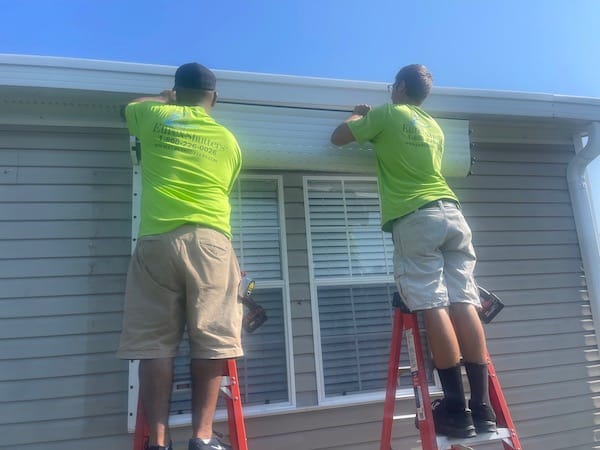 Our Hurricane Shutters Installation Process
FREE IN-HOME ESTIMATE
Our installation process starts with a free installation estimate at your property. You can schedule your free estimate by calling (239) 369-8600 or contacting us through our online contact form.
At your appointment a knowledgeable team member will meet you at your property. They will ask you a few questions to determine your goals and preferences. And they will ask you which window, doors and other openings you want to install the hurricane shutters on. We will also make recommendations on other areas where you could benefit from the installation of hurricane shutters.
We will then measure each of the spaces you want to install the shutters. This is necessary to determine the size of each shutter and the total cost of the project.
Lastly, our team member will provide you with different product options to design your desired system. Product options include things like manual or electric operation (for certain shutter types), colors, installation requirements, and other optional components.
The company will provide a quote based on the size and number of shutters needed and your chosen product options. If needed they can revise the quote for you after the appointment.
INSTALLATION DAY
In order to move forward you just need to accept the quote. An installation start date for your installation will be set and provided to you.
On the day of the installation our factory-trained installation team will arrive at your home or business. As a first step they will thoroughly prepare your property with protective materials to ensure your belongings are not damaged.
Next, your new roller shutters will be fully installed on the exterior of your property.
After the installation of your shutters is complete we start a thorough clean up. Our technicians will clean everything from protective materials to any dust or debris. We leave your home or business looking the way it did before the installation (with the exception of your new shutters).
Hurricane Shutters Installation Near You in SWFL
We offer custom installation, repair and maintenance of hurricane shutters to homeowners and business owners throughout Southwest (Gulf Coast) Florida. We serve the following cities throughout Florida's Gulf Coast:
Estero
Pine Island/Bokeelia/Saint James City