If you live in Florida then you have definitely seen hurricane panels before. They are a popular form of hurricane protection in the Sunshine State. Even thought they require effort to install and uninstall they are strong and affordable. This makes them a popular option for Florida hurricane protection. But if you are planning to buy them should you buy galvanized steel or aluminum hurricane panels? In this article we'll introduce storm panels. We'll then discuss the differences between the two. This guide is meant to help you make a more informed buying decision.
What are hurricane panels?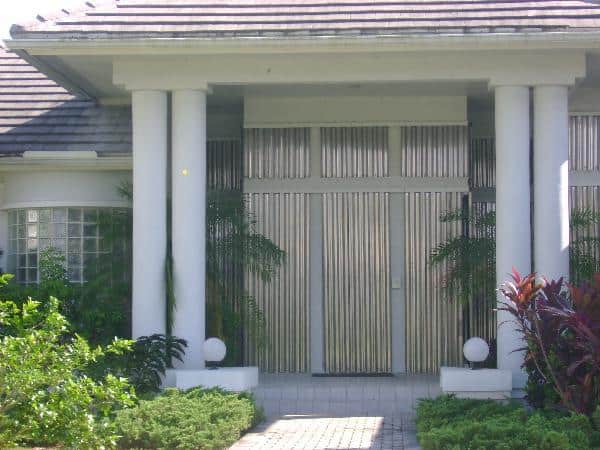 Hurricane panels go by several names. These include metal storm shutters, metal hurricane panels, corrugated metal shutters, corrugated metal hurricane panels, storm panels, hurricane panels, etc.
No matter what you call them, they are all the same thing. They are corrugated metal panels that are installed over your windows and doors. Their point is to protect your windows and doors from hurricane wind gusts and flying debris.
They attach to your home with a track and/or fasteners, typically sidewalk bolts or other fasteners.
The panels overlap each other and create a strong barrier.
Regardless of which panels you select make sure you buy ones that meet or exceed the current Florida Building Code.
Considerations
While storm panels are affordable and strong, there are a few things to consider before buying them.
Require installation: storm panels need to be installed and uninstalled each storm. If you are not able to or unwilling to install and uninstall them they may not be the right option for you. It may also be difficult (and costly) to find someone to install your panels in a pinch. Make sure you have a plan to ensure you can safely get them installed before a storm hits.
Require storage: they require a good amount of space to store them when they are not in use. If you do not have a garage, shed or place to store them you may need to rent a storage unit.
Added costs: hurricane panels are cheaper upfront. But they do have some extra costs associated with them. These include the cost to have someone install and uninstall them each storm. Also, you may need to pay for a storage unit to store them (if necessary).
Now that you know what hurricane panels are we will discuss the different types (materials) of panels below.
Galvanized steel hurricane panels
What are galvanized steel storm panels?
Steel storm panels are corrugated panels that are made out of galvanized steel. They function and attach the same as other types of panels. The only difference is the material they are made from.
What is galvanized steel?
Galvanized steel is raw steel that has been galvanized (coated). According to Tampa Steel & Supply, galvanization is a process of applying a protective zinc coating to the steel to prevent the formation of rust on the steel itself.
The zinc coating does eventually wear down. This happens faster in certain environments. One example is a when steel is exposed to salt water. But, you can expect the panels will last for several years. This is true even if they do get some surface rust (patina).
Considerations before buying galvanized storm panels
Weight vs aluminum: steel is considerably heavier than aluminum. So if you are installing these yourself they will require some serious strength to handle.
Surface rust: as mentioned above steel panels have the potential to get some surface rust. So if you have an issue with rusty panels on your home they may not be right for you.
Aluminum hurricane panels
What are aluminum hurricane panels?
Aluminum hurricane panels are corrugated panels made from an aluminum alloy vs steel. They function the same as metal corrugated panels. The difference is that they are made from aluminum.
What is aluminum?
Aluminum is a type of metal with a silvery, white appearance. Aluminum is typically combined with other materials, such as copper, silicon, etc to form aluminum alloys. This process helps to improve the strength and other properties of the material.
As a result, aluminum hurricane panels are actually made from aluminum alloys vs. pure aluminum.
Considerations before buying aluminum storm panels
Cost vs steel panels: aluminum panels will typically cost more than steel panels
More prone to dings and scratches: aluminum hurricane panels are strong enough to withstand up to a category storm. At the same time aluminum is a softer material than steel so it is more prone to scratching, etc. vs. steel.
Benefits of aluminum
Much lighter than steel: aluminum has a density of about one-third that of steel, which makes it much lighter and easier to handle vs steel
Easier to install vs steel: due to the lower weight they are much easier to handle and install vs steel panels
Naturally rust resistant and corrosion: Unlike steel aluminum will not rust. So you do not have to worry about protective coatings and the patina issues of steel panels.
Protect your family with quality hurricane panels
If you are looking for hurricane panels anywhere in Southwest Florida we would love to help you. We have been supplying and installing high quality, hurricane panel systems in Florida's Gulf Coast for 35+ years.