It is no secret that Southwest Florida is prone to hurricanes, storm surges, and flooding. This is because of its proximity to the coast and low-lying geography. If you live in the area then hurricane preparedness is critical. But do you know how to prepare your house for a hurricane? How do you best protect your family and your home for the big storm? Hurricanes are stressful. And preparing for a hurricane can also be stressful, especially if you are doing it last minute before a storm. That is why it is critical to prepare well in advance. Preparation should happen before hurricane season even starts, not right before a storm. So in this article we provide critical tips for preparing your house and family for a hurricane in the Fort Myers, FL area.
Table of contents
1. Prepare your house and your family well in advance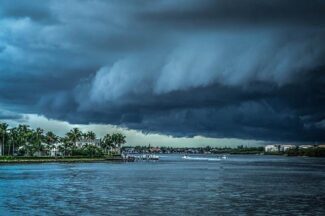 One of the most critical things you can do to prepare for hurricane season is to be, well prepared. So how do you prepare your house for a hurricane?
One of the most important things to remember is to prepare well in advance. It is best practice to start your hurricane preparedness well before hurricane season even starts.
Waiting to do your hurricane preparation right before a storm can cause some issues. First, it adds unnecessary stress, and a hurricane is stressful enough already. Second, waiting may seriously limit your ability to get adequate supplies and deploy your home's hurricane protection in enough time. Third, waiting may eliminate your ability to both prepare your house and evacuate to safety before a storm hits.
2. Have a hurricane plan ready
The best way to prepare for hurricane season is to have a solid plan in place.
There is no other way to say it. Planning is critical. So we recommend having a hurricane plan in place before hurricane season even starts. As we said above, the earlier the better.
A plan will make your hurricane preparation a lot smoother and easier vs. "winging it" at the last moment.
There are several resources to help you create a hurricane plan, such as the following:
Even if you are just visiting it is good to understand the hurricane risk of different cities of our region if you are visiting during hurricane season in Florida.
3. Stay alert
Knowing about potential storms in advance is important. And many people do not watch the news daily like in year's past. Hearing about the storm by chance from a friend or your co-worker might not give you enough time to adequately get ready.
The best way to stay in the know is to get alerted about approaching hurricanes as soon as possible. Here are some options to make sure you are always aware of oncoming storms.
Your Local News/Weather
One option is to keep up to date with the weather forecast on your local news. If you watch the news daily you should be alerted about approaching storms well in advance.
You can also follow your local weather service or news team on your preferred social media platform. This is a good way to keep alert if you can't catch the news.
Visit hurricane websites and sign up on severe weather alert systems
Another option is to sign up or monitor severe weather alert systems and hurricane websites.
Luckily there are several services that alert you of approaching storms. Some of our favorite helpful services are below:
You should also bookmark or know your local government site where the status of a storm is updated. For Greater Fort Myers/Southwest Florida these include:
4. Know the difference between a watch and a warning
You should also understand the difference between a storm watch and a warning. This is important as each one has certain timing and actions associated with them.
Learn the difference in our Guide entitled: Hurricane Watch vs Warning: Whats the Difference & Why It Matters in FL
5. Know your hurricane evacuation zone and have an evacuation plan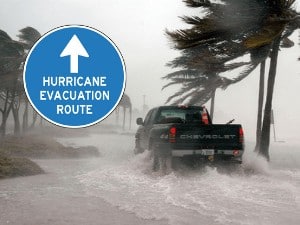 What are hurricane evacuation zones? According to Lee County, FL's website evacuation zones are "areas that may be inundated by an abnormal rise of water pushed onto shore by a hurricane or storm event." The zones determine evacuations in emergencies to move people away from a dangerous storm. Evacuation zones are ranked in order of their impact from a storm surge. There are five zones, A to E. Zone A is evacuated first and so on.
To see what zone you are in you can check out Lee County's map of evacuation zones, routes and emergency public shelters.
Southwest Florida Evacuation Zones
Most areas of Fort Myers are in Zones A, B and C, but you should look up your zone for your specific address.
You can also search for your evacuation zone by your address using FloridaDisaster.org's know your zone tool.
You can also reference our guide on Southwest Florida Hurricane Evacuation Zones.
6. Know the location of local emergency public shelters
It is also recommended to know where your local emergency public shelters are located. Worst case scenario if you have to evacuate your home and go to a shelter it is important to know exactly where to go.
If you live in Fort Myers, Cape Coral or anywhere else in Lee County you can use the county's map for a list of shelters. There are designated shelters for Fort Myers including East Fort Myers, San Carlos and Tice areas, aCape Coral, Bonita Springs, Estero, Lehigh Acres, and North Fort Myers.
For other areas in Southwest Florida you can find your shelters at the links below:
If you are in Lee County, FL you can reference our guide to Find Your Lee County Hurricane Shelters
7. Stock up on supplies in advance
Hurricanes can cause issues beyond just damage to your home. They can knock out power, eliminate access to safe drinking water, limit access to roads, and cause several other problems. These will effect your family both during and after the storm. You need to have your prep supplies ready to go.
Hurricane supply list
Food and water supplies
Outages also limit what foods you can store in your fridge and your ability to cook. They also limit restaurant's abilities to prepare food. You should prepare for the worst and have a sufficient stock of non-perishable foods ready.
Grocery stores usually get very low on supplies right before and for a while after a hurricane. In turn, you need to make sure you have an adequate supply of non-perishable food well in advance of a hurricane.
The same is true for water. Public water lines can be broken, and drinking water can become contaminated during a storm. So it is important to stock up on clean, bottled water that your family can drink.
Florida Disaster recommends you have "1 gallon per person per day".
Gas
Make sure you have gas in advance. Fill up your vehicle's tank before the storm. Fill up any containers you need to run your generator as well.
Power outages means folks will use their generators. And gas stations may become damages or rendered useless. This causes long lines at the gas stations and may even cause a gas shortage.
Also, if you need to evacuate and drive a far distance you need to have adequate gas in your vehicle's tank to get you there safely. Gas stations may be out of order along your route.
Florida Disaster started the "Halfway Full Halfway There" program for this very reason. The program is an initiative that asks Florida drivers to keep their gas tank half full at all times during hurricane season.
Having a full tank of gas is important. Filling up a gas container if you need it is also important. It is also a good idea to use a fuel stabilizer if buying it in advance.
Have a hurricane preparedness kit
Have a preparedness kit ready in your home and/or in your vehicle's trunk. It is important that you have enough food, water and other supplies for your family and any of your pets to last at last several days.
Some important items you should have in your preparedness kit include:
food (including plenty of non-perishable food) and water

It is also important to have a can-opener, utensils, and plates and cups to eat and drink out of

first aid kit
fully charged mobile phone
battery power: disposable batteries, chargers, back-up batteries for your mobile phones
flashlight
sanitation supplies
necessary medications
baby formula and supplies if you have infants
pet food and supplies if you have pets
clothes, work clothes, rain clothes, etc.
important documents – including documents for insurance policies, financial documents, and any other important documents that may be destroyed during a hurricane.
FEMA's Ready.gov has a very thorough emergency supply checklist that you can download. FloridaDisaster.org also has a Disaster Supply Kit Checklist on their website.
8. Know how to properly prepare your house for a hurricane
Now that you and your family have a plan in place, adequate supplies and are prepared you must make sure your home is prepared as well.
1. Bring in debris and objects that have potential to damage your or your neighbors' homes
You want to stay safe during the storm. One of the biggest sources of danger and damage to a home during a hurricane is flying objects and debris. One way to limit this danger is bringing in any objects in your yard that have the potential to get blown away during high wind gusts.
Bring in any objects that have a potential to go airborne like patio furniture, bikes, planters, yard art, kid's toys, etc.
This is a easy way to limit your risks and help your family stay safe during the storm.
2. Secure your home with hurricane home protection
Prepare your house windows, doors, lanais, etc. for a hurricane
Your home's openings, including glass windows and lanais are the most vulnerable spots of your house during a hurricane. They are at risk of breaking if an object hits them. This is what hurricane window protection is for.
If your Fort Myers home has impact windows or hurricane shutters you are ahead of the game. Hurricane shutters and impact glass are made specifically to withstand up to a category 5 hurricane. They are made from impact resistant materials such as aluminum and steel.
Which are better, hurricane shutters or impact glass windows? Check out our guide on hurricane shutters vs. impact glass to see the pros and cons of each.
Hurricane panels are also a common option to protect your home's glass openings. If your home has manual hurricane shutters, such as aluminum hurricane panels then you will need to plan ahead. Panels can take up to 2-3 days to install, especially if you are doing it yourself. If you are you are not able to install the panels yourself make sure you have a hurricane shutter installation service you can use.
If you are planning on putting your panels up yourself then check out our instructions for installing hurricane panels.
Check out this article to learn when you should put your hurricane protection on your house.
Secure your garage doors
Your garage doors are usually the biggest opening on your home. They are also usually overlooked when it comes to hurricane home protection. But if you do not have hurricane proof garage doors these openings are one of the biggest vulnerabilities of your home.
There are numerous ways to protect your garage doors for a hurricane. Some of these are below:
If you act in advance you can install a hurricane resistant garage door system.
Although less effective you can also add garage door reinforcement bars.
You can install an appropriate hurricane shutters over the exterior of your doors, such as Roll Up Shutters or Accordion Shutters.
Conclusion
Being prepared for a hurricane in Southwest Florida is critical. Hurricane preparation starts with being prepared well in advance of hurricane season. Signing up for hurricane alert services will help you be aware of approaching storms. Hurricane preparation requires a hurricane plan, supplies, and having preparedness kit(s) ready. You should also understand your evacuation zone, your evacuation routes, and the emergency shelters in your community.
Once you and your family are prepared you must make sure your home is prepared for the hurricane as well. Bringing in items that have a potential to go airborne is a good first step. Making sure your home has impact windows, hurricane shutters or hurricane panels is critical to protecting the vulnerable spots of your home. If you are unable to install your home's hurricane protection yourself you should have a hurricane shutter installation service ready.