Check out our recent accordion shutters project in Fort Myers Florida. This one was an install of Eurex Shutters PTX™ Accordion Hurricane Shutters. Find out more details about the completed project below.
The homeowners were looking for a strong and convenient storm solution to protect their home's windows. They ended up choosing custom PTX™ Accordion Shutters.
It was also important to have shutters that didn't detract from the look of their home. They went with beige to blend in with the color of their home. This created a clean look that helped the shutters blend in vs. stand out. The shutters really do blend in nicely. So the home's character and style still remain in place.
Overall this accordion shutters project in Fort Myers Florida was a success. The homeowners are happy and their home is now protected and also looks great!
Be sure to check out the pictures of the finished installation below.
And check out more of our recent projects.
Pictures of the Accordion Hurricane Shutters Install in Fort Myers Florida
Below you can see pictures of the final result after the completed installation. These are custom, beige, Eurex Shutters PTX™ Accordion hurricane shutters that were installed on the client's windows.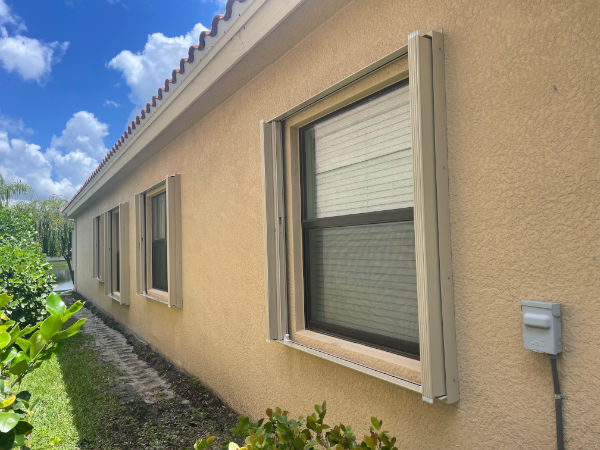 Interested in Starting Your Own Project?
Do you need hurricane shutters in Fort Myers or elsewhere in Southwest FL? We can help you find the perfect choice, whether it is Accordions, Roll Downs, hurricane screens, etc. After all, we have the widest selection of hurricane shutters in SWFL. And all of them can be customized to meet your needs. You'll also be happy to know that we not only install hurricane shutters. We also repair, service and maintain them.