Hurricane screens are extremely strong. But they are also lightweight, flexible, and you can see through them. So what are hurricane screens made from? What materials allow them to be impact resistant enough to withstand hurricane force winds up to 180 MPH and flying objects but lightweight and see-through at the same time? Find out below.
You may also like: Pros & Cons of Hurricane Screens in Florida: 2022 Guide
Table of Contents:
What Are the Screens Made From?
What Are Hurricane Screens Made From?
It should be noted that different brands of hurricane shutters are made from different materials of construction. Our Eurex Shutters PTX™ Hurricane Screens are made from DuPont KEVLAR®.

Okay. But what is that?

KEVLAR® is a flexible, light-weight and impact resistant fabric. But don't be mistaken. At the same time it is unbelievably strong.
According to the Dupont website, Kevlar has a "tensile strength 10X greater than steel on an equal weight basis." In other words, it is extremely strong.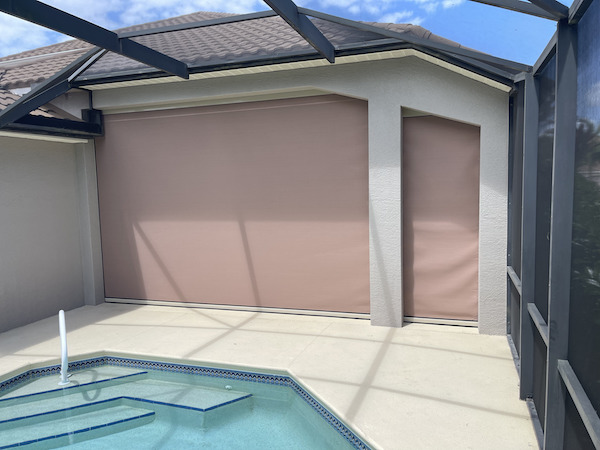 How effective are hurricane screens?
How do they hold up against tropical storms and hurricanes? Hurricane screens are very effective for storm protection. Take for example that Kevlar is used to make bullet-proof vests. This is because of its ability to absorb and dissipate the energy of projectiles. This is important when thinking about its ability to protect your home and family against flying projectiles and wind gusts during a hurricane. And their performance has been extensively tested. Our hurricane screens, for example, meet the Florida Building Codes as well as the Miami-Dade requirements. They are rated up to 180 MPH winds.
How Are Hurricane Screens Constructed?
Hurricane Screens are constructed of multiple components. One is the screen. Second is the housing and tracks. And last is the motors and electrical components for electric (or automatic) screens. We briefly discuss each below.
The screen
As mentioned above, our Eurex Shutters PTX™ Hurricane Screens are made from Kevlar. Specifically, they are made from Kevlar threads, which are woven together to form a uniform, flexible screen.
This construction is what makes hurricane screens so unique. For one, it allows natural light through it, while reducing sun glare and providing shade. This also allows you the ability to see through it. Also, this construction is how it is flexible but still extremely strong.
The housings and tracks
The housing and tracks are what house the screen and guide it up and down. These are made from strong, high quality aluminum. Aluminum is super strong, but lightweight. It also does not corrode like metal does.
Motors
Hurricane screens are available in both manual and automatic versions.
The automatic versions are powered by AC motors with a manual override. These motors allow you to easily open and close your screens with a control, such as a switch or mobile app.
Interested in Storm Screens?
If you live in Southwest Florida it is important to have the necessary protection in place to keep your home and family safe. Maybe that is storm screens. Or maybe it is another type of hurricane protection product. No matter which type of protection you choose we would love to help. We have been installing, repairing and maintaining hurricane products in Southwest Florida for 35+ years. So feel free to contact us for a free consultation.