Have some old hurricane shutters you aren't using? Maybe you got new ones and your old ones are just sitting around. They are most likely an eye sore in your yard or taking up valuable space in your shed or garage. You probably have no use for them, but you don't know what to do with your old hurricane shutters. Well, we are here to help. There has never been a better time to get your old storm shutters out of sight and out of mind. We'll provide some suggestions on what to do with old hurricane shutters in Southwest Florida. Hopefully one of them is a good option for you.
Options for your old hurricane shutters in Southwest Florida
Find a place to donate hurricane shutters
Want to put your old shutters to a good use? Why not donate your shutters and help out someone less fortunate. If you have shutters in good condition without rust you could donate them. There are organizations and causes throughout South Florida that accept donations of your old shutters.
One such organization is the Habitat For Humanity ReStore. Some Habitat for Humanity ReStores in South Florida take donations of hurricane shutters. But make sure to check with your local store to see if they do accept them. Some may even be able to pick them up for you. It's worth a try.
ReStores in Lee County, FL are below (not all may take donations):
Habit for Humanity ReStore – there are three locations in our area

South Fort Myers ReStore – 16133 S Tamiami Trail, Fort Myers, FL
McGregor ReStore – 15271 McGregor Blvd, Fort Myers, FL 33908
Bonita Springs ReStore – 9080 Bonita Beach Road, Bonita Springs, 34135

Habitat for Humanity of Lee and Hendry Counties – 12751 New Brittany Blvd., Suite 100, Fort Myers, FL 33907
ReStores in Charlotte County, FL are below (not all may take donations):
ReStores in Collier County, FL are below (not all may take donations):
Collier County ReStore North Naples – 5062 Airport Pulling Rd North, Naples, FL 34105
ReStore- East Naples – 11127 Tamiami Trl E, Naples, FL 34113
ReStores in Sarasota County, FL are below (not all may take donations):
South Florida Places to Donate Hurricane Shutters
And below are a few ReStores in South Florida whose websites mention they accept old shutters in good condition.
How to recycle or scrap hurricane shutters
If you are environmentally conscious you can also opt to recycle or scrap your old metal or aluminum hurricane shutters. This is a great alternative to just throwing them out. The materials will ultimately be used to produce new products instead of just sitting in a landfill.
Take note. These are not something you can just put out on your curb for your local recycling truck to take. You do need to find a recycling center or scrap yard near you that will accept them. But finding one in Southwest Florida to dispose of your scrap hurricane shutters should be pretty easy. This is because there are several metal scrap yards throughout Southwest Florida.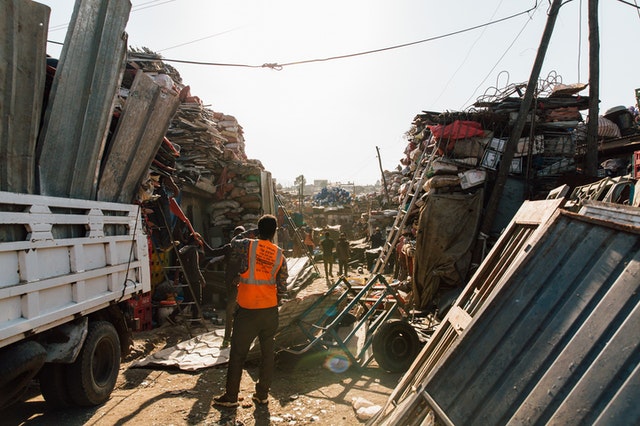 Scrapping your shutters may also get you some money as well. No, it won't make you rich, but it's some money to put towards new ones. After all, you paid good money for your shutters when you bought them so why not get something back. Because they are heavy you should be able to get something in return if you scrap them.
Call around and find a scrap yard that accepts and pays you for them.
Trade them in for new ones
Looking to replace your old shutters with updated ones that meet the newest FL building codes? Some shutter installers, including us, have a buy-back program for customers with old shutters. The program offers customers in Southwest Florida a discount on new shutters when you trade in your old ones.
Find out more about our buy-back program to see if it is a fit.
Image Credits: