Your garage door is one of the biggest and most vulnerable openings of your home by far. Unfortunately, a standard garage door is no match for the extreme wind and flying debris of a Florida hurricane. For example, in September 2022 Florida's Gulf Coast was devastated by Hurricane Ian. The amount of damage to people's home was massive. And while most homeowners protected their windows to some degree it is much more difficult to properly protect your garage doors. As a result many homes with garage doors failed and caved in. This situation can result in damage to the interior of your garage, your vehicles, and possessions. It also may also cause your home to become pressurized.
This is why impact garage doors are so important. This is especially true if you live in an area prone to hurricane season like South Florida.
Having a hurricane proof garage door in Florida is critical. But it is not something that most people are familiar with. So in this guide we cover this class of garage doors in detail. We discuss what they are and what makes them different from regular old garage doors. And we will cover why they are very necessary if you live in a hurricane-prone area, such as Fort Myers/Cape Coral Florida.
What is a Hurricane Proof Garage Door?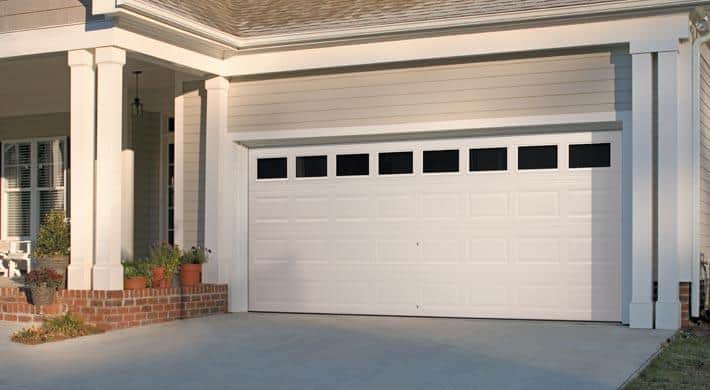 You may hear them called wind-load rated garage doors, impact garage doors, reinforced garage door, hurricane proof garage doors, etc. Regardless of what you call them, they all refer to the same thing.
They may look like normal garage doors from the outside. But they are very different. These doors for your garage are engineered, tested, and approved specifically to be hurricane proof. Specifically, they are made to withstand the force and impact of strong winds and flying debris seen during a hurricane. They offer excellent hurricane protection.
What does hurricane rated mean?
Hurricane resistant garage doors meet the latest Florida Building Code and are Florida product approved. A garage door system needs to pass extreme testing and earn Florida Product Approval in order to become "hurricane-rated". The testing puts the product through rigorous conditions that replicate what the garage door may experience during a severe hurricane. For instance, the tests replicate severe wind speeds and impacts from flying debris, ie. shooting projectiles at the door.
In addition, the product needs to be certified by a Florida Licensed Professional Engineer or Architect. These professionals evaluate the product for compliance.
Components of a Hurricane Rated Garage Door System
You might be asking what makes this kind of door stronger than a regular garage door. Or what makes it strong enough to be able to withstand hurricane force winds and flying debris?
These doors have many components that make them so strong, which include:
Thick, impact resistant exterior skin made from heavy-gauge steel vs lightweight materials used for standard doors. The heavy steel skin is able to withstand heavy impacts and severe wind speeds/pressure.
Structural reinforcement system not present on a regular garage door. This reinforcement system increases the door's resistance to the extreme wind pressures experienced during a hurricane. During a hurricane your garage door will face both positive wind pressure (the wind pushing on the door), and negative wind pressure (when the door is pulled or "sucked" away from your home).
Heavy-duty track system to reduce the chances of the track becoming damaged because of an impact or even high positive or negative pressure. Regular tracks are susceptible to twisting, caving, or even breaking during a hurricane or even a tropical storm.
Heavy duty components help make the door more robust vs a regular garage door.
Impact glass glazings vs standard glass in regular garage doors. Impact windows on your garage door reduce the chances of glass breaking during a hurricane. Broken glass can have the same effect as a busted garage door, which is that your home may become damaged or pressurized.
As you can see, these doors are built quite differently vs regular garage doors. Hurricane proof garage doors are constructed to be a much heavier, more durable door that is able to withstand both the heavy impacts and extreme pressure during a severe hurricane.
Benefits of Hurricane Garage Doors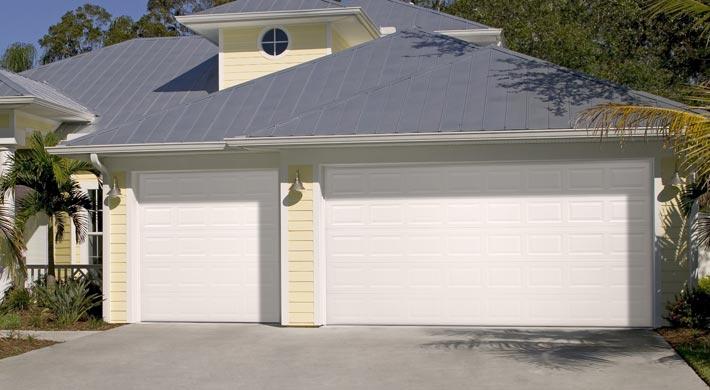 We cannot speak for every brand of garage door. In turn, below we give some benefits of our Eurex Shutters Hurricane Garage Door Systems.
Strong hurricane protection can withstand up to a category 5 hurricane – Our garage doors have extra strong, impact resistant, steel skin, a structural reinforcement system, and heavy-duty components. Our hurricane proof garage doors are Florida Product Approved, meet the Florida Building Code, and meet Miami Dade requirements.
Aesthetically pleasing (they look amazing) – Our doors come in several, high-quality, attractive designs. They also feature NO exterior housing or tracks for a clean look.
Increased insulation (optional) – Door insulation helps keep your garage cooler in the summer and warmer in the winter. This makes it more of a comfortable, usable space.
Corrosion resistant – Our doors have three layers of coating to protect the door from corrosion.
Exterior keypad system allows you to operate the garage without a transmitter for added convenience.
Conclusion: Hurricane Proof Garage Doors Provide Hurricane Protection
That is why having a hurricane proof garage door in Florida is important. So if you need a new garage door, or are looking to improve your home's hurricane protection then you should strongly consider wind-load rated garage doors.
If you are interested in installing a new hurricane approved door then contact the professionals at Eurex Shutters. We have been installing hurricane protection products in Southwest Florida for 35+ years. Our technicians do everything from garage door installation to repair. Give us a call at (239) 369-8600 or fill out the quick form below to get started.