Hurricane-rated Bahama shutters are an attractive style of hurricane shutters in South Florida. Because they are so attractive people often wonder how strong they are in terms of hurricane protection. Well, that is the topic we will dive into in this article. Read below to find out just how strong Bahama shutters are.
Bahama Shutters Overview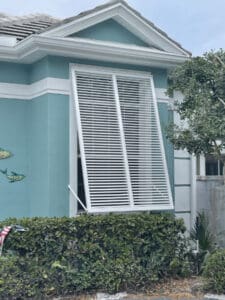 Bahama shutters are a type of permanent hurricane shutters. They remain stationary over the exterior of your windows at an angle. This helps provide shade and UV control, which are beneficial.
These are simple to operate and use. When a storm approaches you just close them securely over your windows. And when it is time to open them they simply pop out. This is achieved because of their telescoping arms, which allow you to open, close, and adjust them.
They offer protection for your windows while also giving your home a touch of Caribbean style and beauty.
Perhaps the biggest reason why people love the Bahama style is because of their good looks. They are considered "aesthetically pleasing", and they come in a wide variety of colors and options.
Discover our Bahama shutters.
Are They Hurricane-Rated?
Yes, hurricane-rated Bahama shutters are suitable as hurricane protection. But beware that this style of shutter is sold both as a decorative shutter and a hurricane shutter. So make sure you buy ones that are hurricane-rated. In other words, they meet the Florida Building Code and are approved as hurricane shutters.
How Strong Are Bahama Shutters?
Bahama hurricane shutters may be attractive, but how strong are they? Well, when it comes to hurricane protection they are very effective.
First, it should be noted that different brands of shutters do vary in terms of performance. So we will discuss only those Bahama Shutters that we install specifically.
In terms of hurricane protection performance, our Bahama shutters are:
Florida Building Code approved
Hurricane-rated
Approved for use within and outside the HVHZ
Impact resistant
CONCLUSION
In summary Bahama shutters are both attractive and extremely strong. They are hurricane-rated and some are even approved for use in HVHZ. So you can boost the curb appeal of your home while also improving it's hurricane protection.
Check out our other helpful blog posts to keep learning more about shutters. Or fill out the form below to request a free estimate today.
Or call (239) 369-8600 for immediate service.