We recently installed custom, black, aluminum deco Bahama Shutters on a client's beautiful home in the Cape Harbour community of Cape Coral, FL. Learn more about the project and the shutters below. Also, check out all the pictures at the bottom of the page.
See more of our recent projects.
Client Needs
The owners contacted us looking for a premium exterior shutter solution for their amazing home. Yes they wanted to add storm protection. But they were also looking for a convenient solution that maximized the comfort of their home, including shade.
One of the key goals for the project was aesthetics. They wanted to enhance the home's beauty vs detract from it's amazing appearance!
Solution
The client selected Deco Bahama shutters (half Bahama shutters), which we think are a perfect choice.
They were also a great fit for the client's design goals. These decorative and functional shutters created a truly tropical aesthetic and fit nicely with the home. They look amazing in standard colors. But Eurex Shutters' deco Bahama shutters can be powder coated in almost any color. This makes it easy to create exactly the design and look you want to achieve. They went with black, powder coated aluminum. And this was a perfect fit to their home's exterior colors. Without question the black shutters provided an elegant and very clean look. They truly fit the home perfectly.
Deco Bahama Shutter Install Pictures
Check out all the pictures of the completed shutters installation below. Stunning!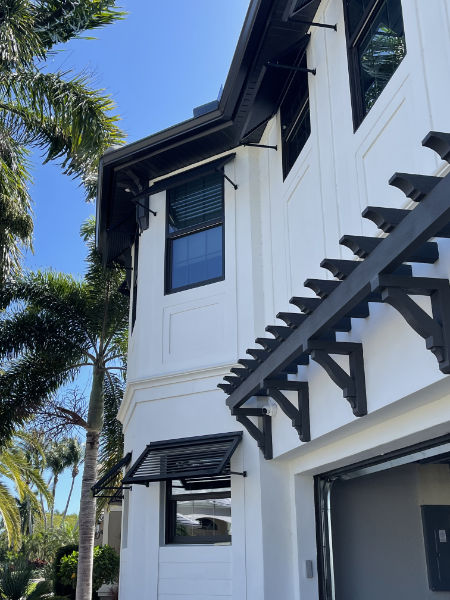 Conclusion
This was a successful installation. And this beautiful Cape home is now more protected, more comfortable and even more beautiful!
Are you interested in getting hurricane shutters for your home in Cape Coral or elsewhere in Southwest FL? Deco Bahama Shutters might be the right fit for your home. But if not, we can help you find the right solution. We have the widest selection of hurricane shutters in Southwest Florida. We install hurricane shutters, but we also repair, service and maintain them. So give us a call now at (239) 369-8600 or request an in-home consultation today.

Related Posts
What are hurricane shutters? If you live in Southwest Florida or any other area that is frequently affected by tropical storms and hurricanes then you have heard the words "hurricane shutters". But if you are new to the area or don't have any installed yet you may be unsure what they are exactly. So in…

---