Do you live in an area like Southwest Florida? If so you are definitely familiar with tropical storms and hurricanes. It's no secret. The coastal areas of Florida are prone to severe weather. So, as you know, having proper storm protection in place is critical in order to protect your home and family. But when it comes to hurricane protection there are a slew of options to pick from. In fact, there are so many options of hurricane shutters and impact windows the choice can seem overwhelming.
One hurricane protection product that is popular in Florida, especially for patios and outdoor spaces are hurricane screens. In this guide we'll discuss the Pros & Cons of Hurricane Screens so you can decide if they are the right choice for your home and family.
You may also find the guides below helpful if you are considering other products:
The Pros & Cons of Roll Down Shutters
The Pros & Cons of Hurricane Fabric
Table of contents
What are hurricane screens? An overview
Hurricane screens are a type of permanent hurricane protection, which are installed on your home or business.
They are typically used to cover larger areas, such as patios or outdoor spaces. This is because they are more suitable for large openings vs on individual windows and doors.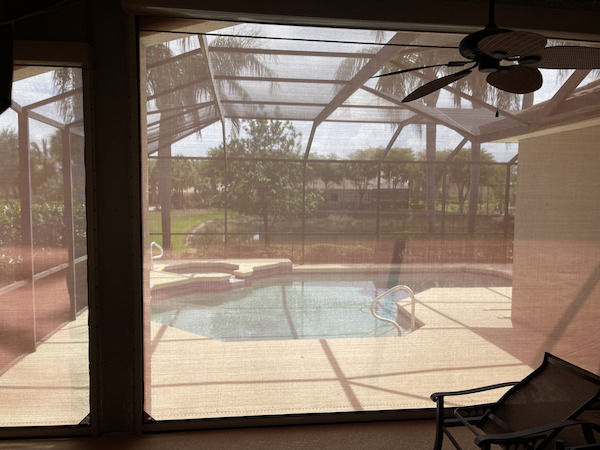 FAQs
How do storm screens work?
So how do they work? Hurricane screens work similar to roll down shutters. They move up and down smoothly and quickly on a track. The motors and fabric (when the screens are in the open position) hide away nicely in a clean, sleek housing box.
You can choose between automatic hurricane screens or manual ones.
Automatic hurricane screens are open and close via electric motors. They are very easy to use and can be operated with a switch, remote or mobile app depending on the installation. They also have a manual override in case you lose your power.
How do hurricane screens compare vs storm shutters?
Are they the same as shutters? Sort of, but not exactly.
You could technically call them a type of hurricane shutter because they serve the same function as shutters. That function, of course is to act as a barrier to protect your property's vulnerable areas from hurricane force winds and flying objects.
But they are uniquely different than shutters.
For instance, they are flexible vs. solid. This is because they are made from flexible fabric (read below) vs rigid metal or plastic.
Also, they are screens so you can see through them unlike hurricane shutters (except for clear hurricane panels). On a side note this makes them very effective at providing shade control to your outside spaces. In other words, they are great at making your outdoor space more enjoyable and comfortable. But we'll talk about that more below.
What are hurricane screens made from?
Eurex Shutters PTX™ Hurricane Screens are made from DuPont KEVLAR®. DuPont KEVLAR® is an extremely tough yet flexible, light-weight and impact resistant material. And while it is lightweight and flexible it is unbelievably strong. The Dupont website says Kevlar has a "tensile strength 10X greater than steel on an equal weight basis." So you can feel really confident that it will protect your home effectively.
How do you install hurricane screens?
If you are an appropriately licensed contractor in your city or county you can consider installing the screens yourself. However, they are precisely designed and engineered systems that do require proper measurement, fabrication, and installation.
So if you are not a licensed contractor or you just want to let the experts do it you may consider having a trusted hurricane shutters company do the install for you.
Pros And Cons of Hurricane Screens
Below are some of the Pros & Cons of hurricane screens.
Pro: Hurricane screens are quick & easy to operate
Hurricane screens open and close quickly and easily. This is true whether you have automatic screens or manual screens. Opening and close them can be done in less than a minute in most cases. This means you can prepare your home quickly. It also means you can get shade or sun quickly.
Pro: You can see through them
One of the biggest PROS of hurricane screens vs most types of shutters is that you can see through them. This is because they are made of a mesh vs a rigid material. This is helpful because you can see what's going on outside when they are closed. It is also helpful because it lets natural light through, even as they are providing shade and blocking out UV. This makes screens more functional and enjoyable than many hurricane shutters that black out your space when they are closed.
Pro: Great for wide openings
Storm screens are a great fit for wide openings. They can be used for openings as wide as 360″ depending on the location of the installation. That means you can create some pretty sleek protective coverings with minimal breaks, even when used for very large openings.
Pro: Screens have minimal effect on your home's appearance
Screens have a smaller housing box vs. other rolling type shutters. This is because they are thinner and made from fabric vs solid aluminum. This is great for people that do not favor the look of big housing boxes. They are less visible and take up less real estate on your house.
Pro: Hurricane screens offer a lot of value
Hurricane screens are not the cheapest hurricane protection. But they are also not the most expensive. The thing that should be noted is that they offer a lot of value (bang for the buck). They are attractive, easy to use, and super effective in terms of hurricane protection. But they also serve as outdoor shade screens, which many folks install on their homes anyways. In turn, you are getting two products, with two separate functions for the price of one.
Pro: Hurricane screens offer lots of standard color options to match your home
You want your hurricane protection to look good. At the very least, you want it to match or blend with the look of your home so it doesn't detract. And this is easy to accomplish with Eurex Shutters PTX™ Hurricane Screens. This is because they are offered in several color options, which means they will match your home's style and color scheme nicely.
You can choose from black, beige/white, beige/black, and all white. These combinations should work well with most homes in Southwest Florida. This is true regardless of your paint color scheme or home's style.
Con: They offer no security protection
Some hurricane shutters help protect your home from intruders. Screens offer other benefits and functionality. But they do not offer as much in terms of security protection. While this may not be a big concern for many it is still something to consider.
Con: They may wrinkle over time
Hurricane screens have some flex (they are flexible). In other words they are not tight and rigid. They also roll up and down. These factors mean they experience wrinkling over time. Again, while not a huge concern for some it is something to take into consideration.
Con: Limited in where you can use them
Some types of hurricane protection can be used on every openings on your entire home. Others cannot. Hurricane screens fall into the "can not" bucket. They are best suited for wide openings, such as patios, lanais and outdoor spaces vs individual windows and doors. But if your windows and doors are behind your screens they will be protected.
Are storm screens the right product for you?
There is not shortage of options when it comes to storm protection. So how do you pick the right option? Do your research and understand the pros and cons of each type. Choosing the right one for your Florida home will depend on your needs and preferences. But regardless of which storm products you choose make sure you have the necessary protection in place to keep your home and family safe.
If you need help picking which type is right you can check out or guide on how to pick the best hurricane shutters. Or feel free to contact us for a free consultation.