Here is yet another finished installation of impact windows in Naples FL. This window install turned out great! Both the client and our team was satisfied. Keep reading for more details about the installation as well as to see what the home looks like with its new windows.
You may also like: Hurricane Shutters Naples FL
Property & Client Requirements
The property was a single family home located in the Naples community of Florida.
The homeowner was looking to replace the home's existing windows with Impact Windows. They were looking for storm protection that would not change their home's appearance.
Also they did not want to have to install anything, such as storm panels, before a storm. These are two common requirements. These are some of the reasons customers choose impact resistant windows vs shutters.
In addition, the client needed someone who could manufacture custom windows. They needed to replace their custom "half-round" ("half-moon" or "arch") impact windows.
We said "no problem!"
The Solution
Given the client's needs the solution was an easy choice. They choose custom, vinyl impact resistant windows. We were confident that the windows would exceed all their requirements.
First, new impact windows provide strong storm protection. But they also upgrade a home's appearance as well as its energy efficiency.
Their impact windows had white, vinyl frames and white grids (which varied by window size). We also installed new, custom arch windows. These also had white grids.
Post Installation Photos (After)
Here you can see what the home looks like after the impact windows installation of their new white, vinyl impact windows.
It looks great!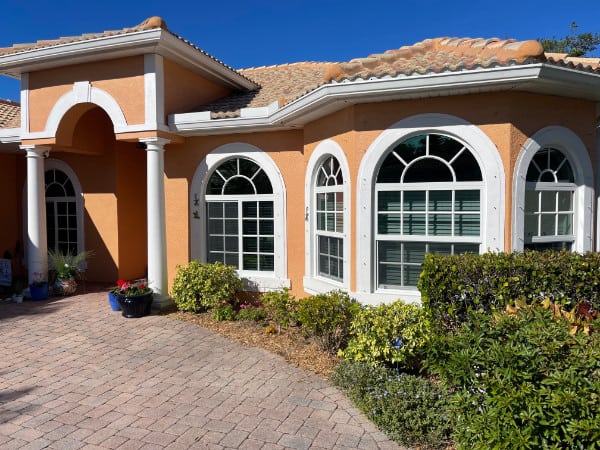 Interested in Impact Windows?
Interested in impact windows for your home in Naples or Southwest Florida? Have questions? Or need an estimate? The team of professionals at Eurex Shutters would love to help.