Having a Florida room can be one of the most enjoyable rooms in your Florida house. It is an excellent way to enjoy the sunshine and view while keeping cooler. It is also great at keeping mosquitos out. So its a great place to spend a night with family and friends. And while a room of glass windows can be amazing it does present some issues during hurricane season. Thats why impact windows are a great choice for a Florida room located in Florida. Also, choosing the right style of window is important to ensure you enjoy the space. So whether you are just building your Florida room or replacing your old windows it is an important choice. In this article we'll discuss your options for impact windows to put in your Florida room.
Related: Glass Types For Impact Windows
What is a Florida Room?
A Florida room is an additional living space attached to your home. It is typically located in the back or side of the home. It is enclosed by a roof and glass windows. A Florida room differs from a screened in porch or lanai in that it is enclosed in glass vs screens. It gets its name from its wide spread use in the state of Florida.
Why use impact windows in a Florida Room?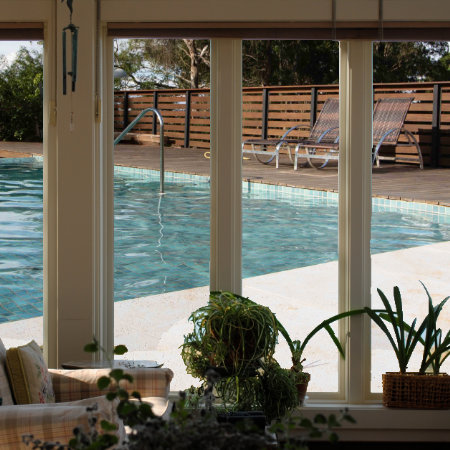 Having a room made of glass can be beautiful. But in a state like Florida it can cause a lot of issues during hurricane season. Standard glass is not able to withstand the sustained wind gusts and flying debris present during hurricanes. If you have unprotected standard glass windows you run the risk for a lot of damage.
On the other hand, impact glass windows are designed specifically for this purpose. They can withstand the sustained wind gusts and flying debris present during hurricanes. So using impact windows is a great choice for a room made of glass.
Florida Room Window Options
There are many options when it comes to windows for your Florida room. Below we discuss the different options available for impact resistant windows.
Frame Material
You will generally find impact windows for your Florida room available as either vinyl or aluminum frame windows.
Vinyl windows are commonly used in replacement window applications. So if you are replacing your existing Florida room windows vinyl is a good choice. Vinyl, or PVC frames are great for durability, low maintenance, and excellent energy efficiency and water barrier performance. They will last for years and don't need to be painted.
Aluminum window frames are made from, you guessed it, aluminum. These frames are super strong and durable so they last and last. They are also powder coated and the finish will last a very long time. The one drawback is that they are not as efficient as vinyl frames.
Impact Glass Options
You can choose between insulated and standard impact glass. This really comes down to your preferences.
Insulated impact glass is a good choice if you want to keep more heat out in the summer and more cold out in the winter. Maintaining a comfortable temperature in your Florida room is important for the enjoyment of the room. In addition, insulated glass also helps you keep your energy bills lower if you have AC and heat in the space.
But standard impact glass may be fine for your situation. This is especially true if you plan to have the windows open a lot.
Window Types For a Florida Room
Technically, you can use any style impact window you want, but some are better suited than others as windows for your Florida room. Below we briefly discuss some different styles that are a good fit for this purpose. You can click the link to each one to find out more information.
Stationary Impact Windows
Stationary windows do not move, which means you can't open or close them. They are great for creating unobstructed views as well as design statements. You can use them in combination with windows that do open. This allows you to achieve your design goals and enjoy fresh air.
Some popular, stationary Florida room windows are below.
Picture Windows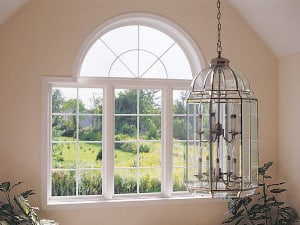 Picture windows are stationary windows that allow for nearly unobstructed views. And you can get them without grids to enhance your view even more. These are a great choice if you want to enjoy an unobstructed view from your Florida room.
They are generally offered in both vinyl and aluminum frames. And custom versions come in many shapes and sizes. So you have plenty of design flexibility.
Learn more about impact picture windows.
Fixed/Architectural Windows
Architectural windows are similar to picture windows. They are stationary and offer unobstructed views. They are offered in large sizes. In turn, you can even use them to create glass window walls or full height windows within your design.
Impact Windows with Ventilation
Single Hung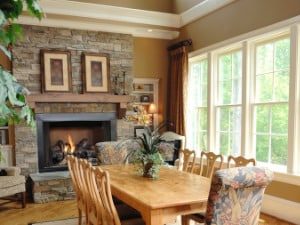 Single hung windows are your basic, traditional windows that open up and down. They are called single hung because they have a single sash that moves up and down. The top sash is fixed. In other words, it does not open.
These are great for Florida rooms for a few reasons. First, because they are affordable and offer great storm protection. Second, they open and close so you can allow fresh air in.
Learn more about impact single hung windows.
Double Hung
Double hung impact windows look almost identical to single hung. But both the top and bottom sash opens and closes, which allows for more ventilation. Also, they are easier to clean due to both sashes tilting open.
They are available in vinyl frames with an appearance resembling wood. So you will get some aesthetic benefits as well.
Learn more about double hung impact windows.
Casement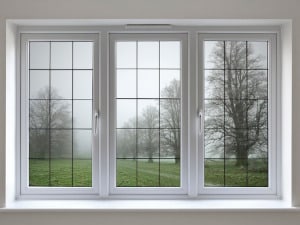 Impact resistant casement windows are also a great choice for your Florida room. They are tall windows that are attached with hinges to the side of the window frame. Unlike single/double hung windows they open by swinging either inside or outside the room.
Learn more about impact casement windows.
Awning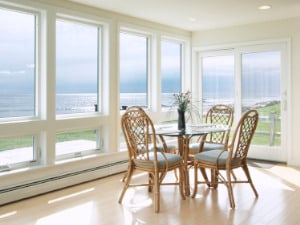 Awning windows are attached to their frames by hinges on the top of the frame. To open them you push them outward. When fully open, they stay stationary at an angle.
They can be used in many ways in your Florida room design. For example, they can be used in combination with stationary impact windows for ventilation. Or you can use larger awning windows as standalone windows.
These are a good fit for this type of space because of the way they open (outward). This allows water to run off the window and away from the interior of your room. In turn, they are suitable windows for the heavy rain storms in Florida.
Learn more about impact awning windows.
Conclusion
A Florida room is an amazing way to enjoy the sun during the day without overheating. It is also a great way to spend a night without getting attacked by mosquitos. But a room full of glass in Florida can present some issues. So it is recommended to use impact windows to both enjoy your space and better protect yourself against damaging hurricanes. There are many Florida room window options, including vinyl or aluminum frames, different types of impact glass, and stationary vs venting windows.
If you would like to get a free estimate on impact windows for your Florida room in Southwest Florida then we would love to help.