Protecting your home against hurricanes doesn't mean your house has to be ugly. In fact, you can use hurricane shutters to give your home a design boost. One of the most popular paint colors for homes in Southwest Florida is tan. So we get asked a lot what is the best color hurricane shutters for a tan house? Well, the truth is the best color shutters for your tan house is the color you like the most. But we know it is a little tough to pick a shutter color that goes with your tan home. So in this article we provide some ideas and inspiration in order to give you a starting point.
General Recommendations For Tan Colored Homes
Tan is similar to brown, but lighter. It is considered a neutral color, which is very helpful because most colors will go well with it.
Because of this you have a lot of options when picking your shutter colors (along with your trim, etc.). In other words, you have a lot of freedom as tan looks good with mostly anything.
For example, you may want to minimize the appearance of your shutters. If so, you can pick a shutter color that blends in with your tan paint.
Or you may decide to use your shutters to add a pop of color to your neutral tan paint. For this purpose you can pick a darker color to contrast the tan, such as black, bronze or brown. Or you can go with white shutters to add a clean, classic look that works well with tan.
Below we explore some different color shutters that will work with your tan home.
Hurricane Shutter Color Options for a Tan House
There are lots of options to pick from when it comes to color combinations. It would be impossible to list every color combination available. So we try to break the options down into a few buckets, which most homeowners fall into. These buckets include:
Minimizing the appearance of the shutters (hiding them as much as possible)
Using the shutters to add contrast/color to your home
Pick a light color shutter to minimize their appearance
You may want to or need to minimize the appearance of your hurricane shutters on your tan home.
Maybe you prefer to have the shutters blend into your home vs stand out. Or in other words, you want them to be as unnoticeable as possible. This would make sense if, for example, you don't want to change the color scheme of your home. Alternatively, maybe you aren't crazy about the shutter style so you want to minimize how visible it is.
Or minimizing the appearance of shutters may even be required for your home. For example, a homeowner's association may require it in order to maintain the aesthetics of the exterior of the building. So if you are part of an HOA you may be required to have specific color shutters. You will need to find this out from your HOA.
Whatever the reason, minimizing your shutters' appearance is easy to accomplish with a tan home. The easiest thing to do is to pick a light color shutter, such as ivory or beige. These colors are similar to tan, so it will help the shutters blend in and minimize their appearance.
You will also be happy to know that these are typically standard colors for hurricane shutters. So you can accomplish your goal without extra customization.
Below you can see some tan (and similar variations) color homes with ivory, beige and other lighter color shutters.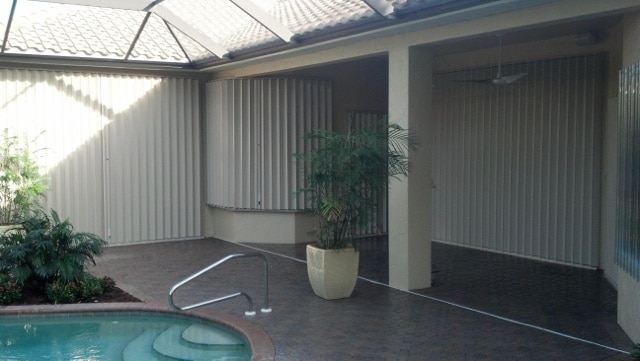 Add contrast/color to your home
The other option is use your hurricane shutters to add color to your home. You can do this through adding a contrasting color to add some pop. Or you can do it by using white, which adds a contrast but creates a clean, classic look.
You can see pictures of both options below.
Use a darker color to add contrast to your tan home
Do you want to create a color scheme that stands out? Using a dark color shutter can help you create well-defined contrast with your neutral, tan home. An earthy color such as brown shutters or elegant black hurricane shutters both work well as to create a contrasting color with tan.
Using additional colors can further enhance your home's color scheme. For example, add a third color, such as white, for your trim, soffits and/or gutters.
Check out some inspiration of tan(ish) homes with dark brown and black shutters below.
Use white shutters to achieve a clean, classic look
White truly is a good option. It will create some contrast against your tan paint, but not as much as a darker color. Using white shutters will help you achieve a clean, classic look. The white f you have white trim or accents it will match nicely. And if you have a different color trim or accents it will add some clean contrast. Either way, white is always a good choice.
Check out some inspiration of tan(ish) homes with white storm shutters below.