If you live in Florida you know that June 30th is the start of hurricane season each and every year. Protecting your home and family from hurricanes means being prepared and having adequate protection for your property. Just like with your windows it is important to make sure your door openings are protected against hurricane winds and flying debris. This is especially true if you have sliding glass doors or entry doors with glass inserts. These large glass openings are extremely vulnerable to breaking during a hurricane. There are different options to protect your glass doors from breaking during a storm. In this guide we discuss one of those options, which is installing impact doors. Our goal is to help you decide whether impact doors are the right solution for your home and family.
You may also like: https://eurexshutters.com/better-choice-impact-windows-vs-hurricane-shutters/
Why Your Glass Doors Need Hurricane Protection
Homes have a variety of doors. These include front, side and rear entry door(s), french doors, sliding glass doors, and more. Many of these doors have glass inserts that can compose a fraction of the door. Others, such as sliding glass doors and french doors are made almost entirely of glass.
And if your doors' glass is composed of standard float glass or tempered glass it is at a high risk of breaking during a hurricane. Regular glass is not made or intended to withstand hurricane force winds and/or flying debris. In other words, standard glass will break if it is impacted during a storm. Once, broken, your home is exposed and at risk of more severe damage, such as water intrusion, interior damage, and your home becoming pressurized.
This is why your glass doors, similar to your glass windows, absolutely need hurricane protection.
Below we discuss some of the different options for adequately protecting your glass doors.
Door Hurricane Protection Options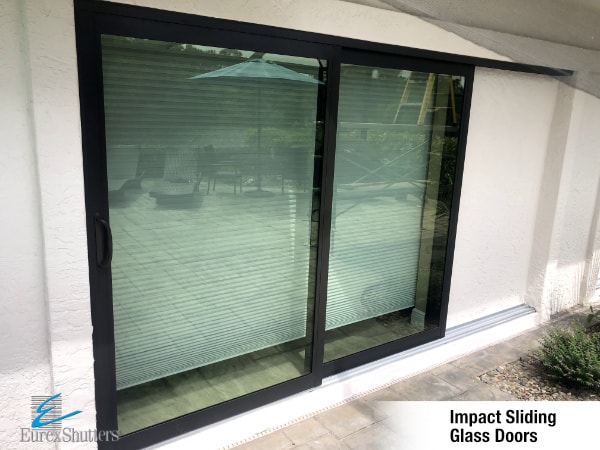 Options for protecting your door openings are similar to those for window protection.
The two main ways to protect your glass doors are as follows:
Keep your existing doors and install hurricane shutters over them
Install replacement impact doors
In this guide we focus on the second option, which is replacing your existing doors with impact resistant doors. Below we discuss what they are as well as their pros and cons in more detail.
If you would like to find out more info about hurricane shutters you can read our complete guide on hurricane shutters for glass sliding and French doors.
What is an impact door?
The phrase impact door is used generically to describe a category of doors made to withstand extreme weather conditions. Hurricane-rated doors are engineered, tested, and approved by the state of Florida to be able to withstand hurricane force winds and flying debris common during a hurricane. In order to be hurricane rated the doors must be Florida Product Approved, which requires extensive testing and approval. Some versions can also be approved for use in high velocity hurricane zones (HVHZ).
What makes a door an impact door vs a regular glass door?
Every component of an impact door is made with impact resistant materials. The frames are made with reinforced, impact resistant materials such as aluminum, fiberglass, etc. And the glass components of every impact door use impact glass vs standard float or tempered glass.
Below we discuss what impact glass is, and why is it so effective for hurricane protection.
What is impact glass? Why is it so effective for hurricane protection?
Impact glass is used to make impact windows and a variety of impact doors, such as impact sliding glass doors, impact french doors, impact entry doors, and more.
But what exactly is it?
It is a type of laminated glass. You can think of it as a glass sandwich. It consists of two sheets of glass on the outsides with a special polymer inter-layer in between. The sheets of glass and inter-layer are laminated (or pressed) together using a special laminating process. The end result is a single sheet of impact glass.
The polymer interlayer holds your door's glass sandwich together, even if it suffers a direct impact. And this is critical during a hurricane.
Why?
Well, doors with standard float glass or tempered glass will break under too high of force or if they are impacted by flying debris. This can result in your home being exposed during a hurricane. This may result in water intrusion, damage to belongings inside your home, or even your home possibly becoming pressurized.
Impact glass is different. It can withstand the impacts of heavy winds and flying debris. It is important to know that while impact glass can fracture if impacted hard enough it will not break apart. The special interlayer of the impact glass holds the glass pane together. This means that your window will stay in tact and your home will not be exposed.
You can learn more about impact glass in our guide on Impact Resistant Glass.
Benefits of impact doors
Pro: Strong Hurricane Protection
As we mentioned above, impact doors are hurricane-rated and able to withstand even the most severe hurricanes. Protecting your home, family and investment is important, and installing impact doors will help you accomplish that necessity.
Pro: Very Convenient
Impact doors, just like impact windows, are the ultimate in convenience when it comes to hurricane protection options. Protective coverings, such as shutters vary greatly when it comes to how convenient they are to use. But impact windows require absolutely no installation or work. Once they are installed on your home they are ready to go.
This of course makes preparing your home before a hurricane much easier than installing or even deploying hurricane shutters. It also means your home will be protected even if you are not there. So if you are out of the area when a hurricane is approaching there is no need to find or hire someone to prepare your home. That is because there is no installation. So no matter where you are you can rest assured that your doors will be protected.
Pro: Do Not Change the Look of Your Home
The other big benefit of impact doors (as well as with impact windows) is that they protect your home without changing the look of it.
Shutters are extremely effective at hurricane protection. But they can alter your home's appearance. Even panels that are not permanently installed require mounting hardware, such as bolts and/or shelves to be present on your home at all time.
On the other hand, impact doors look just like regular, attractive doors. In fact, upgrading your doors with replacement impact doors will actually increase the good looks of your home.
So if you are concerned about changing or affecting your home's appearance then impact doors (and windows) may be the best hurricane protection option for you.
Added Benefit: Security Protection
Impact doors are intended for hurricane protection. However, they do provide another benefit, which is that they also provide security protection for your home. Impact glass is near impossible to break through. Any intruder who tries will quickly be discovered or eventually just give up. All this means doors with impact glass will greatly reduce an intruder's ability to break your door's glass and gain access. So you can rest assured that your home's doors will keep your family a little safer year round.
Considerations of impact doors
While impact doors have many benefits they also have some considerations. The biggest con of these doors are their cost, which we discuss in more detail below.
Con: Cost More Than Standard Doors
Impact doors have some obvious benefits over standard glass doors. Their materials and performance generally cause them to be considerably more expensive than non-impact doors.
However, while they are more expensive they do provide many benefits, as we outlined above.
Also, if you choose standard glass doors you will need to protect their glass with hurricane shutters when a storm hits. The cost of installing shutters over standard doors should be taken into consideration as you look at the total cost of protecting the door as a whole. And it should be noted that hurricane shutters are generally priced on a price/square foot basis. Given that doors, especially sliding glass doors are very large openings the cost of hurricane shutters to cover them can add up.
Con: Heavier vs Standard Doors
It is worth noting that impact doors are generally heavier than standard doors. This is due to their construction, including the use of more substantial materials, higher density core, impact glass weighing more, etc.
This is not something that will effect everyone. However, it is something worth knowing. This is especially true if you or a loved one have a disability or are just concerned about your ability to open a door without difficulty.
Our team is more than happy to provide you with more information to help you determine if this will be an issue for your situation.
Interested in Impact Doors For For Your Gulf Coast Florida Home?
If you would like to get a free estimate on impact doors for your home in Southwest Florida then we would love to help. Eurex Shutters has been installing impact windows and doors as well as hurricane shutters throughout the Gulf Coast of Florida for 35+ years. And we have over 25,000 happy customers.
Contact us by calling (239) 369-8600 or filling out the quick form below with any questions and to get a free estimate.
Related articles, guides and posts:
We get so many questions about impact windows from our customers. And although we have dozens of articles on our blog discussing different topics about these windows, you may not know how to find answers to all of your questions. So we decided to created a single resource with all the impact windows FAQ we…

---