It is always a treat to install hurricane shutters in Marco Island Florida! Our team was there recently to install new EUREX SHUTTERS PTX™ Accordion Shutters on the balcony of a lovely mid-rise condo. This installation turned out great. We worked with the client and the HOA to ensure everything was done perfect. And the customer was happy, which is the most important thing! Below you can find all the details of the installation along with photos of their hurricane shutters.
Client Property & Requirements
This installation was completed on a mid-rise condominium unit located in Marco Island Florida.
The homeowner was looking for hurricane protection for their condo as the length of their balcony is a line of glass. This is amazing for the view, but it does create a vulnerability during hurricane season. The homeowners' goal was to protect this area of their home, their family, and their belongings.
HOA
The homeowners needed a solution that met the restrictions of their home owner's association (HOA). Like any condo or property within an HOA, the association will set guidelines and restrictions for products on the exterior of the building. In turn, it is important to make sure you have a hurricane shutter company that understands this process. It is also important to choose a hurricane protection company that will work with your HOA to ensure you are in compliance.
Homeowner Goals
The line of glass lining the balcony was wide. This of course limits the types of hurricane protection that can be used. So the owner needed shutters that were suitable for wide openings.
Like most homeowners, they wanted the product to look attractive on their home. This was a requirement of theirs but also of the HOA.
Last, these homeowners were looking for something that is fast and easy to use (open and close).
Product: EUREX SHUTTERS PTX™ Accordion Hurricane Shutters
Our client chose to install custom EUREX SHUTTERS PTX™ Accordion Hurricane Shutters. Accordion shutters are approved by their HOA, suitable for wide openings, attractive, and very easy to use.
For the color they went with white shutters, tracks and housings. This color matches the appearance guidelines of the HOA. You can see that other condo units also have white accordion shutters installed in the photos. Regardless, this is a good choice as it goes went nicely with the white balcony railings and the grey balcony flooring. They fit in nicely.
In the end this installation is beautiful and compliant.
New to hurricane shutters? Learn more about them in our guide on What are Hurricane Shutters?
Installation Photos
Here are a few photos and of the completed accordion shutter installation below.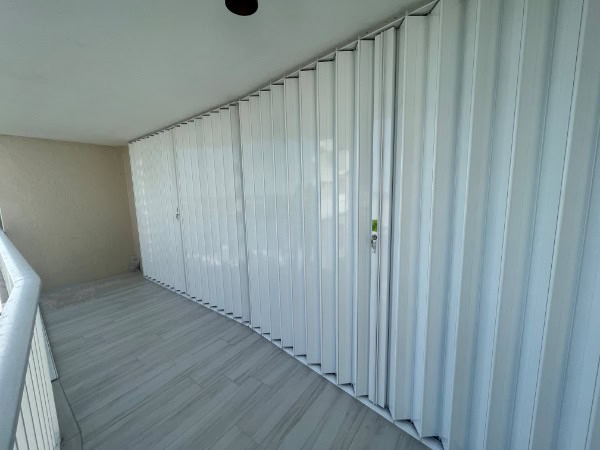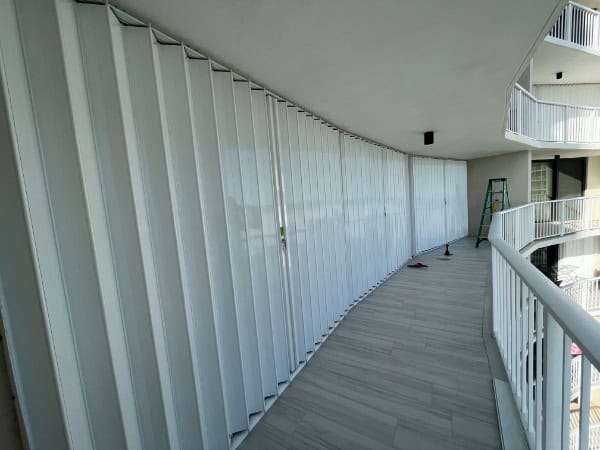 Interested in Hurricane Shutters for your property in Marco Island?
Interested in hurricane shutters in Marco Island, Naples or elsewhere in Southwest Florida? Have questions or want an estimate? The Eurex Shutters team of storm protection professionals has 35+ years of experience and 25,000+ satisfied customers. Trust the hurricane shutter professionals and call us at (239) 369-8600 or fill out the form below and someone will contact your shortly.
Or call (239) 369-8600 for immediate service.
This modular home in North Fort Myers FL just got EUREX SHUTTERS Bahama Hurricane Shutters installed. Wow! The installation looks great, and these shutters upgraded the home's curb appeal AND its storm protection! And the client is happy with the installation, which is the most important part! Keep reading for more details on the installation…

---