There is nothing better than letting fresh air into your home when the weather is cool. But sometimes opening your doors and windows can make life miserable. Bugs and mosquitos are sure to find their way in and wreak havoc on your family. That is why retractable bug screens exist. They help you enjoy the fresh air without all the swatting, smacking, and itching. But what exactly is a retractable bug screen, what are they used for, where can you use them and what are their benefits? Keep reading because that is exactly what we cover in this guide.
Introduction
What is a retractable bug screen?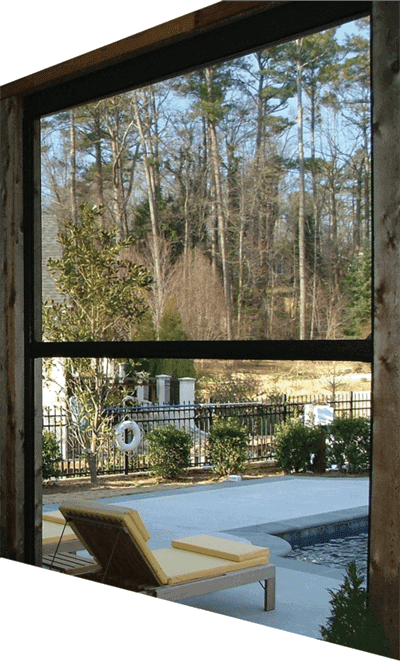 You may also hear these called roll down bug screens, patio retractable screens, pull down screens etc.
Don't confuse them with regular window screens. They are far superior.
Regular window and door screens are typically stationary and removable only by pins or other fasteners. But a retractable bug screen moves up and down easily along tracks. They are operated either by a manual mechanism or electric motors. Motorized versions provide a particularly easy and quick operation.
They are constructed of heavy-duty durable mesh, which means they will last longer vs. cheaper screens.
The bug screens can be opened and closed quickly vs. removing traditional screens. This is especially true for the motorized versions, which open and close quickly.
Where can they be used?
Retractable bug screens can be used in several areas. Because of this they are a great product to help turn outdoor areas into functional rooms.
Different products will have different applications. But many, such as Eurex Shutters PTX Roll Down Bug Screens can fit nearly any size opening, such as your:
lanai
patio
porch
windows
doors
garage doors
etc.
Adding the bug screens to these areas converts them into functional spaces that feel like the outdoors.
For example, adding bug screens to your porch openings can help you create an additional, functional space. And adding them to your garage allows you to enjoy fresh air in your garage without any of the consequences of keeping your doors open.
Benefits of Retractable Bug Screens
These screens have several benefits, which make them a great buy.
Some of the benefits of roll down bug screens:
Keep bugs, pests, leaves and debris out of your home, while allowing you to enjoy fresh air
Turn outdoor spaces into functional, enjoyable areas – for example you can enclose a patio or your garage
Allow/increase fresh air into your home while keeping bugs or other unwanted objects out
Look elegant from the outside and come in a variety of colors and styles – this allows you to maintain or even enhance the aesthetic appeal of your home
Provide shade from the sun's harmful UV rays, which reduces heat and makes your outdoor space more comfortable
Reduce glare from the sun to allow you to enjoy your space more
Semi-privacy view, increases privacy while still letting natural light in and allowing you to see your surroundings and guests outside
Quick and easy to use – they are easy to open and close, especially motorized versions operated with a one-touch remote control
FAQ
Do retractable screens keep bugs out?
Yes, the main function of retractable screens is to keep bugs and pests out of your property. Like traditional screens the mesh material keeps bugs as well as leaves and debris out while still allowing air flow into your space.
Are retractable screens a good idea?
Yes. Retractable bug screens are a great idea for your home or business if you would like to enjoy your outdoor spaces, create more functional space, or increase the air flow of fresh air into your home. You will be able to accomplish these goals without dealing with bugs and pests. These roll down bug screens provide an economical and practical way to turn your outdoor areas into fun and functional spaces. They also increase the comfort and enjoyability of your outdoor spaces. This is because they also provide shade, reduce sun glare, and increase privacy. And they are very quick and easy to use. This is especially true for motorized models, which operate on a single button remote.
Conclusion
Retractable bug screens are an economical way to create and enjoy functional spaces in your home. They allow fresh air in while keeping bugs, pests, leaves and other debris out. They are also easy to use, especially the motorized versions with one-touch remote controls.
Are you interested in adding roll down bug screens to your home? We would love to help.