Half Bahama Shutters can give your house a unique design element and provide you with some shade. They have become more and more popular in Florida and other areas over the last few years. You will see them on both new construction and existing homes. But they are still quite unique and in no way mainstream in terms of home design. In fact, most folks do not know what they are.
So if you are not familiar with them that is okay. In this article we will discuss exactly what half Bahama shutters are and some of their pros and cons. We hope by the end of this article you will be able to decide whether they are right for you.
You may also like: What Are Bahama Shutters & Pros and Cons For Your Southwest FL Home
What are half Bahama shutters?
Half Bahama shutters are a type of decorative, exterior shutter. This makes them unique vs other exterior shutters commonly found on Florida homes. Many exterior shutters in Florida are hurricane shutters. These, on the other hand, are purely decorative. This is why they are also commonly referred to as "deco" Bahama shutters.
But do not worry. You can add these to your home if you like their look while still protecting it. You just use them in combination with impact windows. This will allow you to get the design benefits of these stylish shutters and still protect your home. And protecting your home is extremely important, especially if you live in an area prone to hurricanes like Southwest Florida.
if you like the look of these half shutters you can add them and still protect your home.
Half Bahamas vs traditional Bahamas
These two styles of shutters have a few similarities and a few differences. We discuss both below.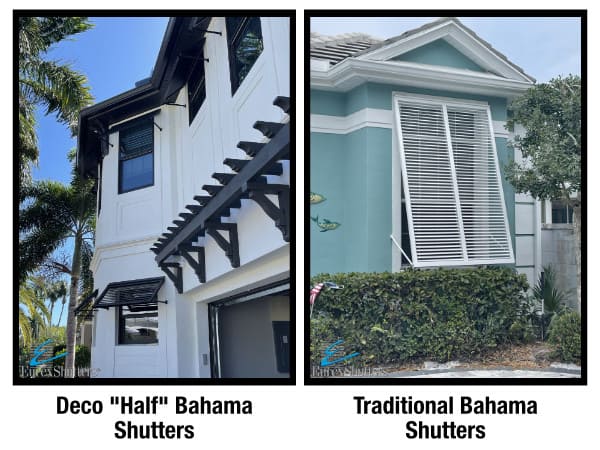 Similarities
Exterior half Bahama shutters are similar in a few, key ways. Specifically, they:
Have the same design/look as regular Bahama shutters (just shorter)
Sit stationary at an angle over the window, just like the full length versions
In the image above you can see that the two shutters have the same style. You can also see that they both sit stationary over the window in the same position.
Differences
The two shutter types do have differences. Even though they look similar, they are very different shutters. Specifically, the half style:
Only covers the top half of the window vs the entire window – which is why they are fittingly referred to as "half Bahama shutters"
Are decorative in nature and do not provide hurricane protection (by themselves) whereas full-sized Bahama shutters do
Pros and Cons
Like any product these have benefits and downsides. Below we look at both.
Pro: Look Great
Half Bahama shutters have a unique look. So they add a unique design element to your home. Although they have become more popular in recent years they are still unique, especially in an area like Florida where windows are generally covered with hurricane shutters vs decorative ones.
So in turn, you can set the design of your home apart while also adding some functionality.
Pro: Customizable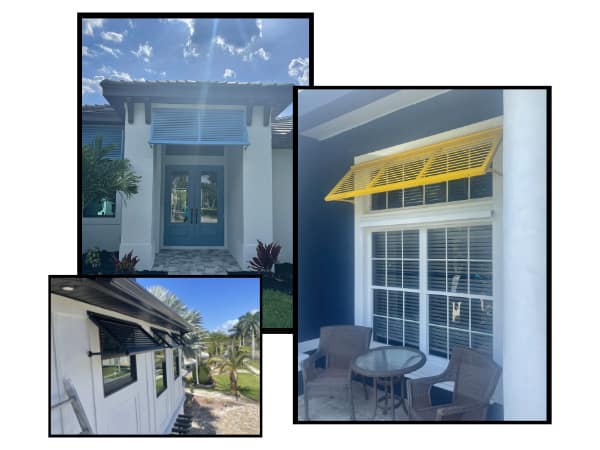 These shutters are also extremely customizable. This further increases your ability to add a truly unique style to your home or match your home's existing style.
First, going the custom route means your shutters will be manufactured to the specific dimensions of your windows and your needs. In turn, they can be custom made to fit your windows perfectly.
Second, you can literally get them in any color you can imagine. They are constructed of aluminum. This means they can be powder coated in any color under the rainbow. Hence, you can use these shutters to add a pop of color to your home or add some contrast to your existing color scheme. Or, you can pick a color that matches your home's color scheme perfectly. The options are unlimited.
Pro: Shade
Although their good looks get the spotlight these shutters do have a functional benefit, which is that they provide some shade to your home. While not as effective as full sized Bahama Shutters the positioning of these shutters over the window means they will block some light and provide shade.
This is clearly a nice benefit in areas where the sun is extremely strong, such as Florida.
Con: Not Suitable as Hurricane Protection
Half Bahama shutters will make your home look great. But if you live in an area prone to hurricanes, such as Southwest Florida, you should note that they do not provide hurricane protection.
But that is okay. It should not be a dealbreaker.
If you like their style there are ways to incorporate them into your home. First, you can use them in combination with impact windows and doors. This is the easiest. Or you can use them in combination with hurricane shutters, where the hurricane shutters cover some or all of your windows. You can add the half shutters to glass openings that have impact glass OR you can add them to other areas, such as entry ways (see the image below for an example of this).
Conclusion
Half Bahama shutters are a type of decorative exterior shutter found in tropical areas like Southwest Florida. They are a great way to add a unique design element to your home. They look great, are very customizable and provide shade from the hot sun. And although they do not provide hurricane protection by themselves they can be used in combination with impact windows and doors in areas prone to hurricanes. This allows you to protect your home and family while still being able to use them as a design element for your home.
Are you interested in half Bermuda shutters for your home in Southwest Florida? If so, go with the shutter pros at Eurex Shutters. Our family-owned business has been installing the highest quality shutters for homeowners and business owners in SWFL for 35+ years. We promise you will get high quality products, fair prices and great customer service.
Or call (239) 369-8600 for immediate service.
More information about Bahama Shutters
Black Hurricane Shutters: A Stunning Design in FL

Black hurricane shutters are dramatic, elegant, and modern. The color black pairs well with most other colors. So regardless of what color your home or home's overall color scheme is black will look great. But you might not be ready to paint your entire home black. So adding black window shutters is a great way…

Lehigh Acres FL Bahama Shutters Installation

Two Eurex Shutters employees preparing to install a custom black Bahama Shutter on a home in Lehigh Acres FL

What Exactly Are Hurricane Rated Shutters? Hurricane Proof

You can protect your family and home from hurricanes with hurricane rated shutters. Hurricane shutters are a popular choice for hurricane protection in areas affected by hurricanes, such as Southwest Florida. But not all shutters are equal when it comes to hurricane protection. So if you want shutters to protect your home from hurricanes they…

White Bahama Shutters on Different Color Homes

Looking for some inspiration for your home? Or maybe you are just curious what white Bahama shutters look like on different homes. Well, you are in the right place! Whether you call them Bermuda, Bahama, or Caribbean white hurricane shutters they look great regardless. Below you can see several examples of some of our installs…

How Long Do Bahama Shutters Last?

Bahama shutters are a great choice when it comes to hurricanes shutters for your home in Southwest Florida. They look great, offer strong hurricane protection and provide shade for your home. With all of their benefits they are a premium hurricane shutter option. So before you commit to buying them you surely want to know…

Are Bahama Shutters Worth It in SW Florida?

Southwest Florida truly is an amazing place to live. But living here does come with some real risks, such as hurricanes that you have to deal with. So if you have lived through an active hurricane season you know how important it is to protect your home and family against hurricanes. Installing reliable hurricane protection…

Are All Bahama Shutters Hurricane Proof?

Bahama shutters add great curb appeal to your home. In addition they provide shade and privacy. Bahama shutters may also provide storm protection, which is a big benefit if you live in an area prone to hurricanes. But you should be aware that not all Bahama shutters are hurricane proof. Some are simply for decoration…

Most popular hurricane shutter styles 2023?

There are many different types of hurricane shutters here in Southwest Florida. It is easy to get overwhelmed by all the different styles and options available. And yes, trends and preferences change every years. But year after year there are a handful of hurricane shutters that consistently rank as the most popular in our area.…

Deco Bahama Shutters Project in San Carlos Park Fort Myers

Storm protection for your home doesn't have to be boring. You can use hurricane shutters to create a truly unique style and set your home apart. For example, take this home in the San Carlos Park area of Fort Myers. We installed Eurex Shutters PTX™ Deco Bahama Shutters on the home. The shutters transformed this…

Bahama Shutters Install Lehigh Acres Feb. 2023

The Eurex Shutters team loves Bahama Shutters, especially unique ones that make the home stand out! So we get excited every time we do a Bahama Shutters installation. And lately we have been doing quite a bit of them. Here is another example of a completed installation of Eurex Shutters PTX™ Bahama Shutters on a…